Senate Votes to Acquit Trump on All Articles of Impeachment
The president was found not guilty on abuse of power and obstruction of Congress charges.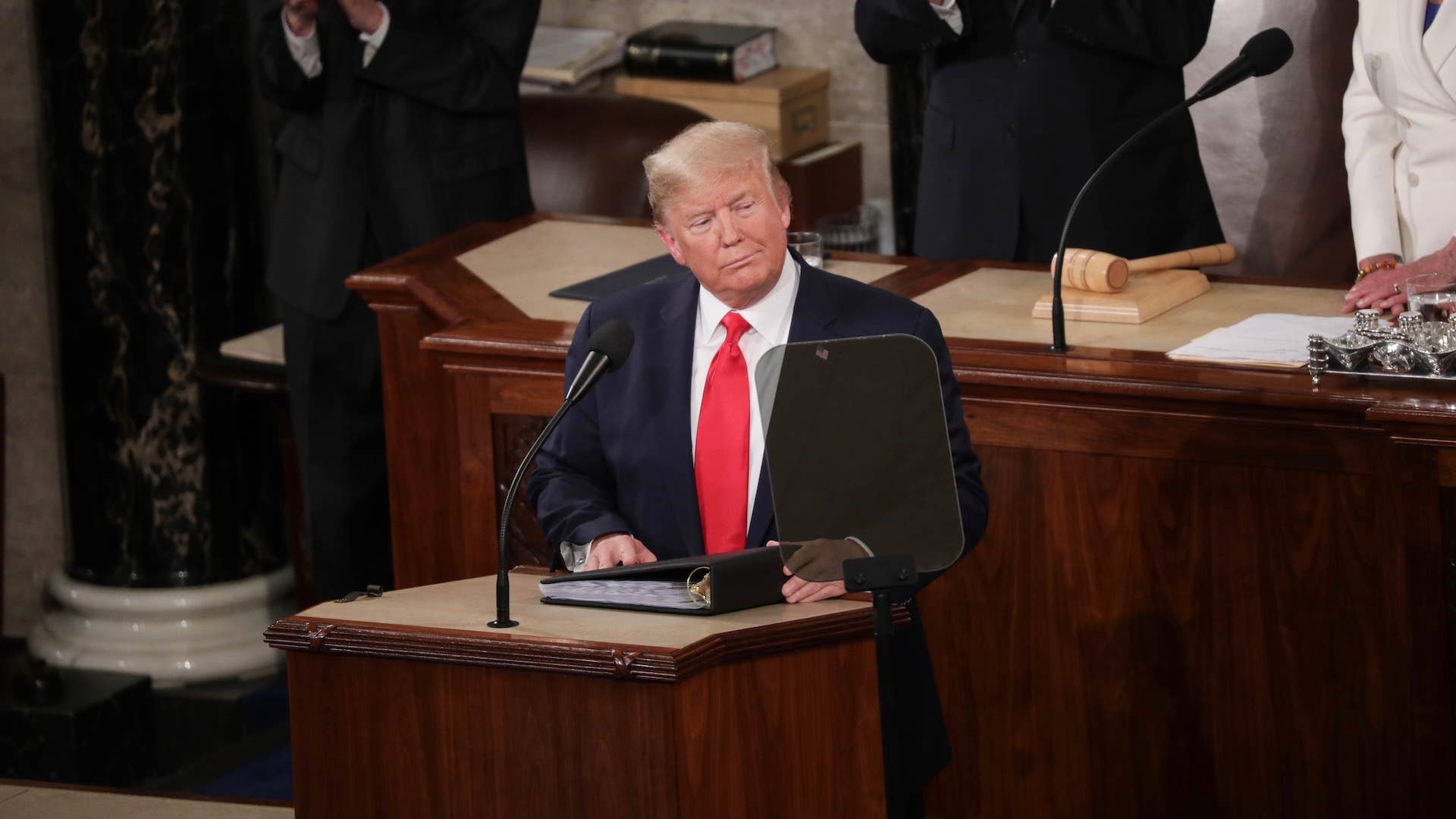 Getty
Image via Getty/Yasin Ozturk/Anadolu Agency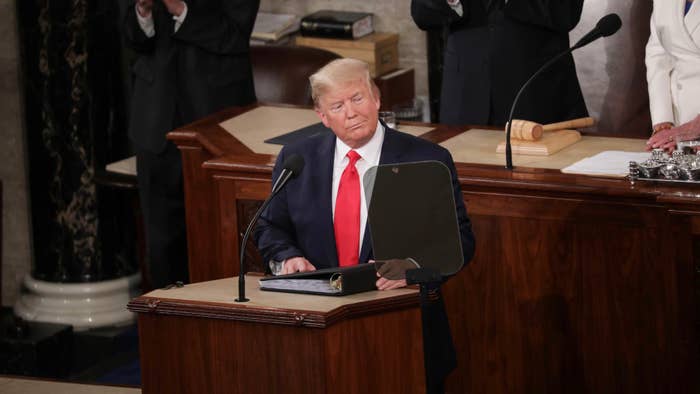 The impeachment trial of President Donald Trump concluded just as expected.
On Wednesday, the Senate voted to acquit POTUS on two articles of impeachment stemming from his July 25 phone call with Ukrainian President Volodymyr Zelensky. Democrats pointed to a public transcript of the conversation, in which Trump pushed Zelensky to announce an investigation into former Vice President Joe Biden and his son, Hunter Biden. The phone call ignited a debate on whether the president had engaged in a quid pro quo, as he is accused of withholding nearly $400 million in Ukrainian military aid to strong-arm Zelensky into opening the probe.
Though Trump denied any wrongdoing, House Democrats charged him with "abuse of power" as well as "obstruction of Congress" for refusing to comply with subpoenas. 
In the days leading up to Wednesday's vote, a number of Republican senators expressed discomfort over the nature of Trump's phone call with Zelensky; however, they argued that his conduct did not warrant removal from office. Sen. Susan Collins (R-Maine) was initially considered a possible swing vote, but announced her decision to acquit the president earlier this week.
"It was wrong for President Trump to mention former Vice President Biden on that phone call, and it was wrong for him ask a foreign country to investigate a political rival," Collins said Tuesday. "I do not believe the House has met its burden of the showing the president's conduct, however flawed, warrants the extreme step of removal from office ... This decision is not about whether you like or dislike this president or agree with or oppose his policies or approve or disapprove of his conduct in other circumstances. Rather it is about whether the charges meet the very high constitutional standard of treason, bribery or other high crimes or misdemeanors."
Republican Sen. Mitt Romney announced his decision to break with the GOP shortly before Wednesday's vote. He confirmed he would vote to convict Trump on the charge that he had abused his power, but would vote to acquit on the "obstruction of Congress" charge.
"The grave question the constitution tasks Senators to answer is whether the president committed an act so extreme and egregious that it rises to the level of a high crime and misdemeanor. Yes, he did," Romney said about his decision. "The president asked a foreign government to investigate his political rival. The president withheld vital military funds from that government to press it to do so ... The president's purpose was personal and political. Accordingly, the president is guilty of an appalling abuse of public trust. What he did was not perfect. Not it was a flagrant assault on our electoral rights, our national security, and our fundamental values. Corrupting an election to keep oneself in office is perhaps the most abusive and destructive violation of one's oath of office that I can imagine."
With a vote of 52-48, Trump was found not guilty on the first article of impeachment, abuse of power. Minutes later, he was found not guilty on the second article of impeachment, obstruction of Congress, with a vote of 53-47.
The House needed a two-thirds majority for a conviction and removal from office. It was the third time in U.S. history that a president had been impeached.
Trump has not publicly commented on his acquittal. But moments after the vote, he tweeted an unsettling video suggesting he will be president "4eva."
Trump announced he will address the "country's victory" at noon Thursday.
Though the trial is over, Democratic leaders have suggested the battle will continue. Ahead of Wednesday's vote, Rep. Jerry Nadler told reporters that former national security adviser John Bolton would "likely" be subpoenaed to testify in front of the House Judiciary Committee.
"I think it's likely, yes," Nadler said, as reported by Newsweek. "When you have a lawless president, you have to bring that to the fore, you have to spotlight that, you have to protect the Constitution, whatever the political consequences."
Bolton's forthcoming book reportedly includes an explosive account of how Trump froze Ukrainian military aid as part of his plan to hurt his political rival, Joe Biden.
Nadler, the chairman of the House Judiciary Committee, said he wanted to speak to Bolton about Trump's dealings in Ukraine as well as other possible misconduct.
"We are talking about everything," Nadler said. "As more and more lawlessness comes out, I presume the public will understand that."