Exclusive: A Look Inside Jerry Lorenzo's Nike Air Fear of God Collaboration
An exclusive look at Fear of God's highly anticipated collaboration with Nike, including the Air Fear of God 1 and clothing designed by Jerry Lorenzo.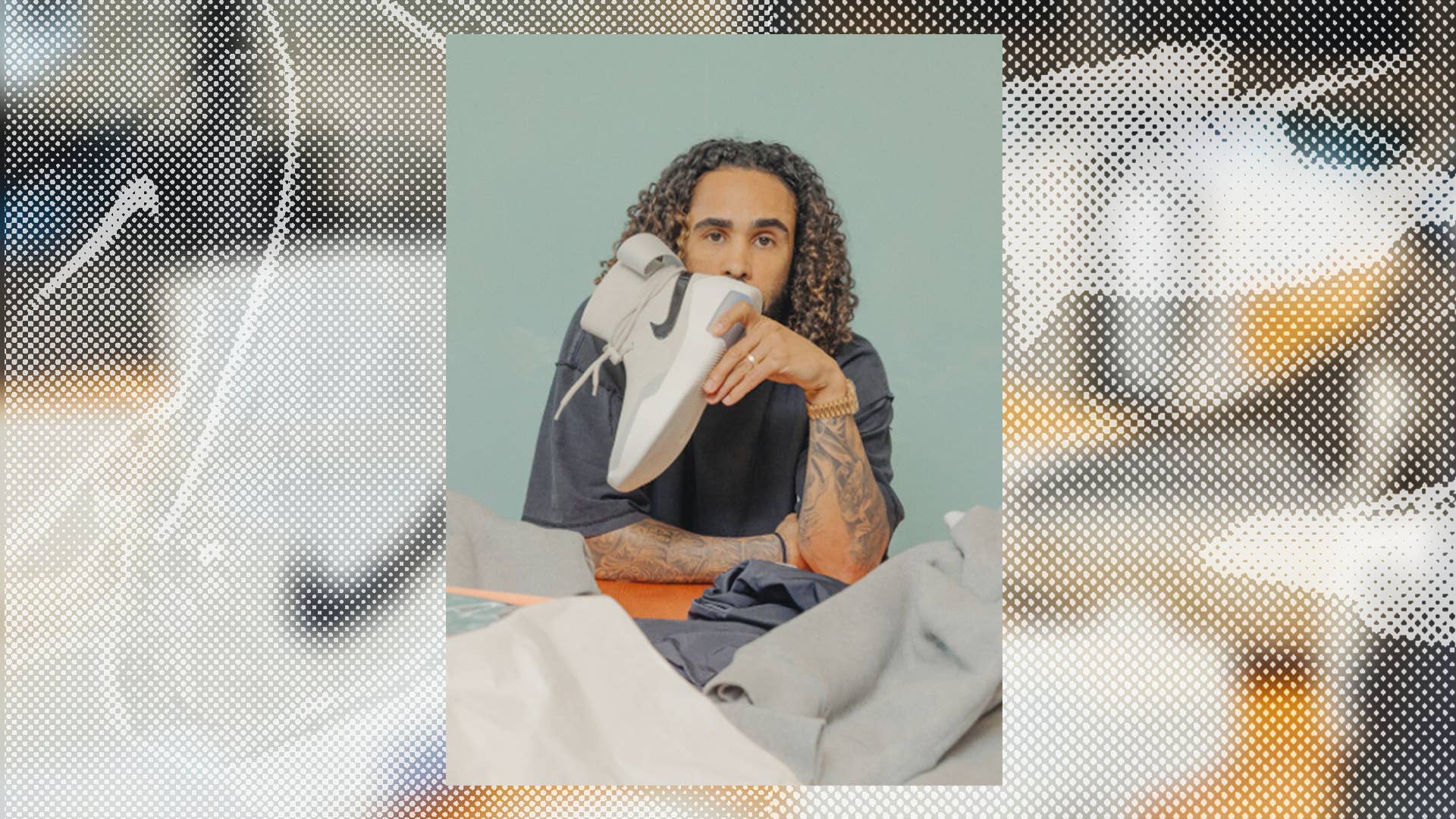 Complex Original
Image via Complex Original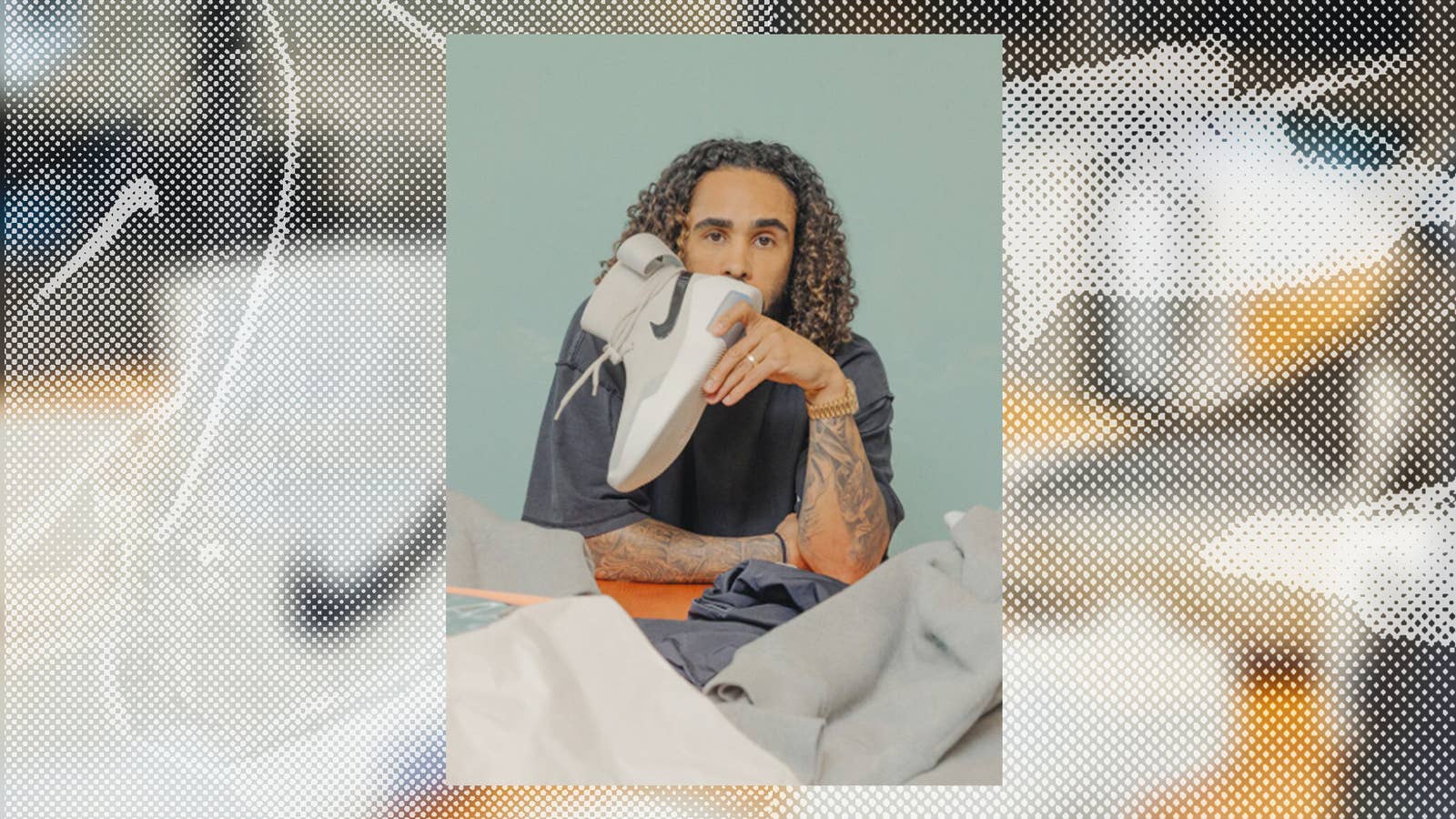 In 2011, Jerry Lorenzo made his first trip to Nike's sprawling 286-acre campus in Beaverton, Oregon. At the time, he was managing former Los Angeles Dodgers all-star Matt Kemp and hoped that, through Kemp, he'd be able to design a signature sneaker. "I wanted to build Matt into the next Ken Griffey Jr. and to design a performance shoe for baseball, kind of like how the Griffey was on field and off," he says. "I thought it would have to happen through somebody like Matt or another athlete. It always seemed like a dream."
Lorenzo didn't end up creating a sneaker with Kemp. But this past September, the designer confirmed a collaboration with the Swoosh through his own brand, Fear of God; at the end of the film for Fear of God's Sixth collection, he stepped out of a pick-up truck in a previously unseen sail Nike Air Fear of God 1 high-top basketball sneaker. Seven years later, Lorenzo finally had his own Nike shoe. And not just any sneaker: an entirely new silhouette—an opportunity very few Nike collaborators have had. "I knew that I couldn't come here and color up a retro and be successful," Lorenzo says. "My greatest proposition of fashion is in shape and proportion. I was very clear with Nike—like, 'Hey, this is what I can offer.'"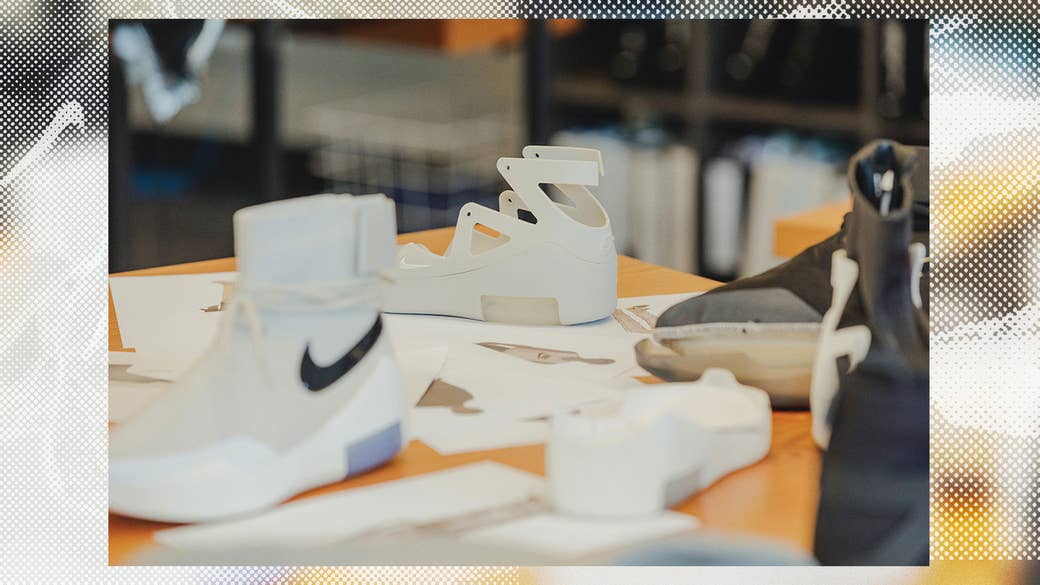 So he's not taking this moment lightly. Hunched over a wooden table at a research library in the Mia Hamm Building on the Nike campus, Lorenzo is scrutinizing minute details of his collection, which will include apparel and sneakers, with a few Nike designers. "Does that feel small?" he asks as he lines up two silver rulers against an Air Fear of God script logo, which mirrors the original Flight emblem, printed across the back of a washed-black T-shirt. "How about 15 [inches] instead of 12?" Later, he'll obsess over the color of the insignia. "This is sail?" he says, pointing to the word "AIR." "Maybe this should be fossil, like the color of the sole [of the sneakers], 'cause right now it feels a little too close." No detail is too small for Lorenzo; this project is too important.
"His attention to detail is insane," says Nike Basketball footwear design director Leo Chang, who has worked on Kevin Durant's and Kyrie Irving's sneaker lines and now the Nike Air Fear of God sneakers with Lorenzo. "He took us to another level with the craft, with just sweating every single thing."
Lorenzo first met with Nike to discuss the possibility of working together roughly three years ago. The conversation went something like this: John Hoke, the company's chief design officer, invited Lorenzo to Soho House in West Hollywood and talked about Nike's needs in performance wear—a category Lorenzo saw as Fear of God's "next chapter." They explored opportunities with football, training, and even baseball. In the end, they landed at basketball. "Basketball is at the essence of sneaker culture," says Lorenzo. "Everything comes from and is birthed from and post the Air Jordan. Back then, all you needed was a pair of Jordans. We didn't have access to fashion designers and creative directors like the kids do now. Our fashion director, our creative director, was [Michael] Jordan. And Nike was creating the footwear, the foundation for your wardrobe."
"I knew that I couldn't come here and color up a retro and be successful. I was very clear with Nike—like, 'Hey, this is what I can offer.'" - Jerry Lorenzo
Three months later, Hoke invited Lorenzo to Nike's HQ to meet with a few of its designers. They shared a ton of ideas and references, including three to four suitcases worth of Lorenzo's own collection of Jordans, Flights, and the Andre Agassi Nike Challenge Court line. "We over-intellectualized why that stuff was so impactful," says Jarrett Reynolds, senior apparel design director for Nike Sportswear and NikeLab, who worked on clothing with Lorenzo. "Was it the design? Was it the athlete? Was it the ad? Was it all of that stuff together?" They also filtered through Nike's DNA archives, Nike's current and upcoming on-court and training NBA kits, '80s and '90s brands Lorenzo had some "emotional connection to," and hundreds of reference images. Nike even facilitated a meeting between Lorenzo and Wilson Smith, the designer of the Air More Uptempo.
Much of the Nike Air Fear of God collection (out Dec.15) is informed by those vintage references, updated through Lorenzo's eyes. On-court NBA shorts are loose, but shorter—reminiscent of '90s team uniforms—and cut at an angle à la Michael Jordan's game shorts. Warm-up pants and shirts are oversized, the latter with raw-edge sleeves—a Fear of God flourish and a throwback to '80s athletic wear. The jersey is baggier, has a dropped armhole, and is made with a heavier, reversible fleece, similar to the ones from the '90s. There's also a metallic silver jacket lined with cream sherpa—another detail Lorenzo has used in Fear of God designs—that's both a nod to the future and an '80s Nike Air Force poster of Charles Barkley and Moses Malone in foil-like silver vests and shorts.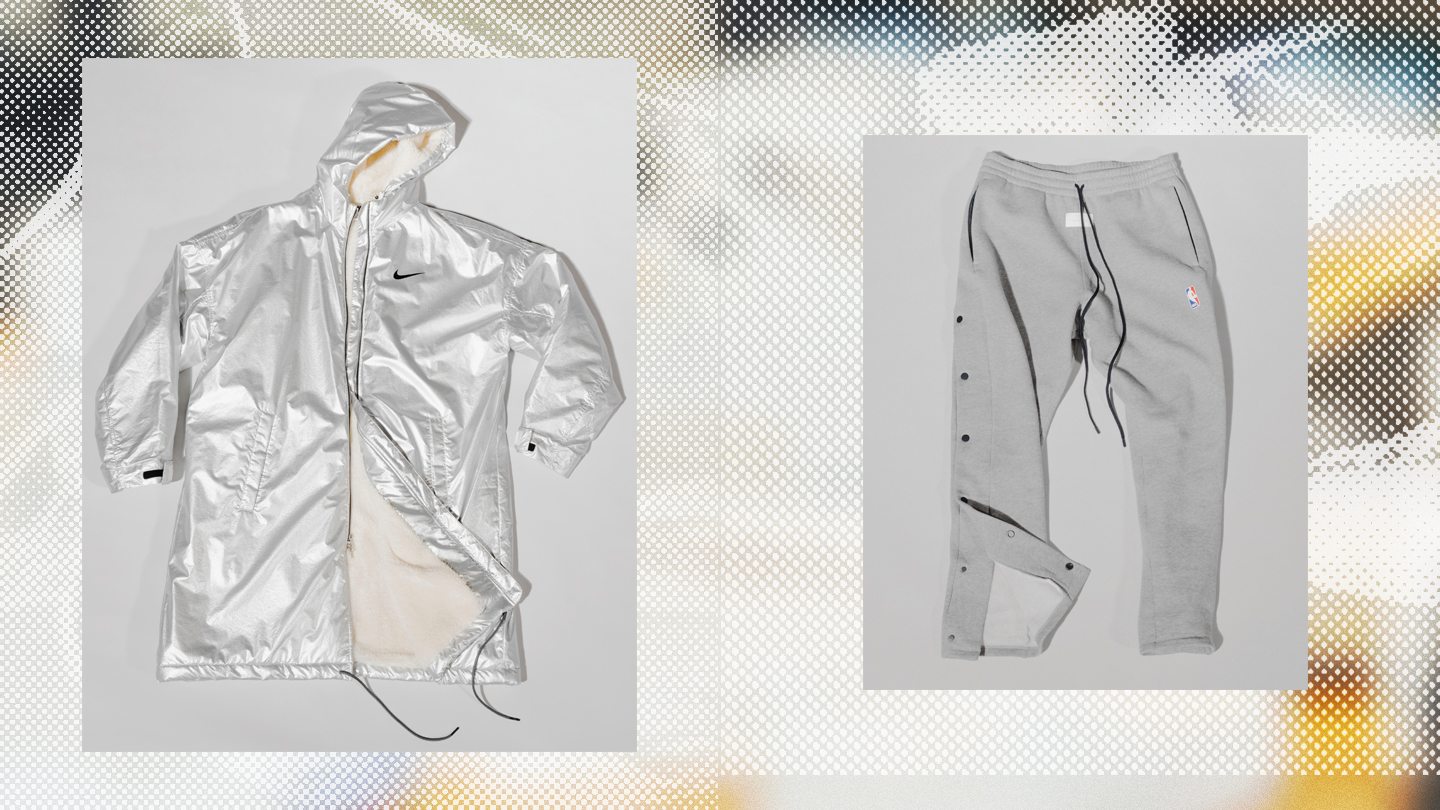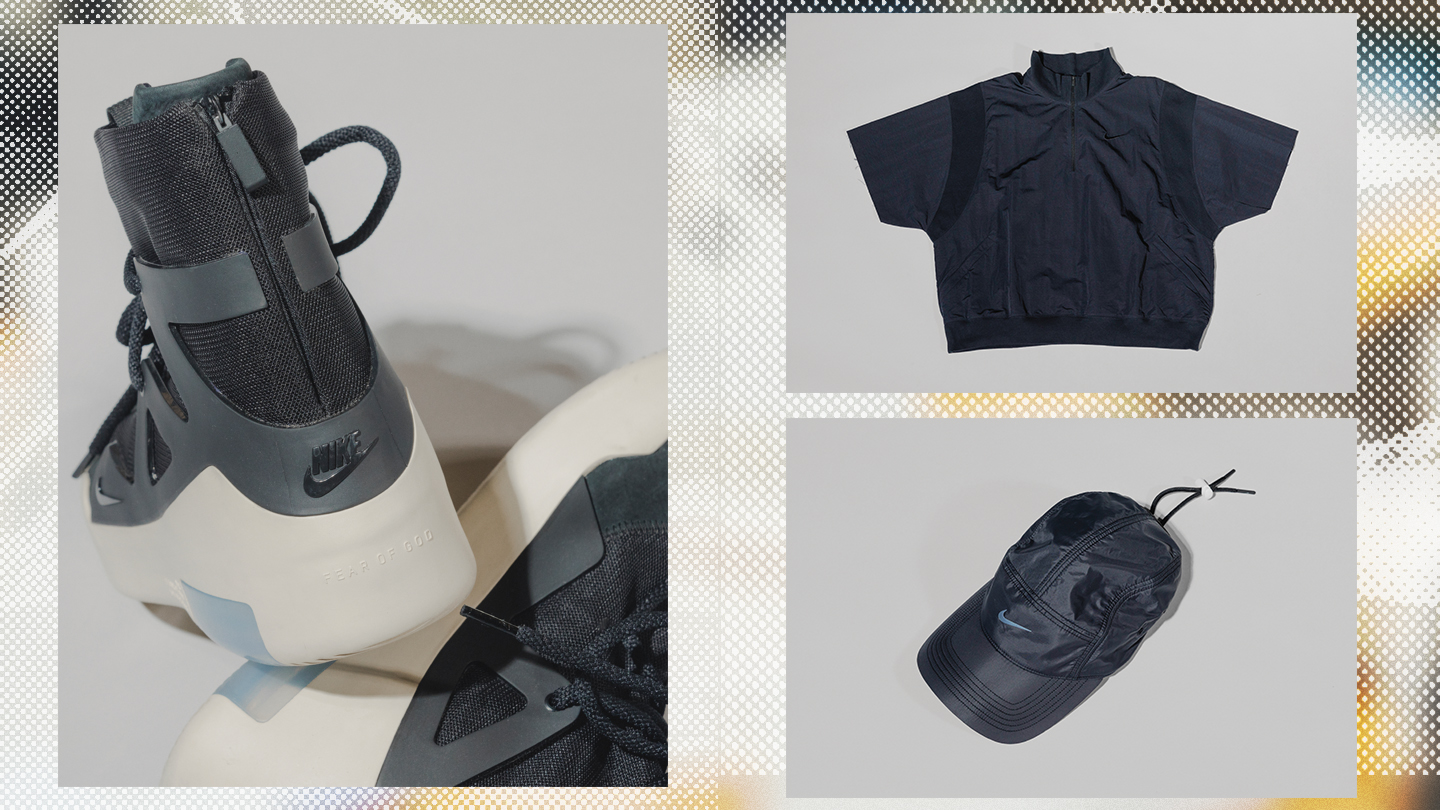 The sneakers—the Nike Air Fear of God 1 (on-court) and Nike Air Fear of God SA (shoot-around)—are also grounded in some of those same reference points, but with a futuristic twist. The Nike Air Fear of God 1 is a modern take on the Huarache Light, and borrows from the silhouette of a Fear of God sneaker (Lorenzo flew in a last of the sneaker from Italy). It's a high-top, inspired by the Uptempo and Air Pressure, that features a cage that unzips at the back, perforated microfiber suede lining, and a smooth Zoom Air Bag sole, like the Air Max 180. The Nike Fear of God SA is a cleaner, more minimal design. It has the same Zoom Air Bag sole, but instead of a cage, it has a large Nike swoosh on the side of the shoe, much like the Nike Mag, and a strap around the ankle that you can wear across the front or let hang off the back, Rasheed Wallace-style.
"We started out in a direction that was very close to Jerry's current footwear line, a little more retro-based, referential to older Nike silhouettes," says Chang. "But we went away from that design direction because I think what Jerry realized was, like, he doesn't need Nike to do that type of silhouette. He needs Nike to do the future and be able to push and go further. That was fun 'cause that's when he busted out the pencil and started drawing with us."
"I never sketch, but I was like, 'What if it looks something like this?" Lorenzo adds, moving his right hand up and down as if he were back in that moment, doodling. "And then we were like, 'That's it.'"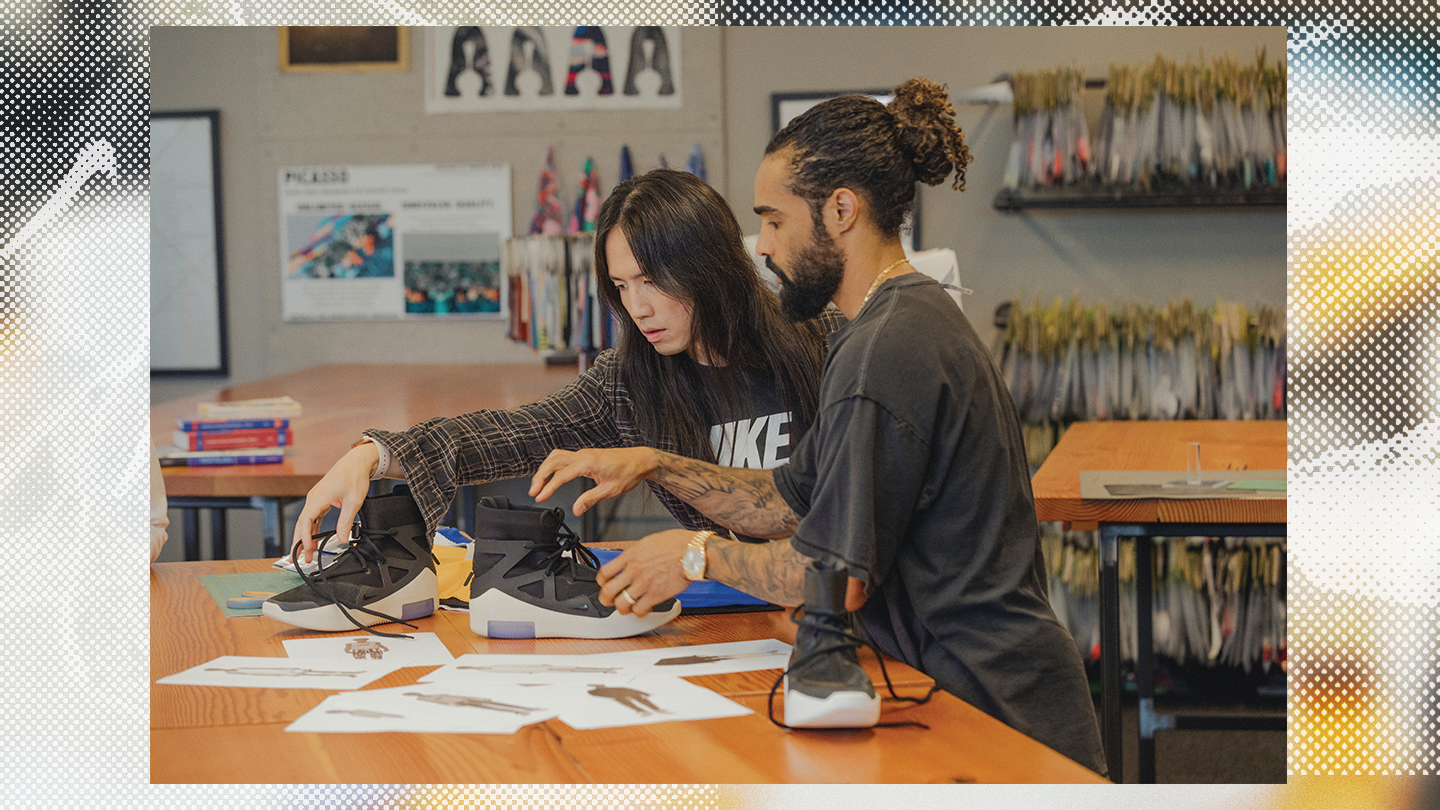 Regardless of inspiration, the goal was always the same: to make basketball performance gear that players can wear off and on the court. "The request was for me to tell a 360 story around basketball," says Lorenzo. "What is this guy wearing during the day? What's he wearing in the tunnel on the way to the game? What does his uniform look like? What does his warm-up look like? What he's wearing after the game? We really dove into the lifestyle of a basketball player." Lorenzo and Nike's design team experimented with various fabrics, including nylon, fleece, and French terry, to find materials that would let the garments hold their shapes and withstand wear and tear. They also had athletes test the sneakers.
"There was a version where it was all suede, and it was just too hot," Chang remembers. "That was something I went back to Jerry with. I was like, 'Yo, these players are saying they're sweating to death in these shoes and we need to make it more breathable. What do you want to do?'" They wound up using a mesh that was light and flexible enough, and offered the breathability and mobility that the players were looking for. "For us, it was a really fun collaboration because it was the meeting in the middle, the science and the art really coming together," Chang adds.
Lorenzo's Nike collaboration comes at an opportune moment. In the last few years, NBA players have turned arena tunnels into runway shows; their sneakers and custom-fitted outfits have become as much a draw for fans as the actual games. And now, after a ruling by the NBA this past August, players can finally wear sneakers of any color. "It's sport lifestyle, the convergence of cultures," says Meline Khachatourian, Nike global basketball footwear designer, who helped design the Nike Air Fear of God sneakers, "and I think this collaboration will take that even further."
"[Jerry's] attention to detail is insane. He took us to another level with the craft." - Leo Chang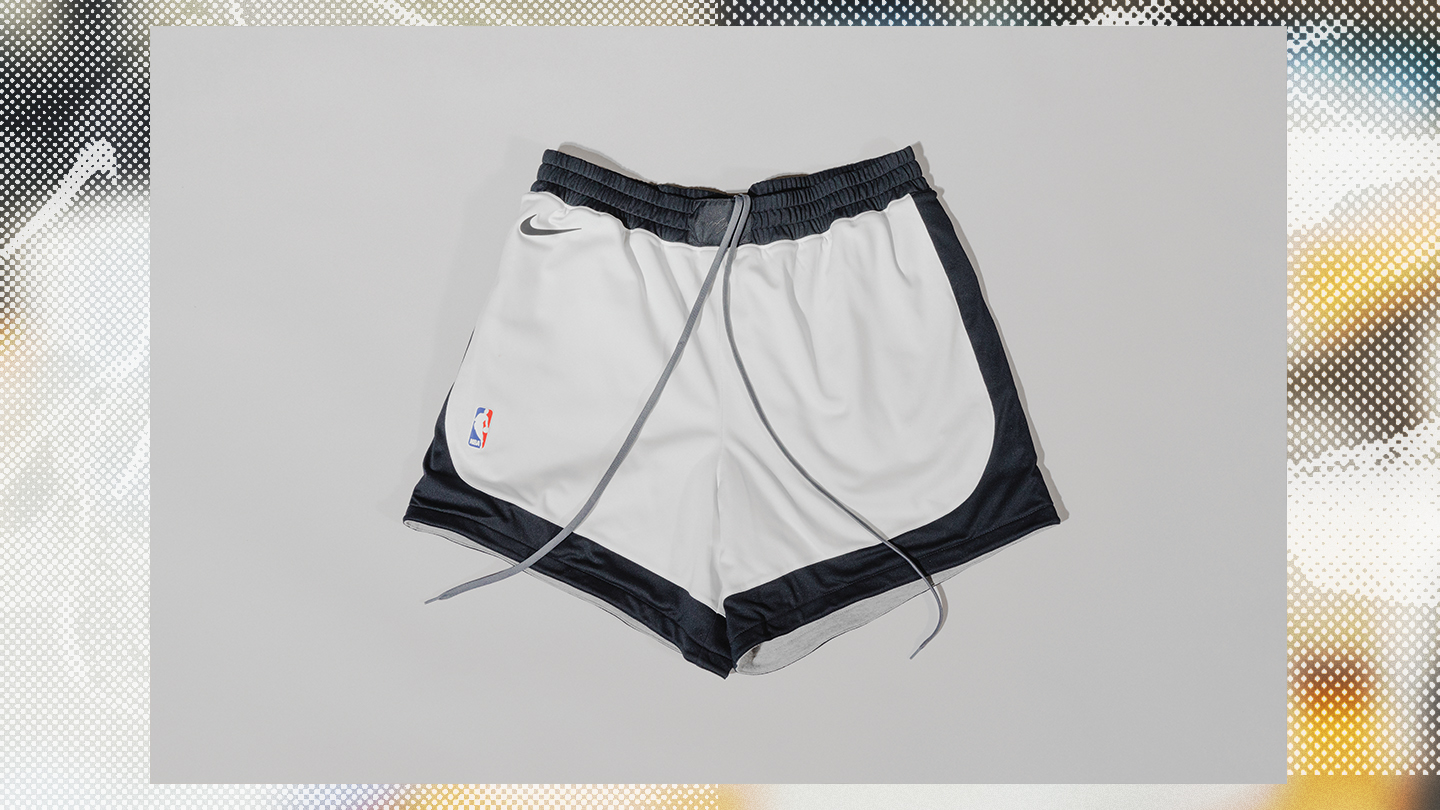 That's something Lorenzo says he considered when he designed the collection. "If I'm making a luxury sneaker, it's probably not gonna be comfortable, but it's gonna look super chic," he explains. "If Nike's making a performance shoe, maybe the shape is gonna be a little different than what a luxury shoe looks like, and maybe it compromises there. I wanted to make something that didn't compromise either way."
But a co-sign from, say, LeBron James, who arrived to a game against the Portland Trail Blazers in the Air Fear of God 1s, or reigning NBA sneaker champ P.J. Tucker, who wore the shoe during a game against the Brooklyn Nets, isn't all he wants from this collaboration. It's deeper than that. "I was trying to propose something that makes a kid feel the same way I felt the first time I had a pair of Jordans," he says. "That's lofty, and that's beyond what maybe anyone would think of a Nike collab, but if that's…" He pauses. "If you're gonna get the opportunity, that's the chase. You don't want to fall short of that."