Fe Noel continues the long tradition of political fashion statements.
The Brooklyn-based, Grenada-born designer closed out her NYFW show by unveiling the $1.6 million "Dre$$"—a head-turning couture gown that aims to raise awareness about retirement inequality. The piece was presented in partnership with financial services firm TIAA and is part of the company's ongoing #RetireInequality campaign. 
The Dre$$ features a corseted top and 16-foot cathedral train made from fake paper money that symbolizes the potential retirement savings women miss out on. According to the U.S. Census Bureau, women who work full-time jobs are paid just 83 cents on the dollar compared with men. That results in a $10,435 gap in median annual wages, an amount which—if invested properly—could give women an additional $1.6 million at retirement.
"I knew I wanted this to be a couture gown. Each detail was thought through and intentional," Noel said in a statement. "It's a structured gown with a solid foundation; the direction of the dollar bills is purposeful; the finishings and corset are all designed to convey strength and structure—something women exhibit. This dress is about laying a strong foundation and building on top of that. It represents women's strength while also highlighting a very real problem in society—the 30 percent retirement income gap between women and men."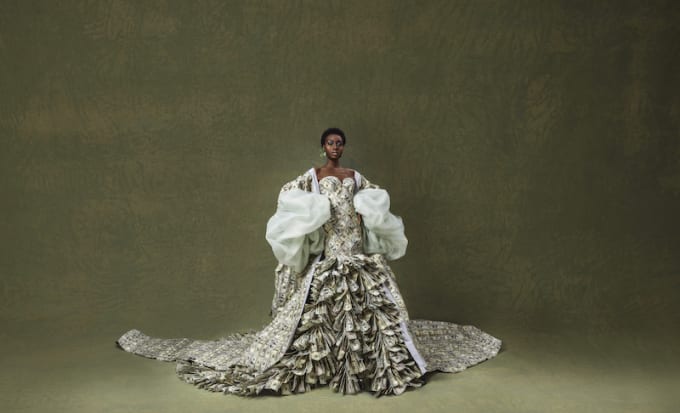 The Dre$$ was part of Noel's spring/summer 2023 collection, and will be displayed at Broadway and Grand Street in New York City until Sept. 20. Visitors can snap a photo of the dress and share it on social media using the hashtag #RetireInequality. For every post, TIAA will make a donation to Dress for Success, a nonprofit that helps women achieve financial independence.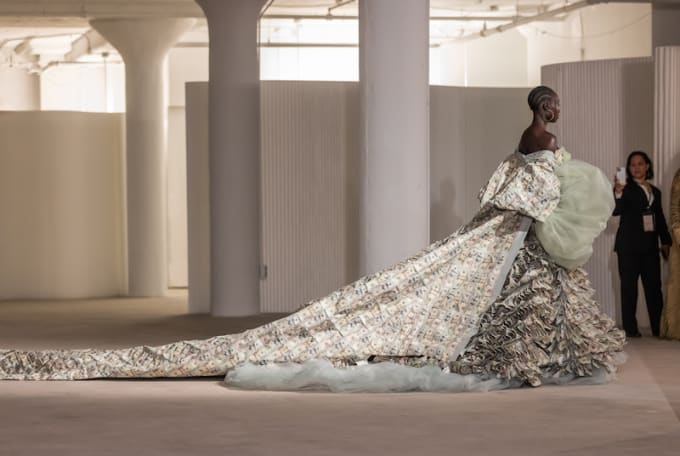 "New York Fashion Week presented us with an opportunity to bring the retirement income gap to life on a global stage," TIAA's CMO Micky Onvural said."Women retire with a staggering 30 percent less retirement income than men. We were able to work with Fe Noel to turn that shocking statistic into a visceral, visible and high-impact learning opportunity. Through this initiative, we are striving to change the conversation around retirement and reach new audiences across age, race and gender about the work that still needs to be done to ensure more people have enough income in retirement."