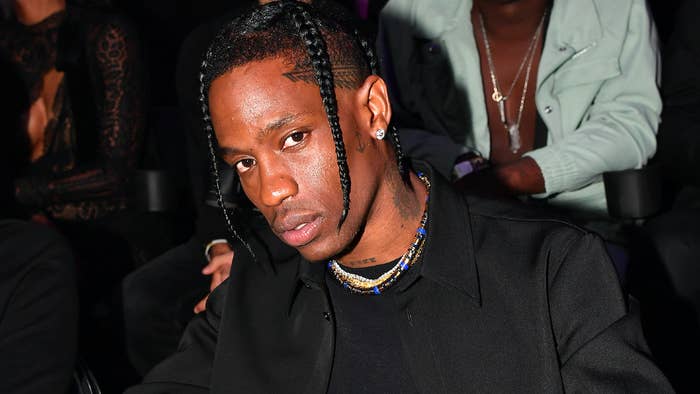 No doubt one of the most exciting link-ups of the year has been the collaborative effort between Travis Scott and Kim Jones. And in a new interview, the Utopia-building artist and the prolific fashion designer got candid about what's at the heart of their history-making Cactus Jack Dior collection.
Speaking with AnOther for a new cover feature that dropped Friday, Scott—whose 2021 has also included a Baby Keem collab—explained that he and Jones are real-life friends, which is integral to the success of their work together.
"Kim is a friend of mine," he said. "I probably wouldn't be doing this if he wasn't involved. He is such an inspiration. I was a fan even when I was in college, so it's crazy to be working with him." Getting the chance to see pieces being made by hand, he added, has been an "insane" experience.
The two have been talking and texting on a consistent basis since first meeting six years ago, when Jones was still at Louis Vuitton. As Jones explained, Scott knew "exactly what he wanted" to see in their work together, kicking off the shared process by taking a dive into the Dior archives.
"He understands what young people want, knows how to appeal to them," Jones said, adding that La Flame also knows "what the brand is about." 
Jones is also quick to note that the pairing, as with any partnership he embarks on, isn't fueled by the idea of celebrity but is instead part of his larger ideology on collaborative work. "You can't accomplish your ambitions for a house like this if you're doing it alone," he said. "It's not about talent or celebrity, but if someone produces something I find cool, I want to interact with him."
Peep the full interview here.
Also receiving a brief mention here is the aforementioned Utopia album, which is currently still expected to be arriving before year's end. While the mention is characteristically bereft of specifics, a recent update on the album's intended message offered fans another influx of hope just last month.
Fans have also speculated that we could get an even more in-depth idea of Scott's utopic vision as part of next month's (entirely sold-out) Astroworld Festival, which Scott has billed as an opportunity to "share and experience with all the other likeminded, chaotic ragers."