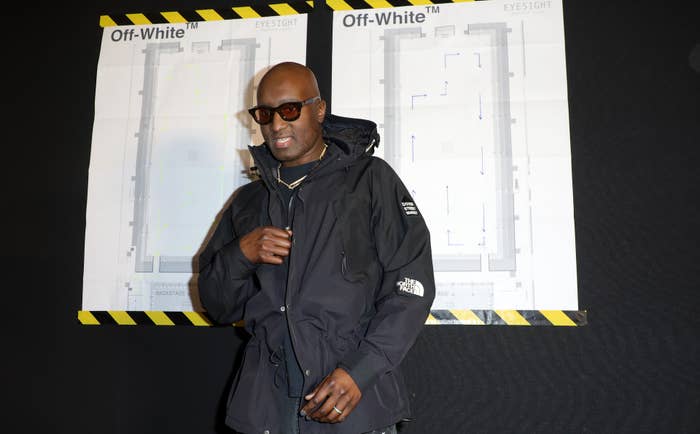 As Off-White embarks on what's being billed as its "next chapter" following the death of founder Virgil Abloh, a new report breaks down what lies ahead for the influential brand.
Moving forward, as explained in an extensive Business of Fashion report, the goal will be to "harness the legacy" of Abloh by carrying out the "endless" number of ideas that accumulated over the years via WhatsApp conversations.
"The next two years, we are going to go full-speed," Andrea Grilli, who's served in a CEO capacity at Off-White since 2019, said in the new report. "The fuel being poured into the brand, it's for decades, for centuries. Virgil would have wanted us to do it. He always said this has to be a multi-generational brand; our kids need to go on Rodeo Drive and Rue Saint-Honoré and see it."
Mentioned throughout the report is the likelihood of taking a more "collective" approach when it comes to succession, though all involved parties expressed that an openness to multiple potential avenues was key to keeping the unique spirit of Off-Brand going strong for future generations.
"It's going to be a group of people, a movement, a collective," said Davide De Giglio, co-founder of New Guards Group. "Think about Linux, open-source: you can inject something new and the software pattern evolves."
With a deal made last July, LVMH—as previously reported—increased its stake in Off-White while also taking a minority stake in the brand's operating company, which itself is under the control of the aforementioned New Guards Group and parent company Farfetch. 
Made clear in the new Business of Fashion report is that while the agreement between New Guards and LVMH can indeed be renegotiated or brought to an end in 2026, the two entities are currently viewing the relationships as a long-term one. Louis Vuitton's chairman and CEO, Michael Burke, compared the current Off-White situation to a pivotal moment in Dior history.
"If the legacy is rich, authentic, and steeped in values that go beyond fashion, the odds of turning a passing into something eternal are spectacular," Burke said Monday, comparing the 2022 position of Off-White to that of Dior in 1957 following the death of Christian Dior. Read more here.
This week, Off-White is honoring Abloh, who died last November at the age of 41, with what's previously been described as an "immersive runaway experience" as part of Paris Fashion Week. Off-White will make its TikTok debut with the Spaceship Earth-titled event, which boasts the distinction of being the first-ever multi-camera LIVE Line-Up experience on the platform.
"Virgil Abloh inherently understood the cultural shift towards inclusive, layered brand experiences that inspire globally," Sofia Hernandez, Global Head of Business Marketing at TikTok, said when announcing the "imaginary experience" this month. "This is driven by the youth of our culture whose interests are multidimensional: they're creators who love fashion and music and art and sports."