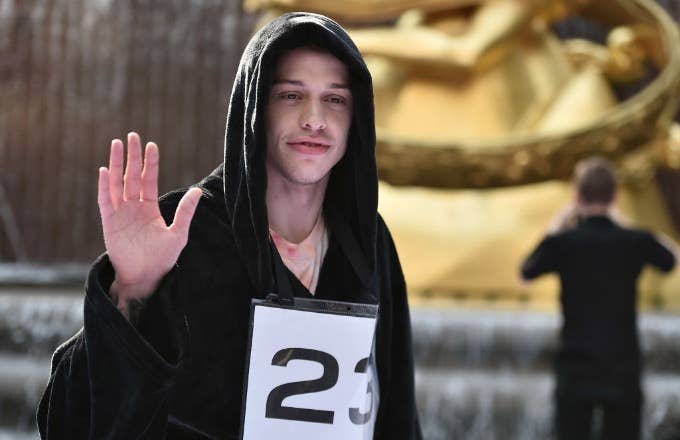 As runway debuts go, bagging this distinction by way of an Alexander Wang show is quite the coup. Pete Davidson landed his first runway walk experience over the weekend as part of the American label's spring 2020 show at Rockefeller Center, a top-tier spectacle complemented with hot dog stands and slushies.
"I love New York. It is my home," Wang said via livestream prior to the show's kickoff, adding that he and his team were "so honored" to host the display ay Rockefeller Center. "I feel so proud to be based here. It's such an incredible city."
Davidson was joined in the runway lineup by Kaia Gerber and Kendall Jenner, among others. See the full archived footage of Davidson's debut, as well as the entire show itself, below via the official Alexander Wang channel:
In a celebratory message to his supporters after the show, Wang expressed gratitude for the "endless hours" his team of models and agents put in to make the show a success. "I share this with all of you," he said.
Davidson is fresh off a run of successful non-SNL projects, including the well-received Sundance entry Big Time Adolescence and a turn in the Mötley Crüe biopic The Dirt, both co-starring Machine Gun Kelly. He's next set to be seen in John Turturro's Going Places, which centers on the revival of a certain Big Lebowski character.