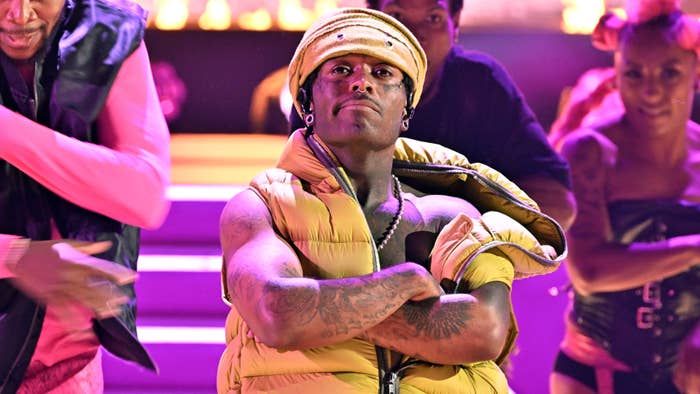 Lil Uzi Vert says they're now "flyer than ASAP Rocky" after previously receiving assistance in the style department from their fellow artist.
In an interview with Neena Rouhani for Billboard ahead of their BET Awards performance, Uzi reflected on the influences that shaped them into the groundbreaking artist they are today. This resulted in shoutouts to the supremely underrated Mike Jones, the acclaimed Kendrick Lamar, and—in terms of style—the always daring ASAP Rocky.
"ASAP Rocky helped me with my clothes," Uzi said, as seen below. "But you know, I think I'm flyer than ASAP Rocky nowadays. … I think I'm flyer than him. I don't think he could touch me nowadays."
As for what Rocky might have to say about this, Uzi playfully suggested they're not too worried about that.
"He can say whatever he want," Uzi said. "He know me. He know I got them pieces in the corner, you know. Shout-out to Flacko though."
See the full red carpet chat below. In it, Uzi also mentions Pharrell's recent Louis Vuitton debut in Paris, noting that they were unable to make it out in person due to ongoing work surrounding the upcoming Pink Tape release.
During their eventual BET Awards performance, Uzi performed their blockbuster hit "Just Wanna Rock" while also sneaking in a tease of an unreleased new track tentatively titled "Spin Again."
As fans will note, Uzi has been on one hell of a run as of late. Just last week, Uzi's Bring Me the Horizon and Daryl Palumbo collab received a fittingly cult-esque video. Also this month, Uzi had the opportunity to perform with one of their idols, Hayley Williams of Paramore.
Though the long-teased project still doesn't have an official release date, Pink Tape is expected to arrive at some point later this year.