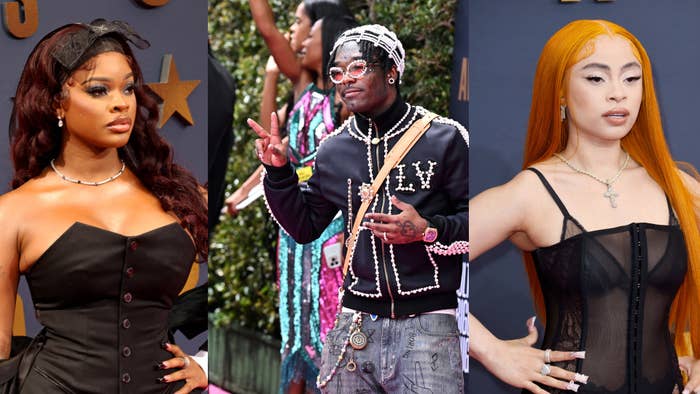 Making the rounds Monday morning is footage alleged to show City Girls' JT tossing her phone at Lil Uzi Vert over some sort of misunderstanding involving Ice Spice.
Though it's hard to tell what, exactly, is going on in the main clip that was being widely shared at the time of this writing, a woman claimed to be JT is heard shouting after tossing something at Uzi during Sunday's BET Awards festivities in Los Angeles.
"Bitch!" she's heard saying. "What the fuck wrong with you, bitch?"
Of note is the fact that Uzi had been assigned a seat next to Ice Spice at that evening's festivities. This seating arrangement resulted in the below photo being posted on Instagram by Ice Spice earlier in the evening; later, it was reshared by a prominent Uzi fan account.
Despite the speculation sources close to JT told TMZ Hip Hop that Ice Spice was not to blame for her actions, and instead, she became agitated after losing her seat. According to TMZ's sources, JT "loves" Ice Spice.
During Sunday's show, Uzi hit the stage for a performance of their blockbuster single "Just Wanna Rock." The performance opened with a tease of the tentatively titled and not-yet-released track "Spin Again," which features a lyrical shoutout to Ice Spice:
"She got a lil fro, she look like Ice Spice"
In another clip, Ice Spice appears to be seen talking to both Uzi and JT, which suggests a reconciliation on this apparent non-issue may have come swiftly.
Of course, no one involved in any of this had publicly commented on any subsequent developments at the time of this writing. All three artists, however, have been undeniably busy as of late.
JT is set to soon launch her new site, The Girl JT World, where she's planning to exert "full creative control" over upcoming projects. Uzi, meanwhile, is expected to be rolling out their long-teased Pink Tape project in the near future. Just last week, Uzi linked with Bring Me the Horizon and Glassjaw's Daryl Palumbo for the official video for the recently released collab "AmEN!"