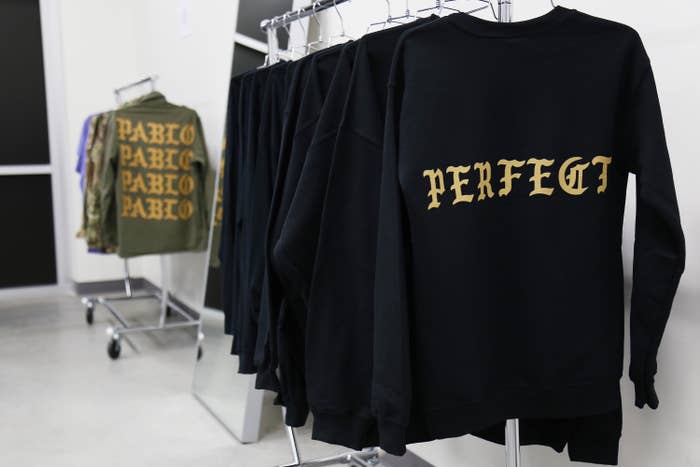 Kanye West's The Life of Pablo merchandise has been nominated for the Beazley Design of the Year award. The Design Museum in London announced the full list of nominees Wednesday, including West's wildly popular Pablo merchandise and pop-up shops in the fashion category. Other fashion nominees include the Pussyhat Project, Levi's Commuter Trucker Jacket with Jacquard by Google, and Nike's Pro Hijab.
Pop-up shops for West's Bravado designs attracted massive crowds at 21 locations around the world last August. Speaking withVogue, Cali Thornhill DeWitt—the artist with whom West collaborated on Pablo merch— explained his initial reluctance to publicly confirm his involvement. "I didn't come out and say that I did it," he said. "I didn't come out and say that I didn't do it. But everyone who hit me up for interviews, I just told them, 'No, thanks.' Because to me, it's a symptom of the times: People wanna be known so much, you know?"
Nominees in non-fashion categories for the Beazley Design of the Year award include Niantic's augmented reality hit Pokémon Go, the text message service Refugee Text, and the Autonomous Rail Rapid Transit (ART). ART, designed by CRRC, had a test-run earlier this year in Zhuzhou, China. The "intelligent rail system" is fully autonomous and is guided only by a double-dashed line painted on the street.
The Design Museum will announce a winner from each category Jan. 25, 2018. An "overall winner" will also be declared. Previously, the Beazley honor has gone to Shepard Fairey's iconic Barack Obama poster, Yves Béhar's One Laptop Per Child, and the UK government website gov.uk from GDS.