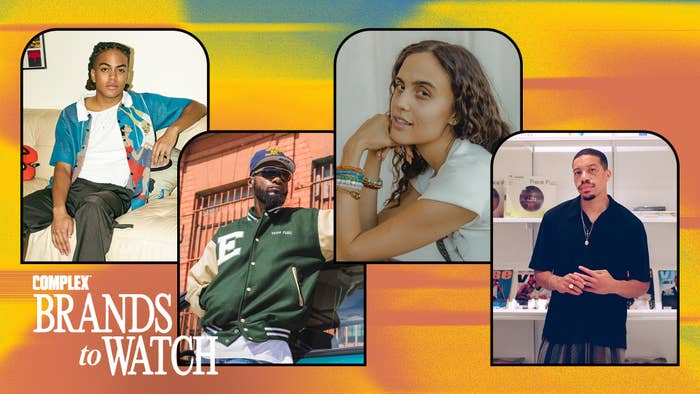 This coming weekend, ComplexCon returns to Long Beach for two days of unique experiences ranging from a headlining ASAP Rocky set to exclusive drops.
Joining the stacked lineup for the 2021 edition of the carefully curated festival is the dedicated Brands to Watch section. The project first launched back in June 2019 at ComplexCon Chicago and has since become a recognizable favorite in the lineups for both ComplexCon and ComplexLand. 
Selected for Complex's Brands to Watch distinction this time around are Juliet Johnstone, Curves by Sean Brown, Everything We Do Is Limited, and Advisry. As has been the case for previous iterations of the Brands to Watch rollout, ComplexCon attendees can expect to see a designated section for these brands on the floor this coming weekend. Each brand is slated to bring new, exclusive pieces to the festival. And for more on each brand, see below:
This year's assortment of Brands to Watch selections is part of a veritable supergroup of featured labels and artists. Among the previously announced features of ComplexCon 2021 in Long Beach is the full lineup for First We Feast's Lagoon, a special food experience curated by Care of Chan. This year's Lagoon lineup includes All Flavor No Grease, Fluffy's Sno-Balls, Katsu Sando, Little Coyote, Señoreata, and much more.
As for Rocky, he'll be performing to commemorate the 10th anniversary of his debut mixtape Live. Love. ASAP, which recently received an official streaming release.
ComplexCon hits Long Beach, California on Nov. 6-7. For more info, including how to secure tickets and a more in-depth rundown of what to expect, click here.