Another facet of Tiffany & Co.'s "About Love" campaign, led by Beyoncé and Jay-Z, was released Tuesday morning.
The "Date Night" short, billed as a "bonus film" to the campaign, is helmed by Dikayl Rimmasch and second unit director Derek Milton. The two-minute video depicts a night out for the Carter family, complete with a cameo from their daughter Blue Ivy and nods to Breakfast at Tiffany's.
The NYC-set short is soundtracked in short excerpts by recognizable Paul Anka and Bert Kaempfert cuts, with some presumably delicious pizza and Armand de Brignac champagne also making appearances. Jean Schlumberger pieces are seen on the couple, including—on Jay—the Bird on a Rock brooch.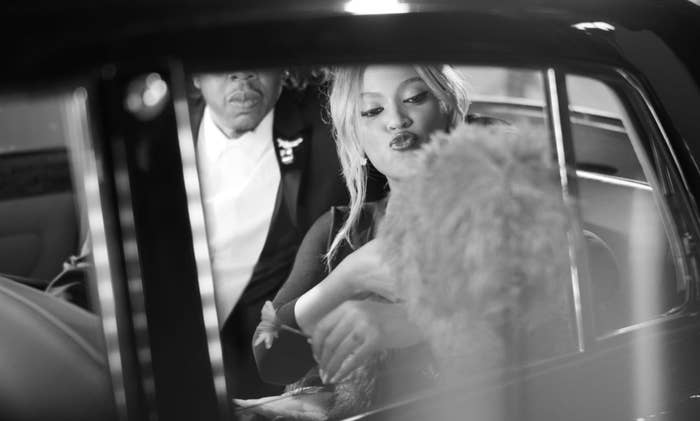 Back in August, several headlines of the Tiffany variety focused on the appearance of a never-before-seen Basquiat painting in initial campaign images. The following month, the Daily Beast reported that several friends and collaborators of the late artist—who died in 1988 at the age of 27—were not happy with the piece being utilized in this fashion.
As Alexis Adler—who lived with Basquiat between 1979 and 1980—explained, "the commercialization and commodification of Jean and his art at this point—it's really not what Jean was about." And that's not the only controversy attached to the campaign. Beyoncé's mother Tina Lawson, meanwhile, has defended the campaign against criticism.
Later this year, more bonus films from the campaign will be released. As part of the Tiffany collab, the brand has partnered with BeyGOOD and the Shawn Carter Foundation for the Tiffany & Co. About Love Scholarship Program. As previously reported, Tiffany & Co. pledged $2 million in scholarships for students in the arts and other creative fields at HBCUs.
Also on Tuesday, a Peloton x Beyoncé Artist Series launched, with the company deeming it the "most extensive Artist Series to date" and backing that claim up by teasing "72 hours of powerful content, 17 classes over a three-day period with content streamed globally from Peloton Studios New York and the new Peloton Studios London." Beyoncé and the popular fitness company—who announced a multi-year partnership last November—are also giving 10 HBCUs Peloton bikes this fall.