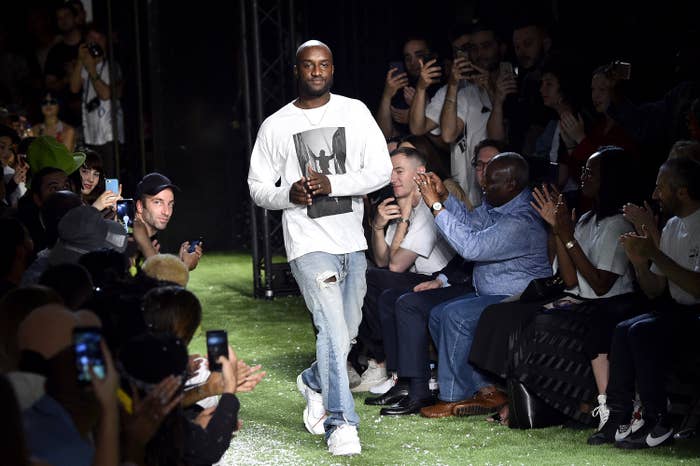 The invitation for today's Spring 2019 Off-White show in Paris featured an oil painting of a man that had previously been used as cover art for Oscar Wilde's novel, The Picture of Dorian Gray. On it, the name Jim Stark also appears in all caps and quotes across the front, the character played indelibly by James Dean in Rebel Without a Cause. In recent seasons, Off-White creative director Virgil Abloh has cited inspiration by other oft-cited cultural touchstones like Princess Diana and Sex and the City's Carrie Bradshaw. If Beyonce cared about streaming numbers, she would've put Lemonade up on Spotify; if Abloh cared about his critics' claims that he's an unoriginal designer, he would steer clear of broadcasting the same references freshmen use to decorate their dorms.
Jim Stark, it became clear, was just a way to frame the inspirations that Abloh was working through in his latest collection; yes, there was a red denim coat that alluded to the one Dean wore in the 1955 film, but we (thankfully) weren't treated to a literal interpretation of mid-century bad boys with cigarettes behind their ears. Instead, as he did on the show invite and often does elsewhere, Abloh introduced other, seemingly disparate elements, many of which converged around the theme of rebellion.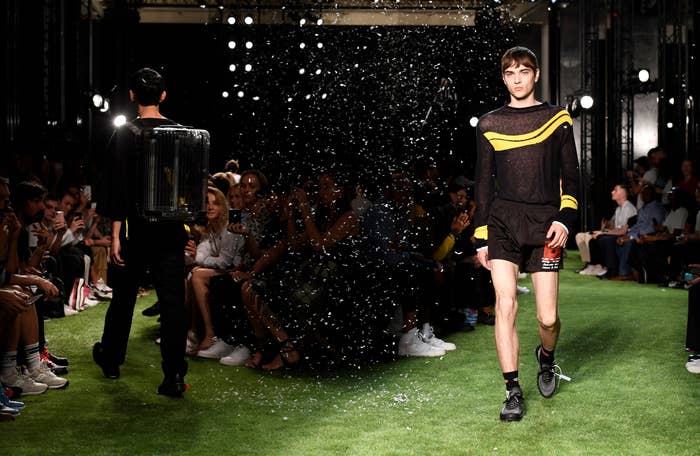 The show largely served as a tribute of sorts to Dondi White, the graffiti artist from East New York, Brooklyn, who rose to fame in the late '70s and early '80s for tagging his name on New York City subway cars. (His art has previously been used by Supreme.) One iteration of his tag—his own name styled in all caps, surrounded by quotation marks—should be familiar to any Off-White fans used to seeing the way Abloh marks his own creations, as in his boots labeled "FOR WALKING" or his recent collaboration with Nike, that includes pieces with "LOGO" stamped across the back.
As guests—including Luka Sabbat, Bloody Osiris, Don C, Christian Combs, and recent Abloh collaborator Takashi Murakami—filed into the Théâtre National de Chaillot, just steps away from the Eiffel Tower, they were led into a hall that had been transformed into a New York City park at night. Abloh's new LVMH colleague, Rimowa CEO Alexandre Arnault, posed for photographers, while stylist, editor and fashion fairy godmother Carine Roitfeld made her way in heels across the AstroTurf that covered the floor to compliment a British GQ editor on his denim cut-offs so short, the tails of his Hawaiian shirt poked out from underneath. If, for some reason, Abloh's recent appointment as the head of Louis Vuitton's menswear wasn't proof enough that he has been embraced by the fashion establishment, the schmooziness of the crowd gathered today could also confirm that. The air-kiss-o-meter was off the charts.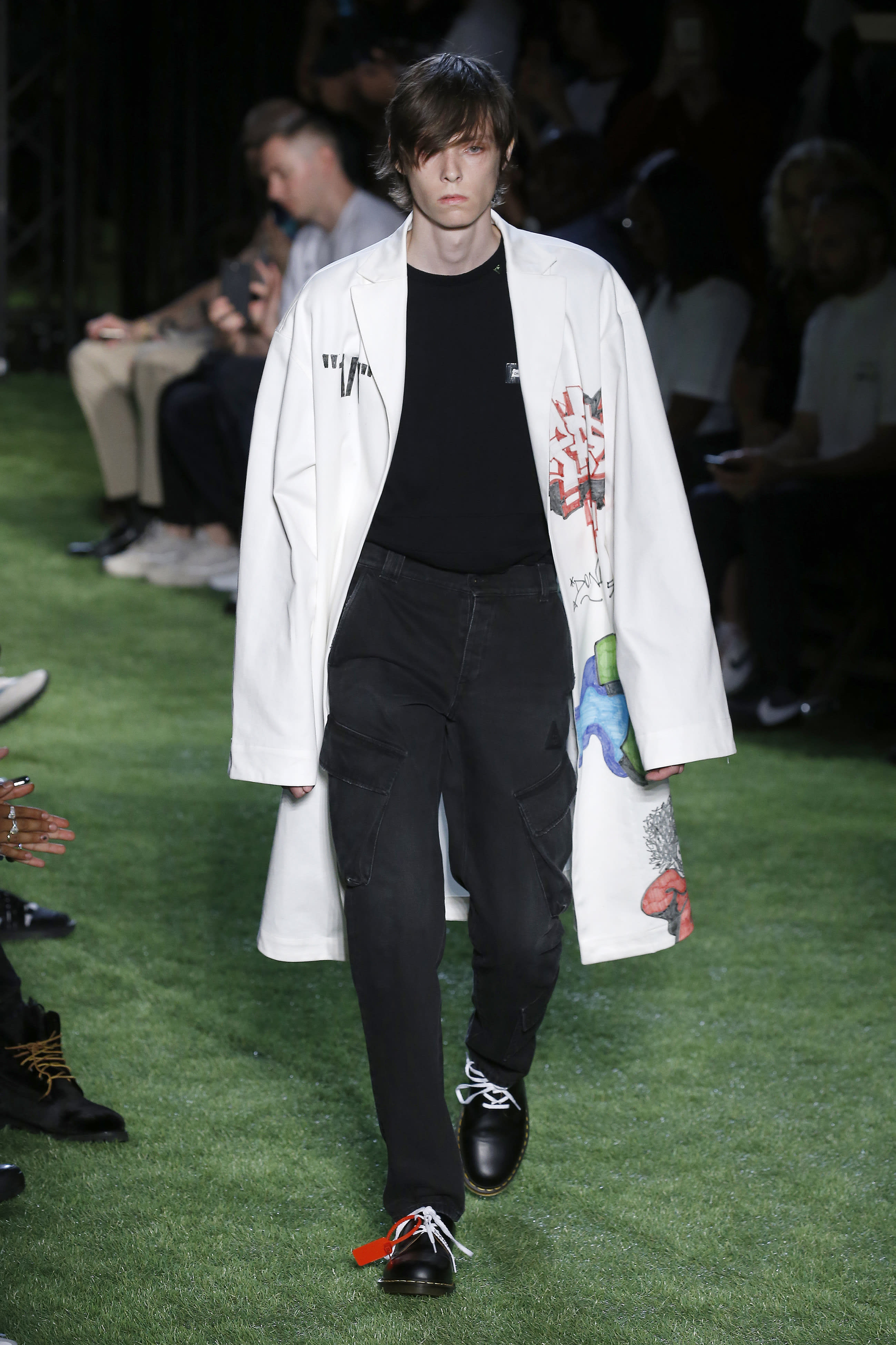 The attendees also reflected the atmosphere Abloh was hoping to recreate. In an Instagram caption posted before the show, Abloh wrote that part of what makes New York parks so unique is the mix of "thugs and skaters hanging out with the rich and elite" who intersect and mingle in public places. For every seasoned fashion editor who arrived straight from Milan, there was an up-and-coming musician or Instagram influencer in the house who took the same flight (if they didn't fly private). That all were given equal seating at the Off-White show, and all were given something in the collection that could appeal to them, speaks less to the fact that Abloh's designs are straddling two worlds, and more to the idea that both worlds are converging around him and his contemporaries. It seems pointless to even talk about a high-low aesthetic mix, when the notion of high and low simply doesn't exist in the way it did just a few years ago.
Here, a denim anorak covered in strings of sequins exists seamlessly next to a T-shirt featuring Bart Simpson—whom Abloh called "the face" of the rebel without a cause lifestyle—that looked like the unlicensed versions you've been able to buy for a few dollars downtown for the last several decades. There were also tees printed with Dondi graffiti, and a white overcoat that was hand-painted in his style. (Dondi himself died in 1998, but his brother was in attendance today.)
The collection was denim-heavy—loose, light-washed, destroyed, embellished, and floral printed—but the standout item was easily an oversized, dip-dyed, knee-length coat that will undoubtedly appear on Instagram feeds around the world as soon as it's made available. Attendees were also given a glimpse at an Off-White x Dr. Marten's collaboration in the form of black shoes adorned with the signature Off-White plastic tag hanging from the top. Given the success of Abloh's previous Nike collaboration, it was not surprising to see more of those, too. This time, there were two new Off-White x Nike Air Max 97s, in both light and dark grey, and black Off-White x Nike Blazers. Several models also wore pieces from the brand's recent collaboration with Rimowa, sporting see-through, hard-case luggage as backpacks.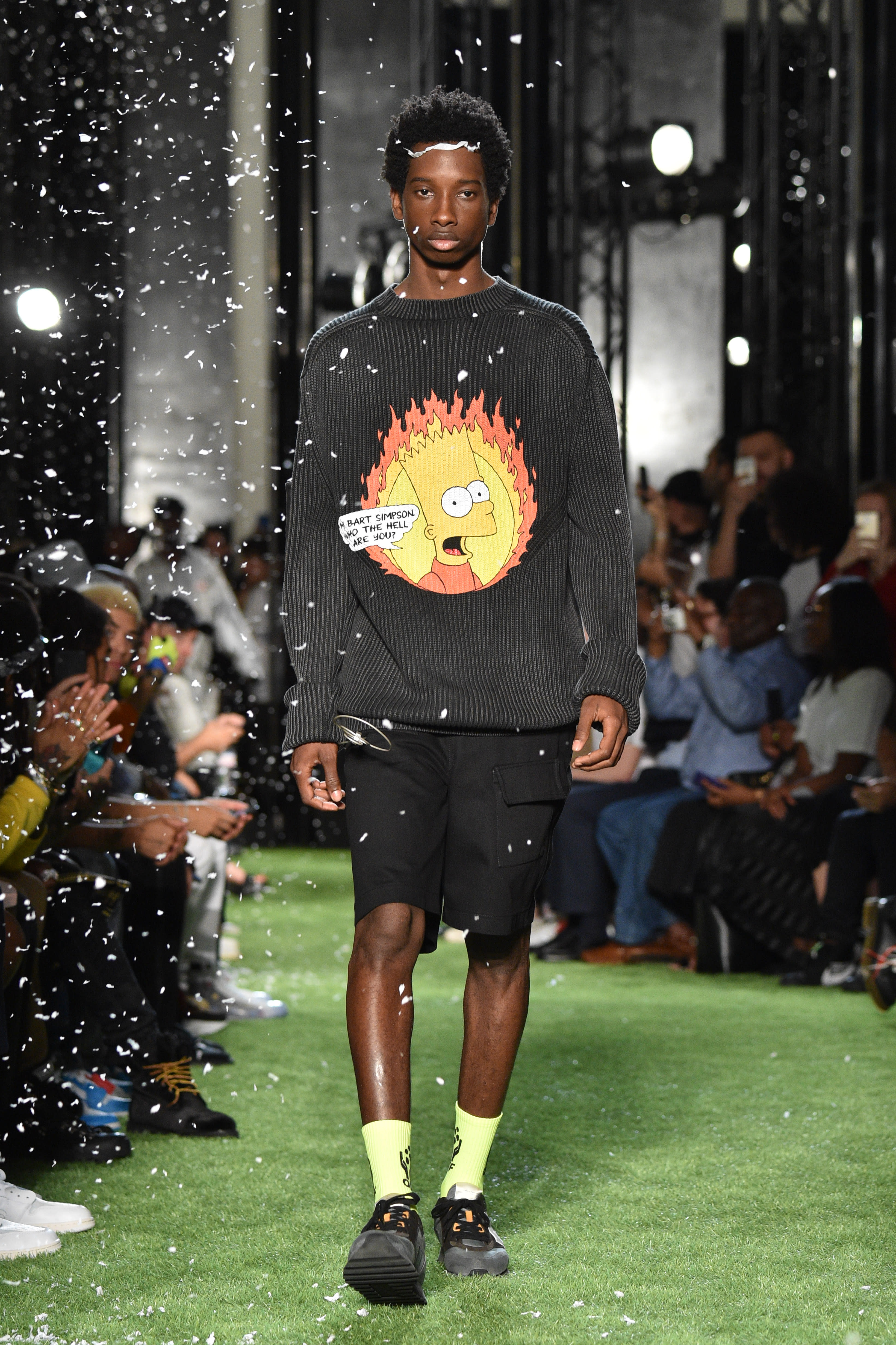 For about 30 seconds in the middle of the show, fake snow fell on the runway and the front row, while an almost-chopped-and-screwed rendition of "White Christmas" played on the soundtrack. (You can still find snow all year round in city parks, as you could in the drug-fueled New York of Dondi's day—another unifier of people from all walks of life.) The moment might seem like it was crafted for social media, but it also highlighted another part of this collection and this show that hasn't always been present in Abloh's designs: a genuine sense of humor. It seems like Abloh is having fun for the first time, and the clothing reflects that in the best possible way. It almost doesn't matter whether this looseness comes from feeling like he no longer has to prove himself as a designer after he nabbed the Vuitton job or just from someone who has hit a groove. A bootleg-looking Bart Simpson T-shirt on the runway during Paris Fashion Week is funny. And laughing, in a time like the one we're living in, does feel a bit like a rebellion.
After the house lights dimmed at the start of the show, audio from an interview with Dondi played overhead. "I never had to compromise myself," the artist says. "It was always me, doing what was comfortable, and relaying the message that I didn't have to be taught to be creative and do good things. I guess what I'm saying is that I'm here, and I want to be heard. I come from the streets, I painted on subways, and I feel my work is important. I want people to see it. I want to influence others."
After his current run, the argument for a line connecting the influence of iconoclasts like Jim Stark and Dondi to Abloh has never been more persuasive than it is in this moment.