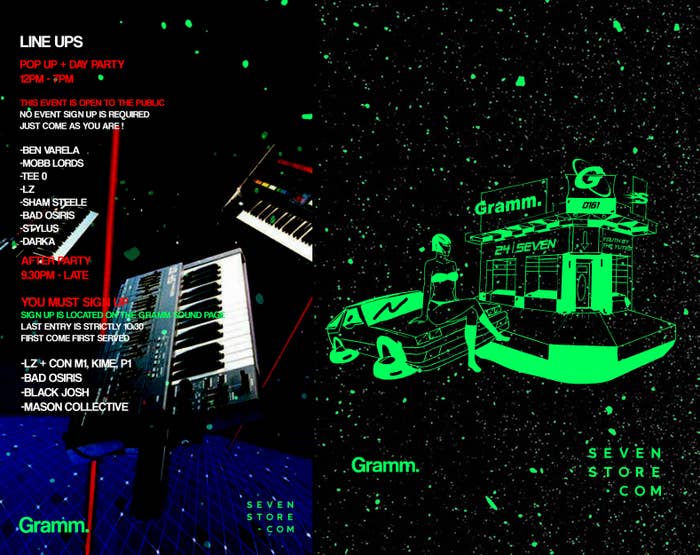 GRAMM is keeping the streets hot this Summer as they deliver an exclusive pop-up to their Manchester home alongside SEVENSTORE. 
2019 has proven to be a big year for both GRAMM and SEVENSTORE alike, with the Manchester-born brand bringing high-octane vibes to Paris Fashion Week, and the latter welcome their first physical retail space to the heart of Liverpool. With both brands taking large leaps forward to cement themselves within the scene, it was only right that their paths would cross in a way that champions the culture in which they reside. Through their ongoing CONTAINER program - the first of which was launched in collaboration with Evian Christ to huge success - SEVENSTORE have made their commitment to community culture and the connecting of ideas known, using their spaces to unite people through more than fashion alone. This second dose of CONTAINER is set to bring GRAMM's Corner Shop to life as a pop-up shop used as a showcase of up-and-coming designers alongside a slew of exclusive GRAMM x SEVENSTORE merch. 
This is, however, about more than just apparel, with the event hosted by a host of rising DJ talent throughout the day. Once things have cooled down, GRAMM will be turning the temperature straight back up for the official after-party - For the Youths by The Yutes - headed up by Black Josh and Mason Collective. 

There will, of course, be no shortage of vibes on the day, with all like-minded individuals invited to join the experience. The GRAMM pop-up powered by SEVENSTORE is set to kick off on Saturday 28th July at Longbridge Road, Manchester. Further information can be found on the flyers below, and by visiting the official GRAMMinsta.