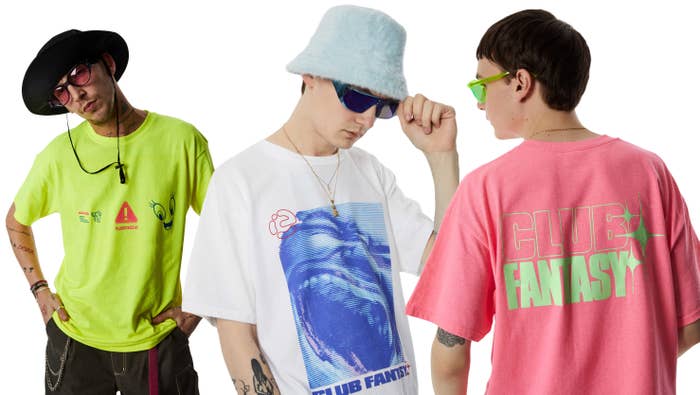 Ex-Donda Art Director, Joe Perez, is keeping hedonism alive with the launch of his new graphic-heavy brand Club Fantasy. 
There is a certain level of quality and attention to detail one comes to expect when looking at a name with as much weight as Joe Perez. Having played a hand in some Kanye West's Donda's biggest and most recognisable projects, you'd be hard pressed to find something he's been responsible for that doesn't instantly catch your eye. 
Club Fantasy is no different. Inspired by rave culture, the range stands as a natural fusion of the worlds of music and fashion to deliver a lifestyle brand that encapsulates the hedonistic nature of youth. As such, a rebellious spirit shines through the first collection, titled 'Endless Euphoria', highlighted through the use of a loud colour palette and a range of strong graphic prints. 
During such divisive times, Club Fantasy exists as a destination for subcultures, races, ages, and sexualities to retreat from the pressures of the world and find fun again. This lifestyle is informed by the high-octane raves that characterised the 80s and 90s, with each graphic motif exploring these eras. 
Eye up Club Fantasy's first collection, Endless Euphoria, below and head over to their online store to shop the first drop now. Stay ready, products from the second delivery are set to hit the store from March 26th.