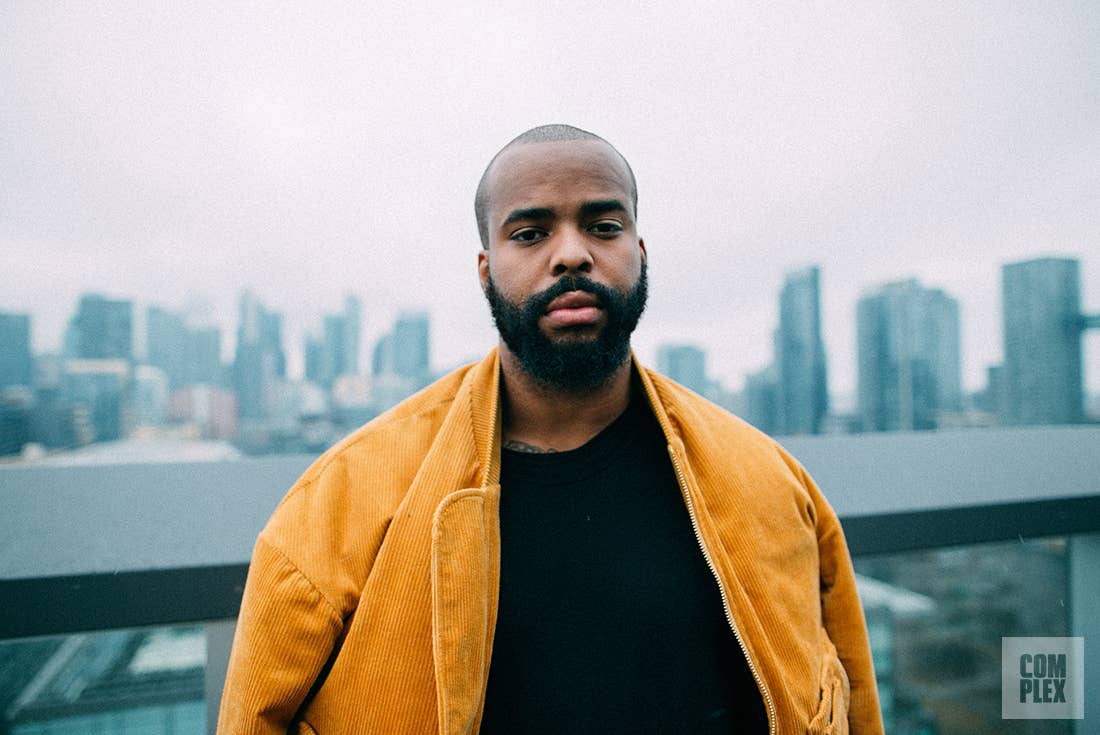 Slumped in the back corner on the main floor of East Room, a members-only communal office space in Toronto's Riverdale neighborhood, La Mar Taylor is glued to his phone. Taylor, who now lives in L.A., had planned on only visiting family and friends while he was in town. But right now, the creative director for Grammy award-winner The Weeknd is planning several projects for artists under the singer's XO record label. "It always comes together in the last minute," says Taylor.
The 26-year-old, who's dressed in a black Puma tracksuit and matching sneakers, met The Weeknd ("Abel," to him) the first day of their freshman year of high school in Scarborough, a suburban district of Toronto. "We had the same business class and I remember it vividly," he says, laughing. "I was wearing a pink polo and he had a baby blue du-rag on. We were just cracking jokes at each other." Taylor and The Weeknd shared interests in music and creative photography, and quickly formed a bond.
At 18, he and The Weeknd dropped out of high school together, and moved into a one-bedroom apartment in downtown Toronto with their friend Hyghly Alleyne. At that point, The Weeknd was already dabbling in music and Taylor was developing his skills in photography. Taylor had planned on becoming a nurse, and he admits he was hesitant to drop out at first. But he eventually surrendered to The Weeknd's persuasion. "We wanted to live the lifestyle 24/7," he says. "No ifs, ands, or buts. It just got to the point where we were like, 'We can't fucking hop on the train at 1:30a.m. trying to catch the last one to go back home [to Scarborough] and then do the same thing all over the next day. If we really wanted to live our dreams, we felt like we had to live the lifestyle non-stop."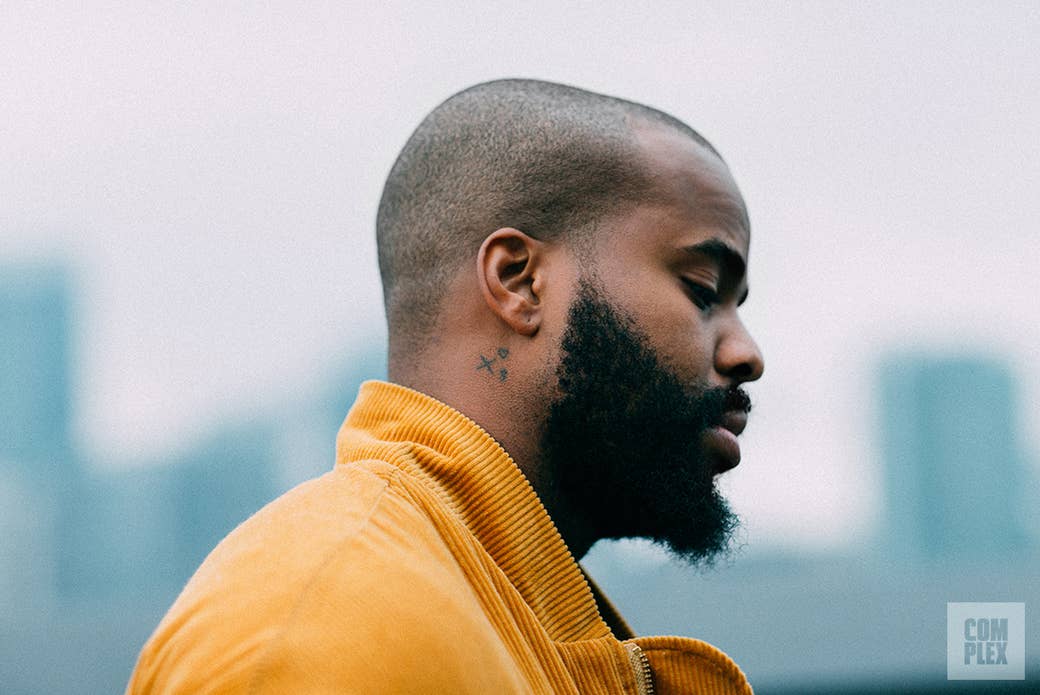 The independence was difficult at first. "We were all living off welfare checks at the time," Taylor says. But Taylor, The Weeknd, and Alleyne saw it as an opportunity to network and shape their careers. (Alleyne is now a director for XO projects.) "That experience really shaped us, inspired us, and gave us everything we needed to start working on our first project, which wound up becoming [The Weeknd's 2011 debut mixtape] House of Balloons."
Since then, Taylor has photographed the covers for The Weeknd's mixtapes Thursday, and Echoes of Silence, as well as the three-disc mixtape Balloons Trilogy. He also handled all branding, marketing, and creative directed the Canadian singer's live shows. "Early on, we literally had no budget," he remembers. "I was pulling favors, using ex-girlfriends, current girlfriends, just whoever was around." In 2011, he directed the video for Drake's "Marvin's Room," and later "Headlines" and shot the Take Care album cover.
Fresh off the European leg of The Weeknd's The Legend of the Fall tour, we sat down with Taylor, who was recently recognized by Forbes in its prestigious 30 Under 30 list, for his first-ever interview. Taylor discuss the early influences that shaped his work for The Weeknd, what it was like working with Drake, and the importance of fostering the next generation of Toronto creatives.
How did you become The Weeknd's creative director?
There wasn't a role like that back then, you know? Abel was more just like, "We're about to drop this mixtape and I need a cover." I knew how to take photos, so I just brought my ex-girlfriend at the time to my mom's house, put in her in the bath tub, naked, blew up a bunch of balloons and tossed them in there, and shot the cover.
I remember Abel was at the studio [in downtown Toronto] and I was taking screenshots on my phone of the selects and sending them to him like, "What do you think?" I think the first image I showed him ended up being the House of Balloons cover. As soon as he saw that image he was like, "This is it." Man, that cover just made everything sound so much better.
"I couldn't believe we were shooting a music video for drake."
What was the inspiration behind the covers for Thursday and Echoes of Silence?
For the trilogy mixtapes the whole reference was the the feeling of having the best high. Thursday was the peak, hence the overexposed bright color palette we used compared to the other two covers.
For Echoes of Silence the cover represented the aftermath of the party being over, the come down from the high. We went with a dark, eerie approach with the visuals to reflect that feeling.
Did you look to any artists for inspiration?
Not really. I was looking at a lot of fashion editorials and that's what was really inspiring me during that time.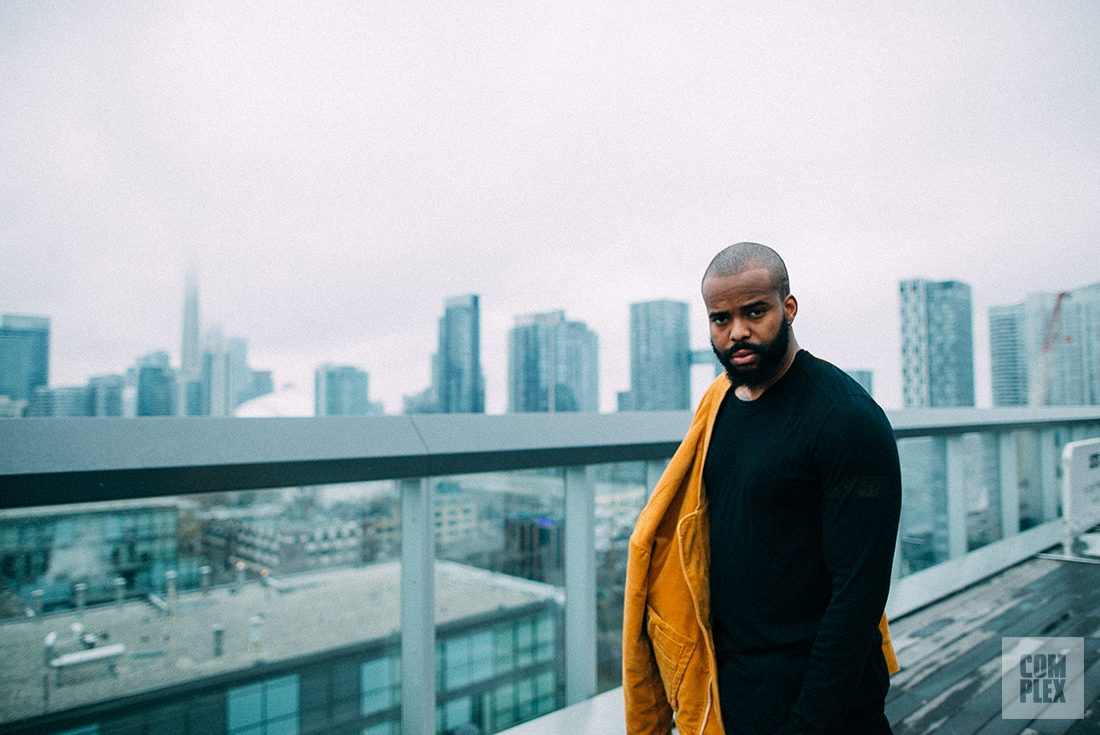 Where did you go to find references for your projects then?
I remember being hooked on Tumblr as a kid. That was a gateway to the world for me. Being a kid from Scarborough who really hadn't left the city at all, I just didn't know much about anything. Tumblr opened my mind to the world and what it had to offer in terms of design, fashion, music, culture, and everything else. I was on that 24/7. I was consumed by it. So obviously a lot of my inspiration came from there.
You've also worked with Drake. How did that relationship come about?
[Drake's manager and OVO founder] Oliver [Khatib] discovered Abel's music and showed Drake. They reached out to us and said they loved the whole creative direction. They asked us how we felt about helping him out with some creative. From there, they started giving us projects.
What was your inspiration for the "Marvin's Room" music video?
At that time Drake really wanted to put on for the city. I mean, it's something he's always wanted to do, but he wanted to capture that visually in both the "Marvin's Room" and "Headlines" videos. The setting for both videos were based on showing his personal day-to-day life in Toronto for the world to see. At that time, Toronto didn't have a great presentation. Nobody really knew what was happening up here. All the locations we shot at is where we'd be 24/7. "Marvin's Room" took place at Goodnight Bar. We also used Harbour Sixty Steakhouse. It was about representing the lifestyle for everyone to see.
"Marvin's Room" was a big learning experience for us. Drake is still is the biggest artist right now, but at that time he was huge. I couldn't believe we were shooting a music video for Drake. And it was the first music video I ever directed. I made a lot of mistakes with that but I definitely have no regrets.
What was it like working with him?
Working with Drake was an amazing experience. It's always easier and more fun to work with people that you came up with and you have a personal relationship with.
How have you seen the creative scene in Toronto change over the years?
I remember when we were first coming up, we were one of the only few collectives in the city. Now, when I come back to the city, I'm seeing more and more creative collectives—Kid Studio, the DSTRY boys, Derek Wise and his crew. It's very inspiring to see these guys coming together, putting their forces into one project, and seeing what can come out of that. It reminds me of us, when we were just starting. We were this creative gang of photographers, designers, and musicians, who were just putting everything in one pot and pulling resources to create the best product possible.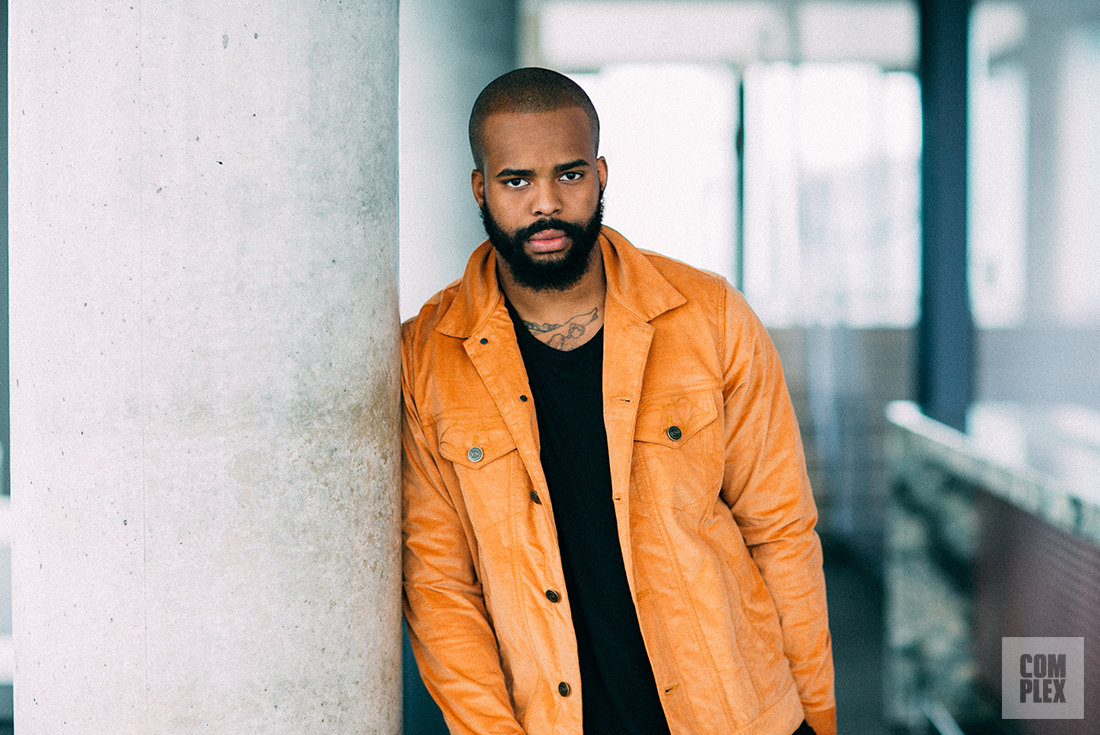 After Kiss Land, The Weeknd went from being a mysterious singer people didn't know much about to a pop star. He even cut his hair last September. How instrumental were you in those decisions?
Obviously Abel's the captain of the ship and we go off his vibe. If he says he wants to cut off his hair today we're just like, "Okay, this is how we are going to present it and ensure it's the biggest and best way possible."
It's does become more challenging because the bigger Abel gets the more eyes he has on him. So that gives us—I don't want to say pressure—but there are a lot of eyes and attention on the projects as well. We know people are watching his every move, so we've got to go real big with every project and ensure there are no fuck-ups. We were doing everything in-house back in the day but we realized that if we were going to bring it to this next level, we were going to have to work with the best. That changed everything for the better. We started working with our idols, people we admired, and I love that. I feel like relocating to L.A. was also vital to that. We wouldn't be where we are at now if we didn't move to L.A.
Beauty Behind the Madness was a hugely successful album. What was the decision to change the direction for his projects when Starboy was released?
We don't like repeating anything we do. We'll kill the Starboy aesthetic and then it'll be onto the next on. We're not really too concerned about other people copying our moves; we're already four moves ahead.
It's all just vibes, to be honest. Thankfully, I've known Abel my whole life, so we have that chemistry where we know each other's taste levels and that makes it a lot easier to work together. When we're going into a new project everything starts with the music. We listen to the lyrics, vibe out, start throwing around ideas and pull movie references. We strategize what we can do differently from the previous projects and build the excitement around that. Our whole approach to marketing is generating excitement around the project. I feel like you don't see that in music anymore. People now just drop albums, get the first week numbers, and move onto the next. It's not like a movie rollout. But we want to make sure it's a moment, people are excited and inspired, and looking forward to the project.
How involved are you in creative direction for other XO artists, like Derek Wise, NAV, or Belly? How do you approach working with these individual artists?
I pretty much handle everything for Belly and work very closely with Cash, who discovered our newest artist NAV, on his creative presentation. Derek has his own internal team that I work closely with and mentor in areas I can help with. It's just relationships. You have to really know that person, talk and go back and forth on ideas, and trust each other's vision.
Do you have any plans to work as a creative director outside of music?
Yes, definitely. I'm in the process right now of creating my own creative facility in Toronto for the youth coming up. I remember working on the design layout for House of Balloons with my creative partner and one half of the team Drop, we'd come down from Scarborough to [Toronto arts college] OCAD and hack into their computer system so we could use all the tools on there. We didn't have access to anything else. We had no money at the time to download Adobe or Final Cut Pro. In my head, I'm just thinking, how many more creatives in the city are in the same position? They don't have the tools to execute their vision, so that's what I'm trying to build for them in the next two to three years.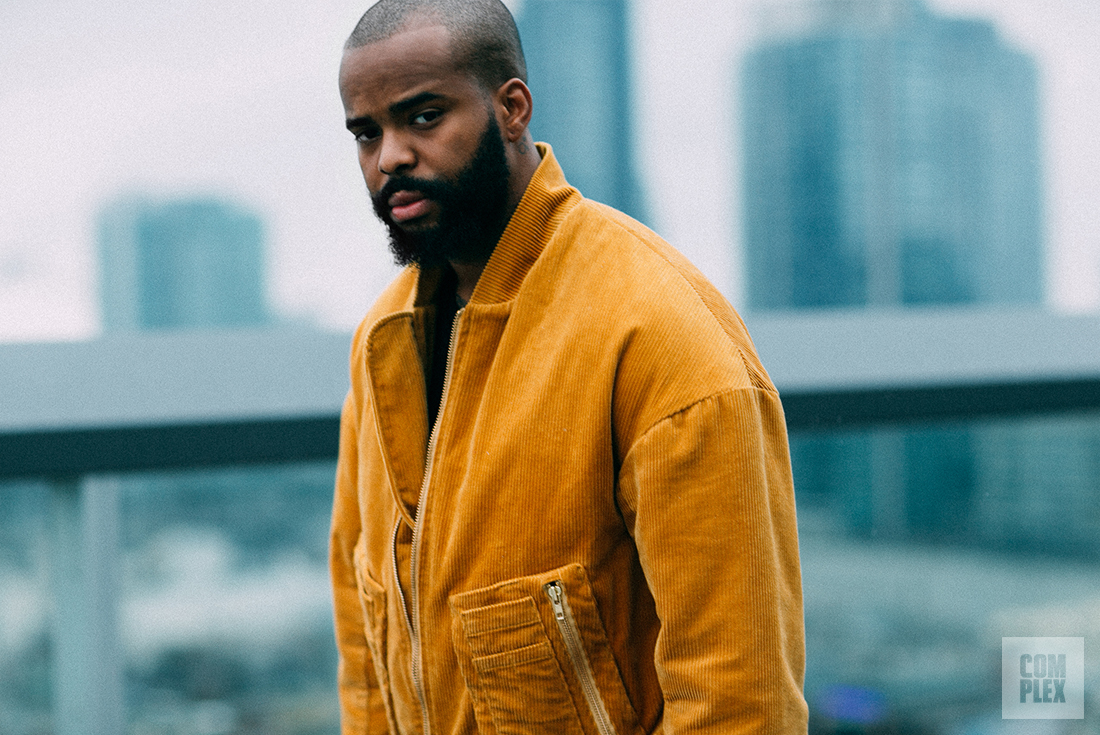 You're big on helping young, up-and-coming talent from Toronto.
I'm in the position right now to help all my friends and peers. I always try to plug them into my outlets any way I can. If we're shooting a music video or doing a cover, I'll always try to hit up somebody from Toronto. I feel it's my job as a creative to provide opportunities for other people.
I remember working with [Toronto-based design studio] Kid Studio in the beginning. We were looking to do a video for "King Of the Fall" and Abel wanted to do a viral video. I told him we had to work with these guys like, "Let's do something simple in Toronto with the homies posted up and capture all that." I remember going to the studio and seeing the playback and the final cut and being blown away.
I saw a photo of you, Cash, Future, and The Weeknd on the set of a music video. What's up with that?
I can't say what it's for yet, but yeah, we were working on a video together. It was super nostalgic. Seeing Abel and Future together on the TTC [Toronto Transit Commission] subway put everything into perspective for me. We really came from the mud and went global. It's crazy to think that the day that photo was shot was the sixth anniversary for House of Balloons. I don't know if that's just a coincidence or a sign from the universe.