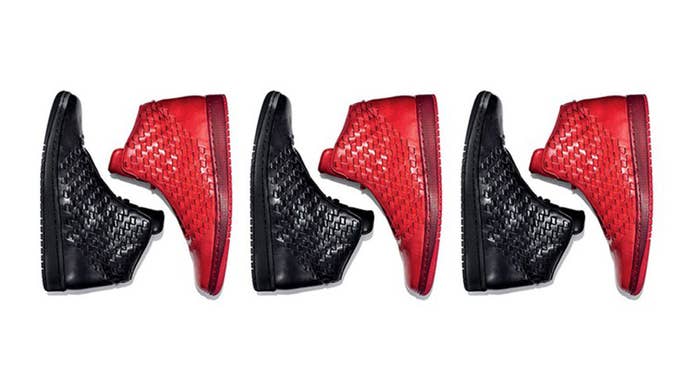 Dear #Menswear,
Once upon a time there was a distinct separation between childhood and adulthood. Children wore T-shirts and sneakers, adults wore suits and shoes. There was some crossover of course—kids dressing up for church, adults playing basketball or changing the oil in their car—but at some point there was supposed to be a changeover where childhood things were left behind. You went to college, you bought button-ups and hardbottoms. Or at least a pair of Eastlands.
Somewhere along the line though, there was a seismic shift. Maybe it was Michael Jordan. Maybe it was Wieden+Kennedy. Maybe it was just a portion of the population telling all this growing up bullshit to go fuck itself. It just so happened it coincided with the possibility of being able to earn a white collar paycheck while wearing no collar at all, which meant that said portion of the population could stay in T-shirts and sneakers perpetually—adolescence without end. Amen.
But that didn't mean they weren't willing to spend money on clothes. Hence the arrival of "streetwear," where juvenile clothing came with adult price tags, and it eventually became possible to spend bespoke suit money on an outfit that would get you turned away from any respectable establishment. Sneakers, too. Rather than save for benchmade loafers, people loaded up on sneakers by the literal dozen, copping rare models off eBay and lining up for new releases.
Eventually, you #menswear motherfuckers would catch on and completely fuck everything up.
What's next? Whatever it is, sneakerheads are already on it, and ready to sell it to you.
We were all fine without you. Seriously. You wanted to maintain the status quo with your Aldens and $200 Gitman Vintage shirts, and only wear sneakers to play squash or whatever, and that was fine. Dressing down meant slightly more distressed selvage denim and camp mocs. Cool. Everyone just stayed in their respective lanes. And if the streetwear guy had a pair of RRL jeans, or if the #menswear bro copped some Rod Lavers or something, that was fine too. But it wasn't enough, was it?
Of course not. It never is. Y'all were sneaky about this shit, too. First it was basics, like Lavers and Stan Smiths and Vans and the traditional blue and grey New Balances: classic sneakers that wouldn't have been terribly out of place in Take Ivy if they weren't already blatantly on display. Nothing to arouse suspicion. And if that's where it ended, things would have still been fine. Even when Vans started to be made in collaboration with seemingly every brand found on J. Crew In Good Company, this wasn't the annexing of the sneaker Sudetenland or anything. Sharing is caring and all that good shit. But you just had to push it, didn't you?
Because then you came for Air Jordans, and honestly, that should have been it—an outright declaration of war. Spike Lee's angry about the gentrification of Brooklyn? He should be furious about the gentrification of the Air Jordan III. All of a sudden, people who were in diapers when Jordan played for the Bulls, and Dockers when he played for the Wizards, were claiming the Air Jordan III as their favorite sneaker of all-time. Sure. You probably still think Tinker Hatfield is someone you went to prep school with. Then, just as the skate companies ripped off Air Jordan designs in the early '00s, high-end companies did it in the '10s: Original Gourmets, SLPs in Air Jordan 1 colors, Public School's Air Jordan XII.
What's left? Performance? Flyknits and Frees were adopted wholesale as soon as they came out. Classics? The Air Force 1 Mid, long regarded as the red-headed stepchild of the AF1 family tree, found new life thanks to the likes of A$AP Rocky and Riccardo Tisci. But you guys are greedy and adopting pre-existing styles wasn't enough. Oh no, there had to be new ones, like the $400 Bottega Veneta-esque Air Jordan Shines (pictured above), or Reebok Classics re-done in Horween leather, which in and of itself isn't bad, but it hardly ever seems to go the other way. I don't recall ever seeing a pair of Alden Indy Boots on a running sole, or double monks updated with nubuck and Velcro. OK, fine, there were Cole Haan's Lunargrands, but even those were just a Trojan Horse, a sneaky way to try and get sneakerheads into shoes. Nice try.
Here's the thing, though: While you guys were lusting over Saville Row suits and figuring out what American brand from the 1890s to bring back next, sneakerheads were putting in work, whether it was by emptying stores of old stock or tripling up on clearance retros. And now that you late-pass holders are catching on, they're cashing out. Who do you think is dropping all of those Air Jordan 1s off at Flight Club and RIF LA? Who do you think is selling those early 2000s Air Force 1 Mids that no one ever wanted before on eBay? It's not sneakerheads copping $250 Air Yeezys for $3,000 (or $5,000), it's you #luxuryexcellence assholes who've been conditioned into paying Louis Vuitton prices. What's next? Whatever it is, sneakerheads are already on it, and ready to sell it to you. Get your PayPal up, son.
Russ Bengtson is a Senior Staff Writer at Complex. You can follow him on Twitter here.