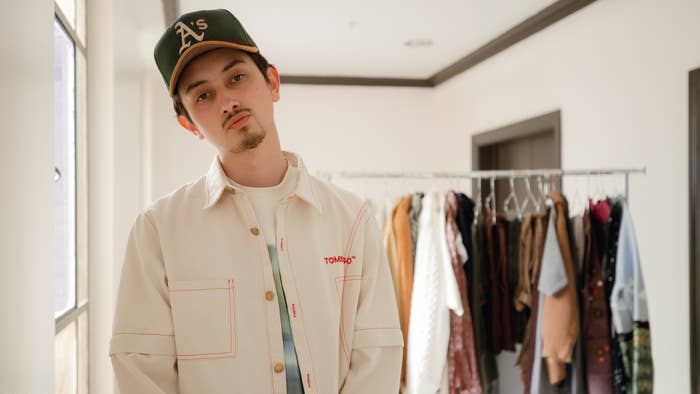 Oakland, California-born designer Tommy Bogo has had to navigate the challenges of the ongoing pandemic just like the rest of us. The "new normal" of daily living quarantined in sweatsuits, or donning masks to go outside might seem limiting when it comes to a designer's storytelling, but the unconventional circumstances have inspired some of Tombogo's strongest collections to date.
The Fall 2020 "Freelance" collection, which debuted in November 2020, was a nod to the freelancer mentality that many had to adopt during the pandemic. It featured half-zip shirts and the brand's signature double knee pants alongside a collection of graphic T-shirts and hoodies bearing large "Freelance" lettering. In January 2021 he introduced a "Comfort Zone" capsule that provided cozy takes on cargo pants, jackets, and hats made of sherpa that were all designed to easily transfer between indoor and outdoor living. And for his Fall/Winter 2021 presentation titled "Lost and Found" that debuted as part of New York Fashion Week in February, he featured young creatives like Euphoria star Angus Cloud in a workwear jacket displaying an image of a car dashboard with baggy work pants and designer Kristopher Kites wearing a patterned jacket and the brand's double knee pants. 
"Surprisingly, 2020 was my best year ever to date," says the 26-year-old Bogo. "I'm super proud to say I emerged from the pandemic as a more successful brand than I was before. That's probably my biggest accomplishment thus far."
While Bogo, who says the brand started in 2017, has always produced functional pieces like chest packs and vests, his most recent collections have been a major step forward as he's been able to tell a more cohesive story, mixing in more traditional pieces like fleece sweaters (bearing all-over images of skylines and nature settings) and mohair cardigans. He's going to different places with his creativity. For example, in his "Lost and Found" virtual presentation, he featured 18 models walking on a small treadmill as artist Leon Xu completed an autumnal painting in the background using Tombogo branded paint. The music for the presentation was an original song by Bogo. He sings lyrics like "I flew from New York, San Fran, LA, just to find myself," that reflect on his personal journey. He says he didn't even write down the lyrics and it came together in under two hours. 
"When creating collections, I've found that making music that ties to the collection not only enhances that collection, but it also just feels better for me as a creative. It feels like I'm able to express more of what I want to express, because sometimes I'm not able to do that just through making a pair of pants or something. It doubles down on what I want to say," says Bogo. "You typically see, like, Kanye, Tyler [the Creator], et cetera being a musical artist going into the designer realm. I don't even know if there's anyone doing this where you see that script flipped, like a designer going into the music realm. And so, that's something that I've been thinking about for a while because I do have this music background and I don't want to sleep on that. 'Lost and Found' was a supergreat proof of concept. So yeah, I think moving forward, [music is] definitely going to be incorporated in one way or another in a lot of projects."
Music has been in Bogo's blood since he was a young kid. He played the saxophone from third grade to senior year. And nowadays, some of his brand's biggest supporters are notable names in the music industry. Bad Bunny wore his LED Scouter Glasses, equipped with mini LED lights at the temples, to the 2019 MTV VMAs. Kehlani has co-signed the brand on her Instagram, rocking some of its pieces. Artists like Teezo Touchdown, Duckwrth, SABA, and Jahlil Nzinga walked in his "Lost and Found" presentation. Kid Cudi has rocked a cream pair of his double knee pants in Wonderland Magazine. And J Balvin, who Bogo says initially contacted him through his comment section on Instagram—he wanted to cop his own LED Scouter Glasses, so Bogo hand-delivered them to his New York City apartment—pays visits to the brand's Los Angeles studio.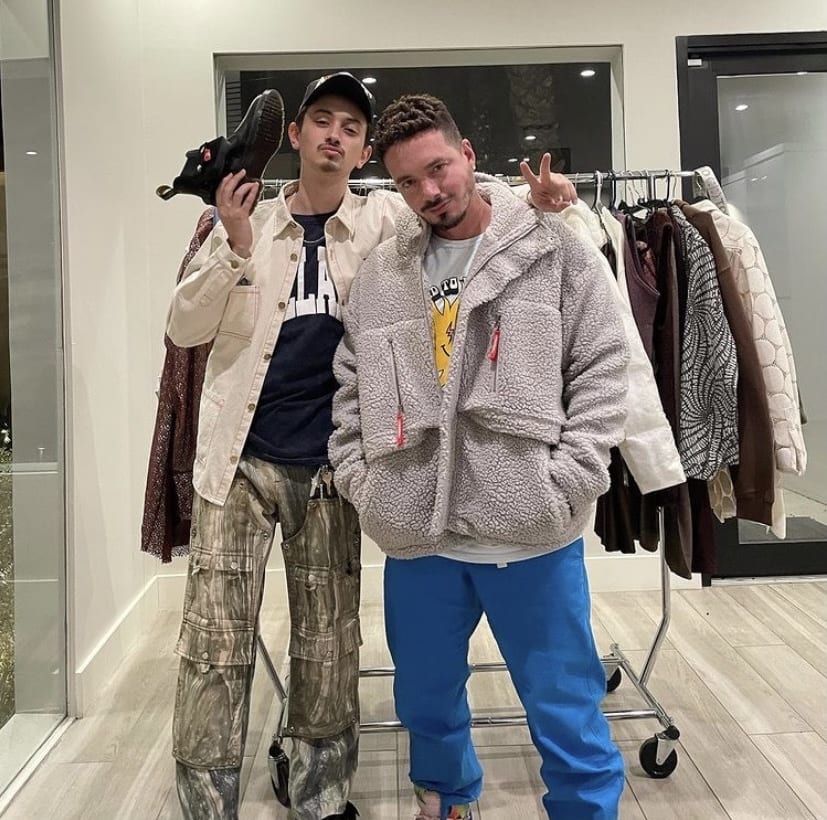 Bogo first started Tombogo in 2013 while still living in Oakland. His parents are both fine artists, and initially tried to steer him away from a career in the arts because of the various challenges it can present. But for Bogo, who studied visual communications and product design at San Francisco State University from 2014 to 2018, fashion eventually became his creative outlet. 
"Fashion kind of came as this medium middle ground of balancing that creativity of the arts, but then also trying to find what is more of a legitimate career path which is this direction they always pushed me in," Bogo tells Complex.
Before it was a fashion brand releasing seasonal collections, Bogo used the name to host pop-ups and concerts in Oakland, where local artists like Larry June would perform and Lil B would attend. Bogo says the Bay taught him a lot about overall work ethic. While he will always have love for his home city, he knew he had to make sure he expanded outside of that bubble at some point. He references a conversation with Kehlani, a fellow Bay Area native, who supported his decision to explore. In 2017, he took trips to Japan, Italy, and Mexico City, and took in what stores were selling and how consumers were shopping. This informed his own endeavors and he began to take a more serious approach to Tombogo as a fashion brand. In 2018, he moved to New York City. 
"New York kind of showed me what fashion really is," Bogo tells Complex. "New York kind of set the bar for me. I was like, 'OK. This is where I'm really supposed to be. This is the level of production and concept in general that I need to hit if I even want to do this at all.' So, New York was setting the bar high and figuring out how can I be unique and how can I stand out as a brand?"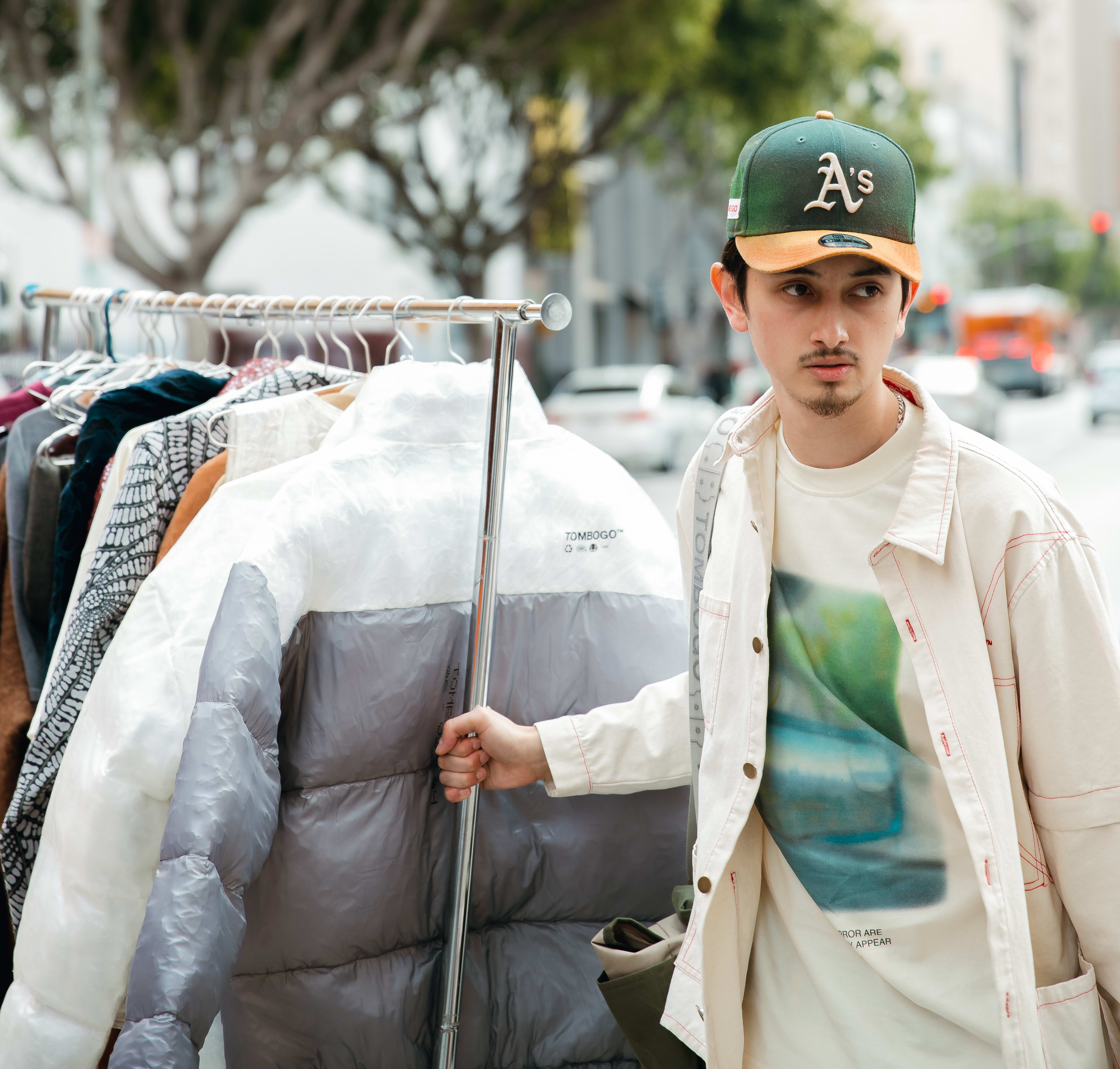 But in 2020, Bogo moved to Los Angeles, where he runs his showroom and makes most of his clothes. He says he moved to LA because it made production more accessible and put him closer to fellow creatives. Tombogo has become known for its multifunctional pieces that can be customized and styled in various ways. Double knee pants, available for $250 in an array of colors that have become a signature for the brand, feature pocket-covered panels that can be reversed or removed at the wearer's discretion. A snapback hat collab with New Era remixes the classic style with large storage pockets or a storm hood that can be fastened to the side panels with snap-on buttons. Long sleeve corduroy work shirts ($180) and sherpa cargo pants ($250) have zip-off sleeves and legs so they can transition from season to season. His web store even sells unconventional items, like branded tape guns and mini ruler keychains. 
"I always approach my design with, 'What purpose can I give this? How can I add functionality to enhance that purpose?'" says Bogo, who says his unique approach is partially an effort to make sure he stands out from today's oversaturated fashion space. "Thinking unconventionally is one of the No. 1 pieces of my creative process. I'm always asking how I can reshape an existing design or a part of our culture in a creative way that will push things forward. How can we bring function and meaning to everyday pieces of clothing?"
Sustainability also plays a major role in Bogo's creative process. For example, he's made vests, bags, and puffer jackets using repurposed bubble wrap from the ample number of packages that were being shipped to him, rather than letting it go to waste. The idea came to him upon moving to New York and seeing an excess of shipping materials and boxes thrown away around the city. For the "Lost and Found" collection he used upcycled fabrics sourced from secondhand shops or thrift stores to produce certain piece. Bogo also makes limited quantities in order to eliminate excess inventory but still being able to fulfill the demand.
"The obvious statistic is the fashion industry is one of the No. 1 polluters. I never really wanted to be a part of that at all. I don't want to contribute to that at all, or as little as possible," says Bogo. "If I could think about something differently, that's cool, but how is that helping the world? I think that sustainability is that for me. If I'm going to think about something differently, it also needs to make sense. I'm not going to put more waste in the world just for the sake of being different."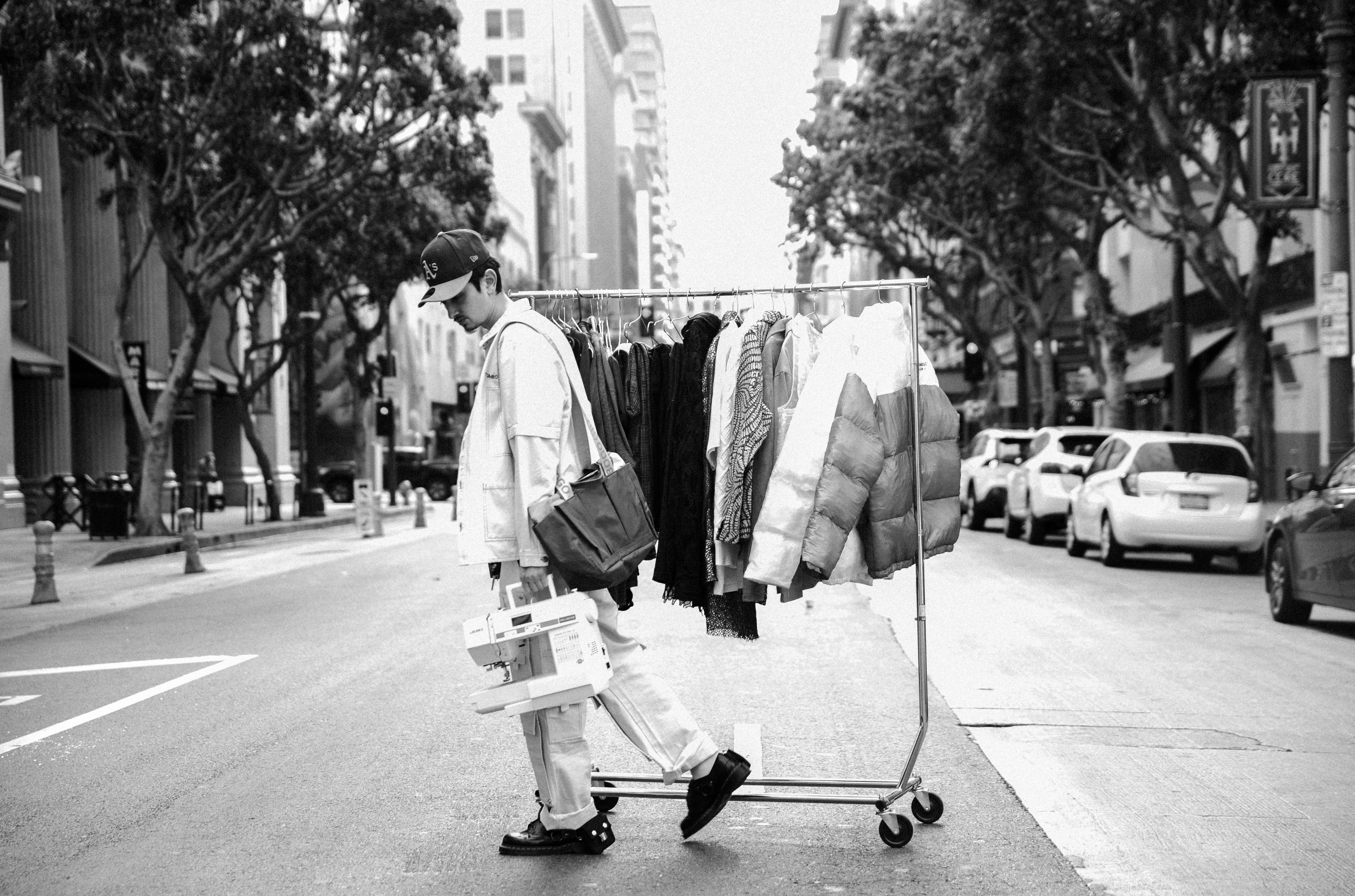 When it comes to the future, Bogo has some of the conventional things in mind—collaborations, presenting at Paris Fashion Week, and at some point maybe even designing for a major fashion house—but he says he wants to create something beyond just clothing. 
"It's really about more than fashion for me. Music, the community, everything. That's really what doing this is about for me, and fashion is kind of the platform for pushing that creative landscape forward. And, bridging that designer-turned-artist gap and making that a thing," says Bogo. "I've been wanting to make furniture. I've been wanting to make toys. I've been wanting to even just make products that give new purpose to life. So, that's something huge. It's about so much more than just clothing to me that I don't want to box myself into just that category, because I think if you want to make a change in the world, you can't box yourself in."