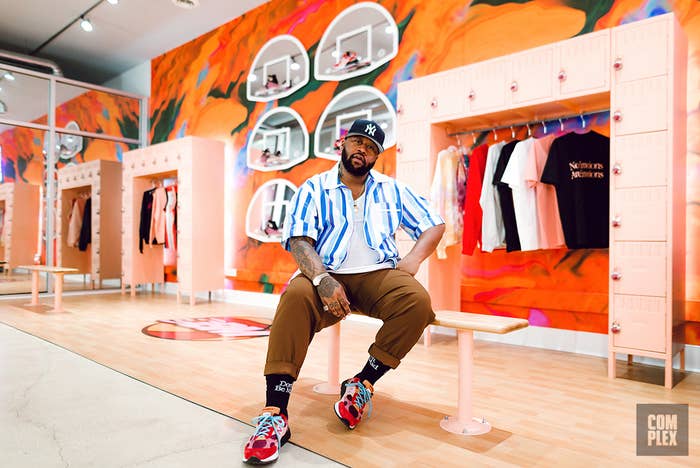 The temperatures are in single digits right now in Chicago. There's snow and ice on the ground. Yet a substantial lineup still formed overnight in front of 2358 North Damen Avenue in Chicago, 12 hours before the doors would even open to the public. The line was for the release of the DON'T BE MAD x New Balance collection, the latest work from local Windy City designer Joe "Freshgoods" Robinson.
And if you want anything from the collection, you have to be in Chicago to get it. Unlike most popular sneaker and apparel releases that are released globally around the same time, Robinson maintains he's only selling the collection in Chicago. He tweeted, "And y'all asking me why I choose to release to Chicago first. Is you dumb or stupid?" 
"If you don't get them, you don't get them," says Robinson. "It's fucking New Balance. We're not dropping 80,000 pairs of shoes. If you want to do that, go find another brand. This is American made with Horween leather. It's an All-Star Weekend exclusive drop and it's true to Chicago. I think it's pretty boss to be able to drop your first shoe, make it a Chicago-only thing because you wanted it to be."
Once again, Robinson is forcing the industry to meet him where he is. He's built up his Don't Be Mad line independently, outside of New York and Los Angeles, and without any wholesale partnerships—he travels the country hosting pop-up shops in major cities and aligns them with events like Rolling Loud or previously, when he couldn't get floor space in 2018, ComplexCon.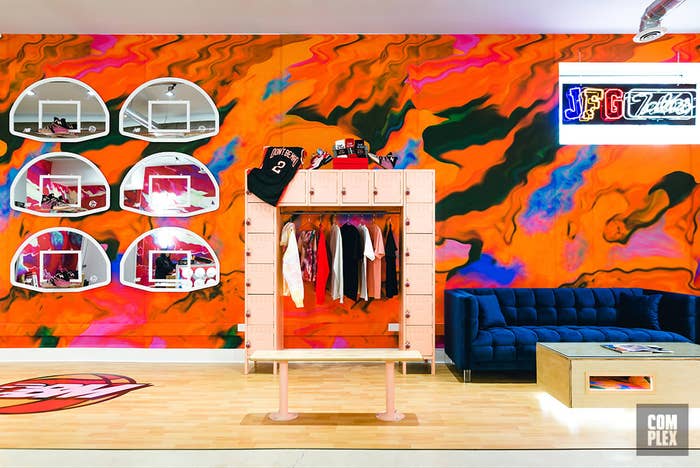 This weekend not only marks the collection launch, which coencides with NBA All-Star Weekend, but the opening of Robinson's brand new space in the city, a secondary experience to the Fat Tiger Workshop storefront, a shop he runs with his creative collective that includes Rello Jones, Victor Pitre, and Des Owusu. Joe compares it to the Wu-Tang Clan saying, "We own it together, but we all have our own projects going on." 
While this new location will not operate as a traditional brick and mortar space, meaning it will not always be shoppable, Robinson says that it will be home to plenty more installations for his solo projects in the future. It will also act as an outlet for local creatives. He plans on holding an ongoing JFG Talks, a series designed to push organic conversation forward in the community. 
"I wanted to have a space that allows me to just breathe a little bit. That's me partnering with New Balance. I like how different they are right now, the space they hold. So with me, being a true Chicago kid, I wanted a spot that was kind of off the beaten path but still around everything so I can create my own energy."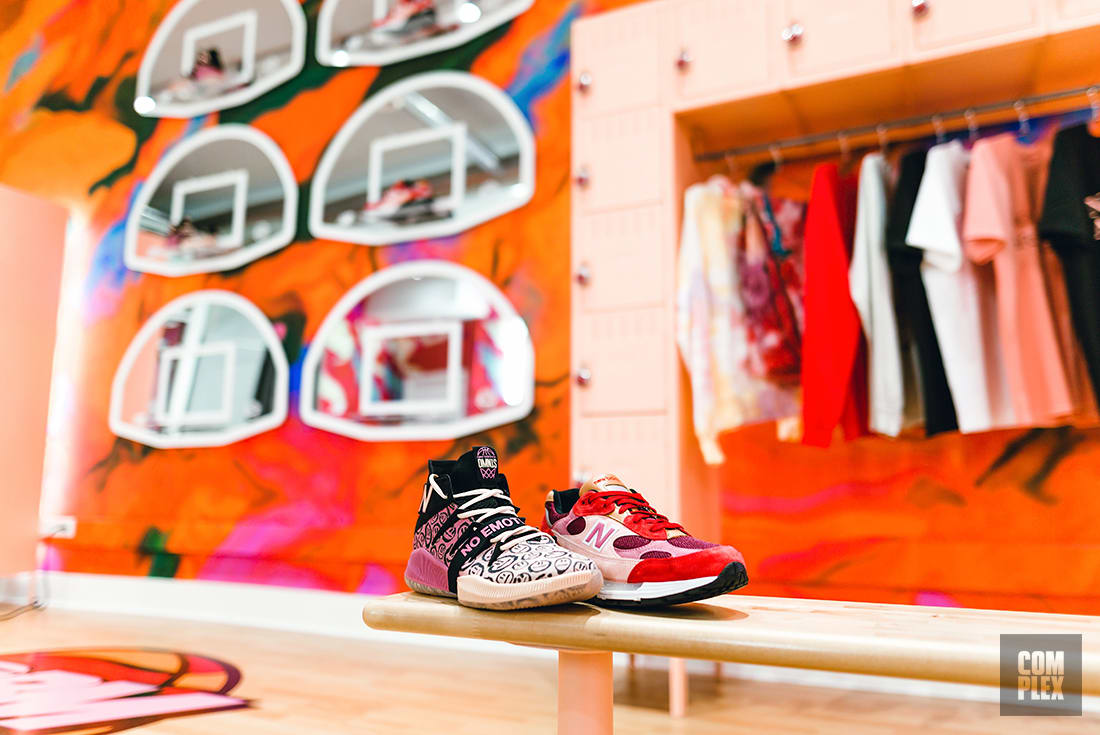 This particular version of the space has been built out to resemble what Freshgoods describes as "Cupid's Man Cave," a subtle nod to Valentine's Day, which happened to fall on the same day as the store opening. He announced his partnership with New Balance by posting a picture of his hand adorned with an NB diamond encrussted pinkie ring to Instagram and a caption that read, "It's been a lot of courting and a few bad break ups with exes, but today I said yes." Pastel pink walls bear large neon signage marking the collection. Other walls in the space are covered with colorful abstract artwork to offset pink lockers and mirrors designed to look like basketball backboards that display apparel and sneakers. Hardwood floor paneling, another obvious nod to basketball, are emblazoned with custom "DBM" logos. Marble floors achieve a more luxurious feel.
"I wanted to show that you don't need to have a billion dollar build out and X amount of this and that to make noise and I think I proved that," he tells Complex. "I'm all about shifting energy and I think sometimes it's kind of cool because that ultimately helps a resume when you're able to show that you know do that."
Robinson's new store came partially out of necessity. Fat Tiger Workshop's 836 North Milwaukee Avenue shop is currently built out to market the creative conglomerate's four-shoe project with Adidas. Both collaborations have received a lot of buzz in Chicago, steering attention away from some of the other larger projects going on this weekend.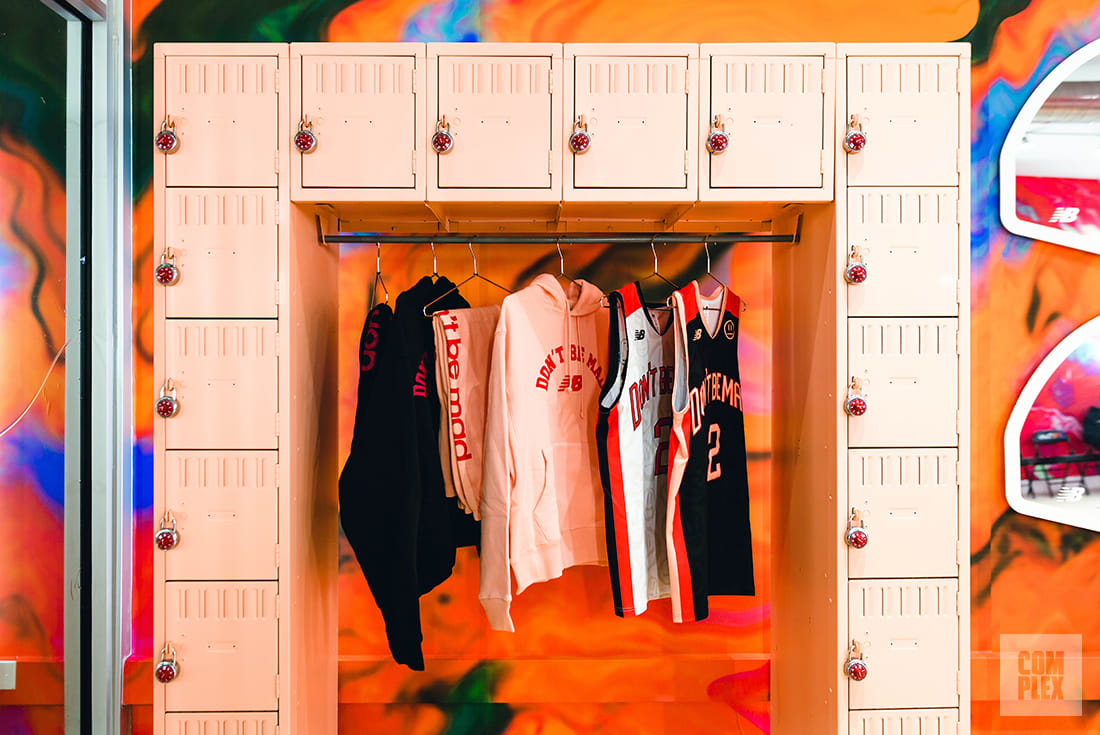 "My whole career right now is an 'I Told You So' moment.' Every time there's a big event [in Chicago], I fucked everybody up. ComplexCon, I fucked everybody up. All-Star Weekend I'm going to fuck everybody up. I love performing in front of a crowd, especially if it's in my backyard," says Robinson. "It feels really good because a lot of these brands spend millions of dollars on these mini moments and it don't take that much money to win over a crowd in your community. When you got the juice, you just got the juice organically. I think sometimes people try to pay for the juice and it's just like, shit going to be spoiled. You got people walking around with deep dish pizza hats. We don't wear that shit. We don't even eat deep dish pizza. That's obviously somebody that's not tapped into Chicago culture."
With all of the energy surrounding Robinson's experience this week, he says he still maintains an underdog mentality when it comes to his work. Even with a proven track record, he still just wants to be that guy from Chicago.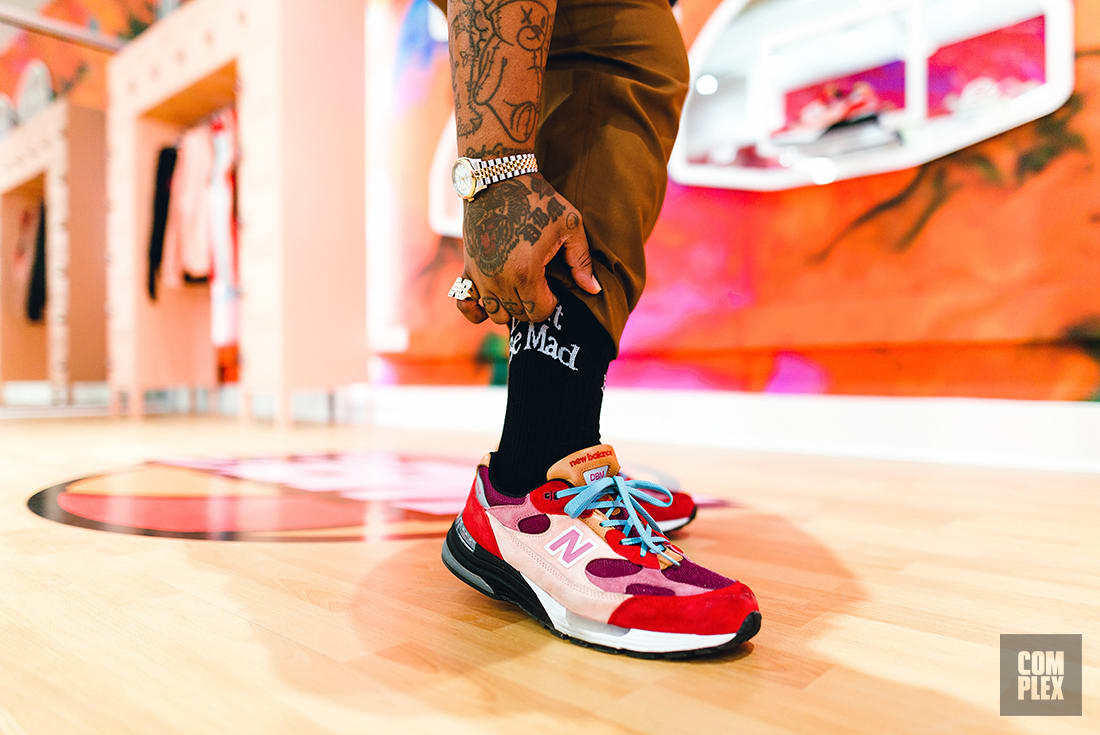 "It feels good being able to stay real and teach that up and coming next generation like, 'Yo, I don't got to do too much to win.' I can still live in Chicago. I can still be myself. I can still party. I don't got to be in a mansion somewhere. People love when real people win and I'm just a real person," he says. "I still love just being a regular Chicago guy. I see a lot of people that change, get a little fame and they become a whole different person. I can't really change up. I'm this way. You either love it or you don't."