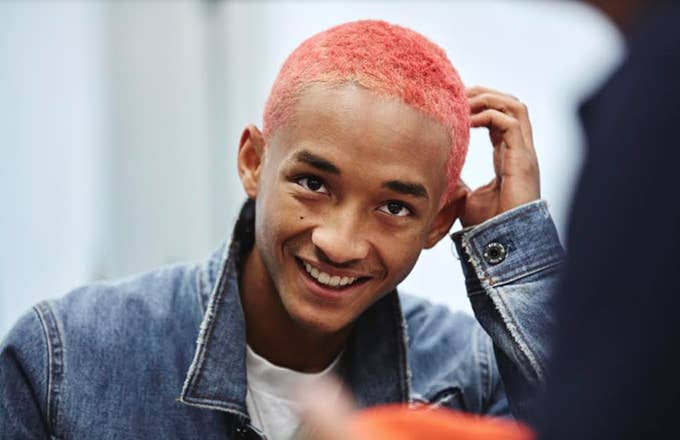 G-Star Raw is adding another celebrity ambassador to its team. Following multiple collections with Pharrell, the label has tapped Jaden Smith to launch a line of sustainable denim scheduled to hit retailers in Fall 2018.
The 19-year-old artist and activist expressed initial interest in the brand following Pharrell's involvement, which pretty much shows the power a brand ambassador can have in a nutshell. Skateboard P even took to Instagram to welcome Smith to the G-Star fam.
"What [G-Star] has been doing with sustainable innovation recently has been so inspiring, especially with the launch of their most sustainable jeans ever. They are at the forefront of denim sustainability, on top of the denim game," Smith said. "G-Star is a great place for me to collaborate, learn, and make a positive impact on denim and fashion."
This is not the first time G-Star has flexed its muscles as an eco-friendly company. Just last February, the brand launched its "most sustainable jeans ever," the Elwood RFTPi, as a part of its Spring/Summer 2018 collection.
Smith has previously shown a passion for sustainable product and a love for the environment by co-founding the boxed water company JUST Water with his father Will and frequently occupies his fair share of "best dressed" lists, so it was only a matter of time before two of his passions found a way to link up.
"Jaden is a creator, an artist and an inspiration for the next generation who want to have a positive impact on the world around them," explained G-Star Raw CMO Thecla Schaeffer. "He continuously pushes boundaries in multiple fields, in music, design, and in sustainability. He inspires us to keep challenging the conventions of sustainable innovation in the denim industry and we are honored to have him as a part of the G-Star Family."
Look for Smith's sustainable denim capsule with G-Star Raw to hit select retailers later this year. In other news, Smith will be kicking off his Vision Tour on April 4 in San Diego.