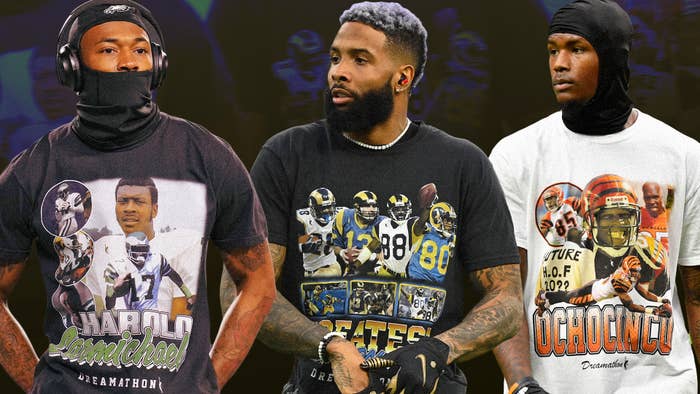 On Nov. 7, 2021, the Minnesota Vikings took the field for their Week 9 matchup against the Baltimore Ravens. Before the game even started, Vikings star wide receiver Justin Jefferson and cornerback Cam Dantzler already had fans talking. During the pregame warmups, both of them wore T-shirts with "Free Odell" printed across the front. Odell Beckham Jr.'s relationship with his then-team, the Cleveland Browns, had become tumultuous and the players wanted to show him support. The Browns had released Beckham Jr. a few days earlier.
Bruce Thompson, the founder of Dreamathon who has had a personal relationship with Beckham Jr. since high school and calls him a step brother, designed these T-shirts, which caused a stir on social media and inquiries from fans who wanted to purchase one.  
"When I made the 'Free Odell' shirts, I was kind of like, let me give the people what they want. This is for the culture. This is for the world. It wasn't about me," says Thompson regarding the attention-grabbing design. "The players really love each other and support each other that much to put it all on the line saying, 'You can fine me or whatever. I'm still gonna wear Dreamathon.'"
Thanks to Thompson's Dreamathon T-shirts, players have been able to praise their peers on the field or tip their cap to a legend they idolize in a unique way every Sunday. Each T-shirt features a collage of graphics across the chest arranged like the bootleg designs that were popularized in the '90s and have recently started to trend again. The designs hone in on specific players from the past or present, highlighting memorable images and accolades from across their career. 
While the brand is just approaching its one-year anniversary at the end of the month, its T-shirts have already become a pregame uniform for some of the NFL's biggest names. Beckham Jr. and Jefferson, two players he says have developed a "real brotherhood" off the field, are Thompson's most consistent supporters. During their Christmas weekend matchup, they showed love by wearing Dreamathon T-shirts covered in images of each other. Beckham Jr. has worn other designs that honor the "Greatest Show on Turf" era Rams to the late Virgil Abloh. Jefferson has celebrated individuals like LeBron James, who reposted the shirt on his IG Story, and fellow LSU alumnus Tre'davious White via the T-shirts. Other fans include Cincinnati Bengals wide receivers Tyler Boyd and Ja'Marr Chase, Philadelphia Eagles running back Miles Sanders, Tampa Bay Buccaneers wide receiver Cyril Grayson, and Los Angeles Rams linebacker Von Miller who could all be seen in Dreamathon T-shirts this past weekend to kick off the NFL playoffs.
"The players really love the movement," Thompson tells Complex. "Sometimes the players don't even want the shirt for them. They just want the other players to get involved."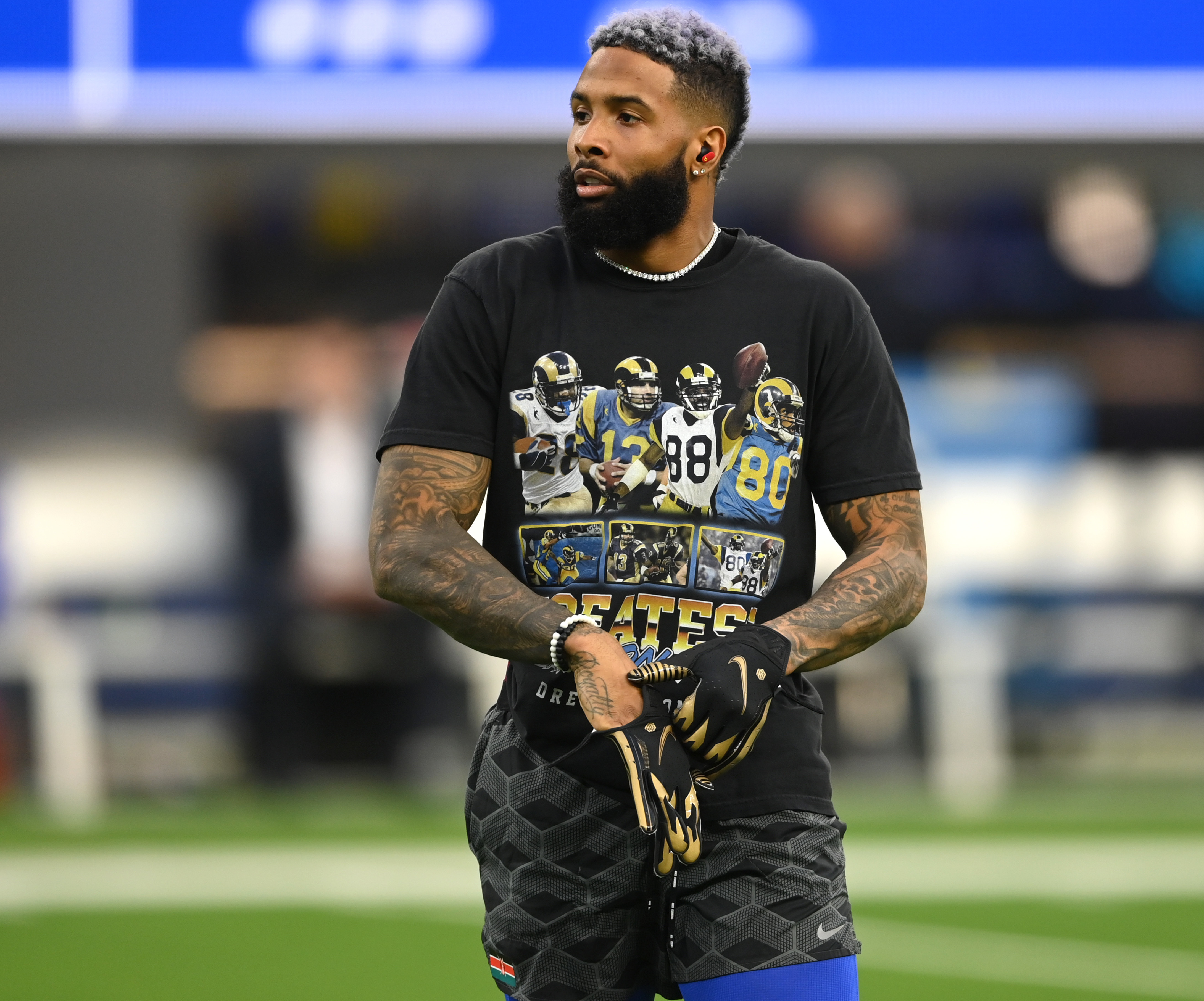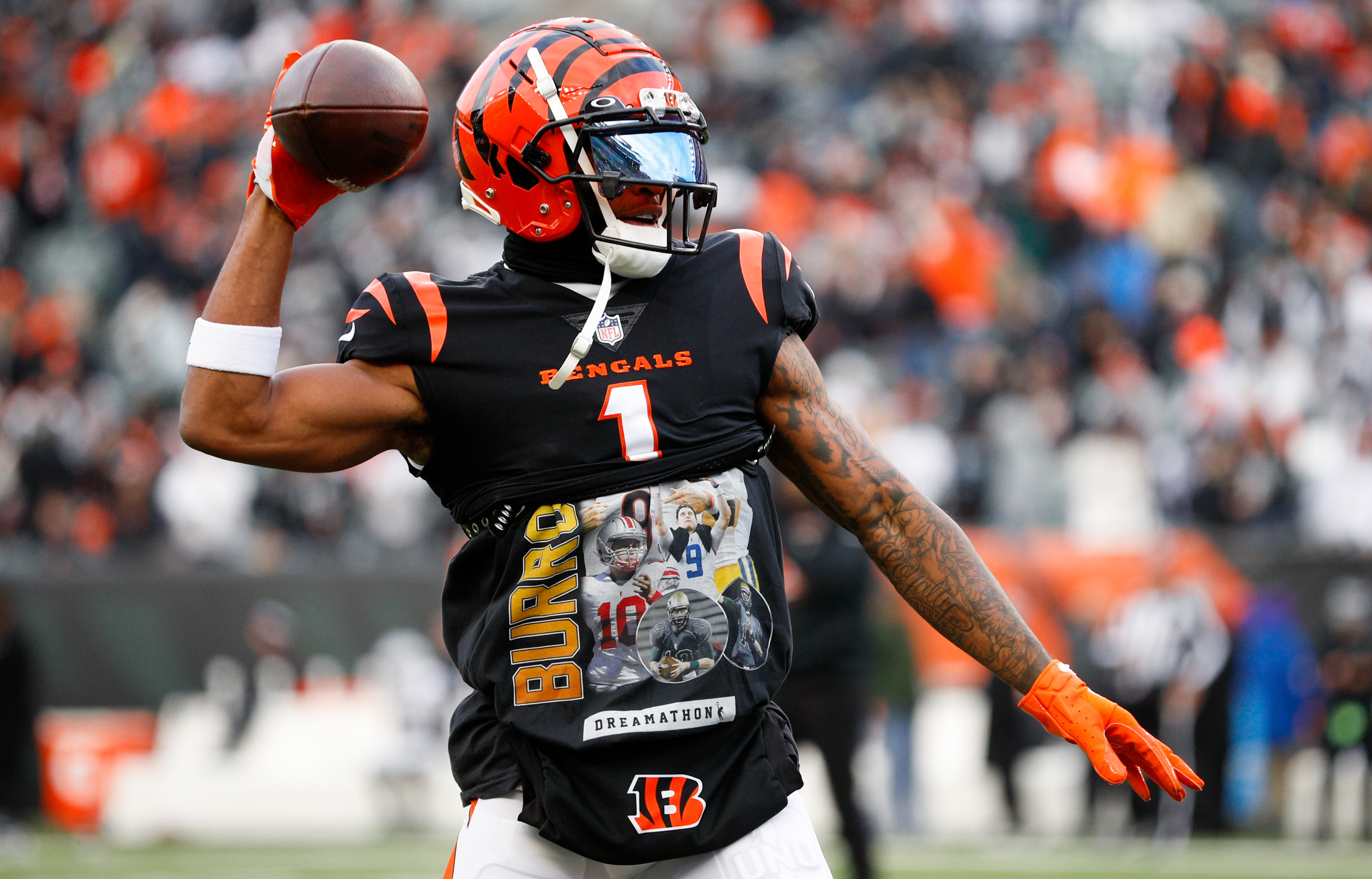 Thompson acknowledges that while plenty of other people make vintage-inspired graphic T-shirts, he sets himself apart with his commitment to actually learning about the players he's featuring. He researches each player to highlight certain images that nod to iconic moments from their career, their playing days in high school, or shed light on awards they've won in the past. 
"Anybody could have a vintage brand, but what makes mine stand out? I love paying homage. I love talking about the ones that come before us. 'Cause that's what's missing in the world," says Thompson. "It's really all about respect. It's real genuine."
His brand is still young, but Thompson already has major plans. He'd love to make shirts for people like Jay-Z, Meek Mill, LeBron James, Allen Iverson, and Paris Hilton, and he wants to see his designs in the NBA 2K video game alongside the other streetwear brands. Eventually he's interested in having official partnerships with the NFL and Nike. He's using his platform to give back to the next generation, too. A Dreamathon scholarship is in the works with his alma mater, Langston University. He's worked with the university in the past, designing a special T-shirt for their 2021 homecoming. To Thompson, anything is possible. 
"I just wanna use [Dreamathon] to just keep inspiring all the dreamers in the world. I can't touch everybody, but I can at least put a sparkle in the world," he says. "Dreamathon is changing the world."