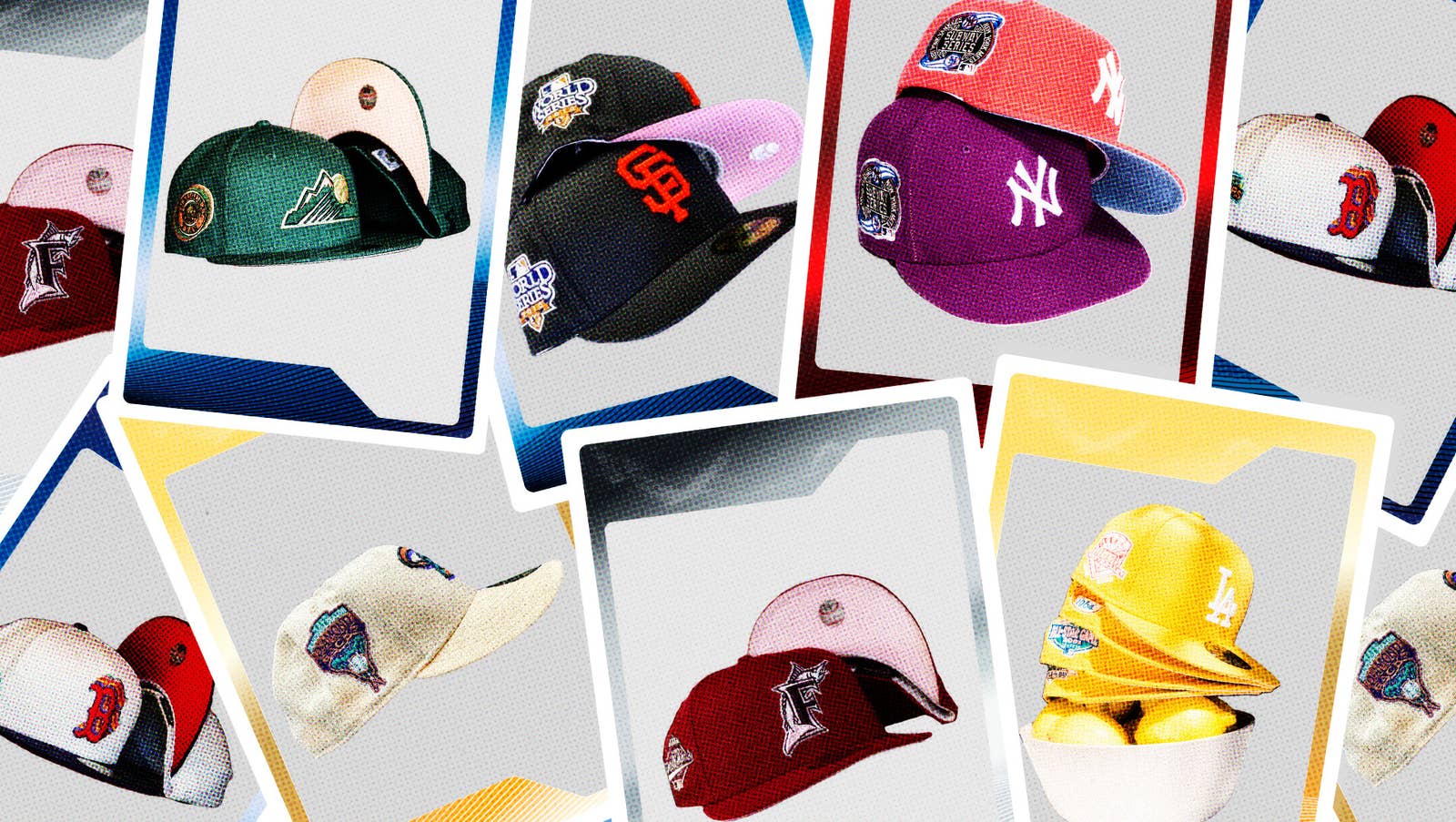 A classic New York Yankees fitted cap is about as culturally relevant as you can get when it comes to headwear. Navy blue crown. Navy blue visor. White "NY" logo. Grey undervisor. Aesthetically, it's close to perfect. But one day, in May of 2019, to be exact, Justin Farnham (aka "Pink Bottom Jus"), who works at Hat Club in NoHo, was presented with an idea to make a "pink bottom"-style Yankees cap with a faint pink undervisor by his close friend Darius "Frosty Preme" Drumright. It was meant to be a tribute to Drumright's mother, who passed away from breast cancer, and it featured a 1996 World Series patch, a nod to his birth year. 
The hat started out as a friends-and-family item, but soon the idea started to catch on. Hat Club NoHo released a full pink bottom collection to the public in October 2019. Farnham says, initially, some customers doubted the longevity of the pink UV styling, but when they dropped the collection on Halloween, customers lined the block for the style, and some of his naysayers were in the crowd. 
"I got the call from my guy Wiz at the NoHo store. I was on the train and he was like, 'There's 100 people outside.' I knew stuff would get pretty popular, but never to the extent that it is now," says Farnham. "I think that first 100 people in line for something that I had made, that was the moment that I realized this could be really big."
Over the pandemic, the classic New Era 59Fifty fitted cap has continued to gain traction in the marketplace. For many, these customs are must-have collectors' items. For a while, the snapback or an unstructured "dad cap" were trending, but now people are trying to cop the multitude of custom fitted caps being released by shops across the country on a weekly basis. And it's not just about rocking your favorite sports team's traditional colors. Shops and designers are releasing caps in color schemes that put style at the forefront. Hat Club's latest "Peacock" pack details green caps with royal blue UVs and bright hits of pink or purple. Sports World 165, located in Queens, dropped a custom Colorado Rockies hat back in February with a cream-colored crown, brown logos, and a pink UV that many might consider matching with their Travis Scott x Air Jordan 1s. And these are just a few of the excessive amount of options, most of which retail for around $50, available to customers right now. These stores are working directly with New Era to make their custom designs and use the hat company's customization options, like various colors, commemorative patches, and retro logos.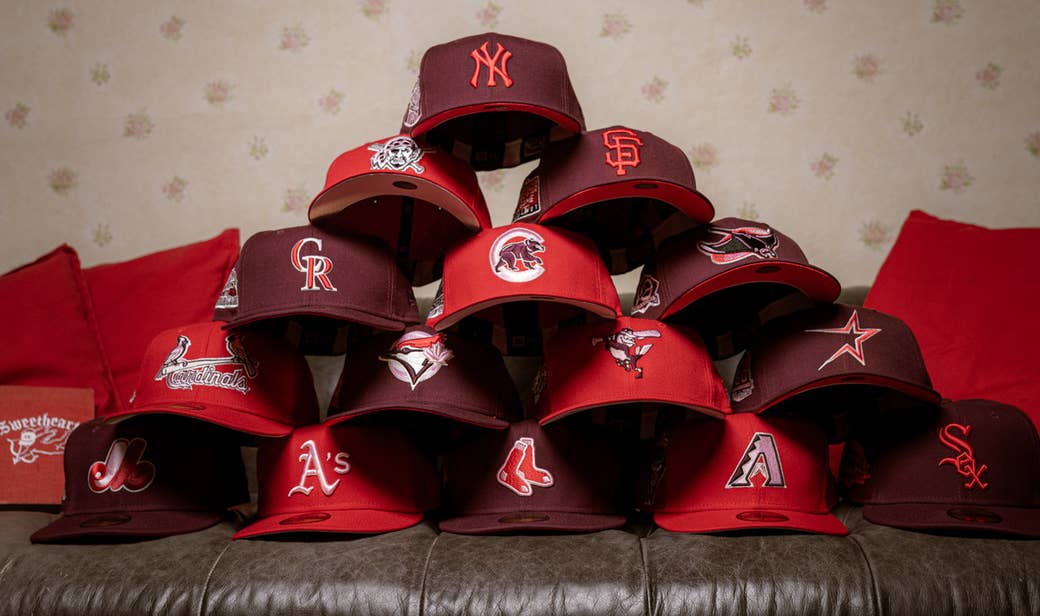 While custom fitted hats continue to rise in prominence, the phenomenon is far from brand new. New Era has been producing custom colorways since the '90s. As the story goes, we have the legendary filmmaker Spike Lee to thank. Prior to Game 3 of the 1996 World Series between the Yankees and Atlanta Braves, Lee made a call to New Era requesting a scarlet red version of the classic Yankees fitted cap to match his red Yankees Starter jacket. Then-New Era president Chris Koch made a call to then-Yankees owner George Steinbrenner to OK the one-off creation. Since its debut in 1954, New Era had only been permitted to create 59Fiftys in each team's official colors, respectively. But Steinbrenner gave the idea the green light, rather surprisingly, considering the organization's traditional mindset, which didn't even allow its players to have facial hair. Lee wore the red cap, was photographed in it, and the rest is history. 
Following the debut of Lee's red Yankees fitted, New Era began producing unique colorways of caps for the masses that relied more on lifestyle than athletics. A line introduced a few years later in 2004 titled the "Capture the Flag" series further exemplified New Era embracing pop culture's influence on fitteds. It tapped some of the era's biggest rappers, like Cam'ron, to create a shimmering purple cap bearing a white Dipset logo on the crown, and Fat Joe, who dressed his cap with Knicks blue and orange, a Terror Squad logo, and a "Big Pun 4Ever" side patch. Each special edition hat retailed for $125 and came packaged in a gold satin-lined box. 
Streetwear brands have embraced fitteds over the years, too, which also helped cement New Era's place in fashion. Supreme and Stüssy still drop off seasonal offerings. Aimé Leon Dore produces Yankees and Mets caps remixed with simple script logos on the side panel, Joe Freshgoods has released various remixes to classic MLB fitteds over the years, and the MoMA Yankees cap is also wildly popular. Special caps known as "sneaker hooks," which are created specifically to coordinate with the latest sneaker releases, have been in regular rotation in the marketplace for a number of years, too. A Bulls cap with a white crown, red brim, and elephant print undervisor is designed to match perfectly with a pair of "White Cement" Air Jordan 3s, for example. And rappers have contributed their own designs as well. New Era tapped Offset in November 2020 to create a series of special Braves caps with nods to "The Nawf" in Atlanta and the Migos' ongoing Culture series of albums. 
"Spike Lee started this whole thing with the red Yankee hat… he opened that door," says Hat Club co-founder Paul Stachel. "And man, that door opened up fast, because it spoke to fashion and culture."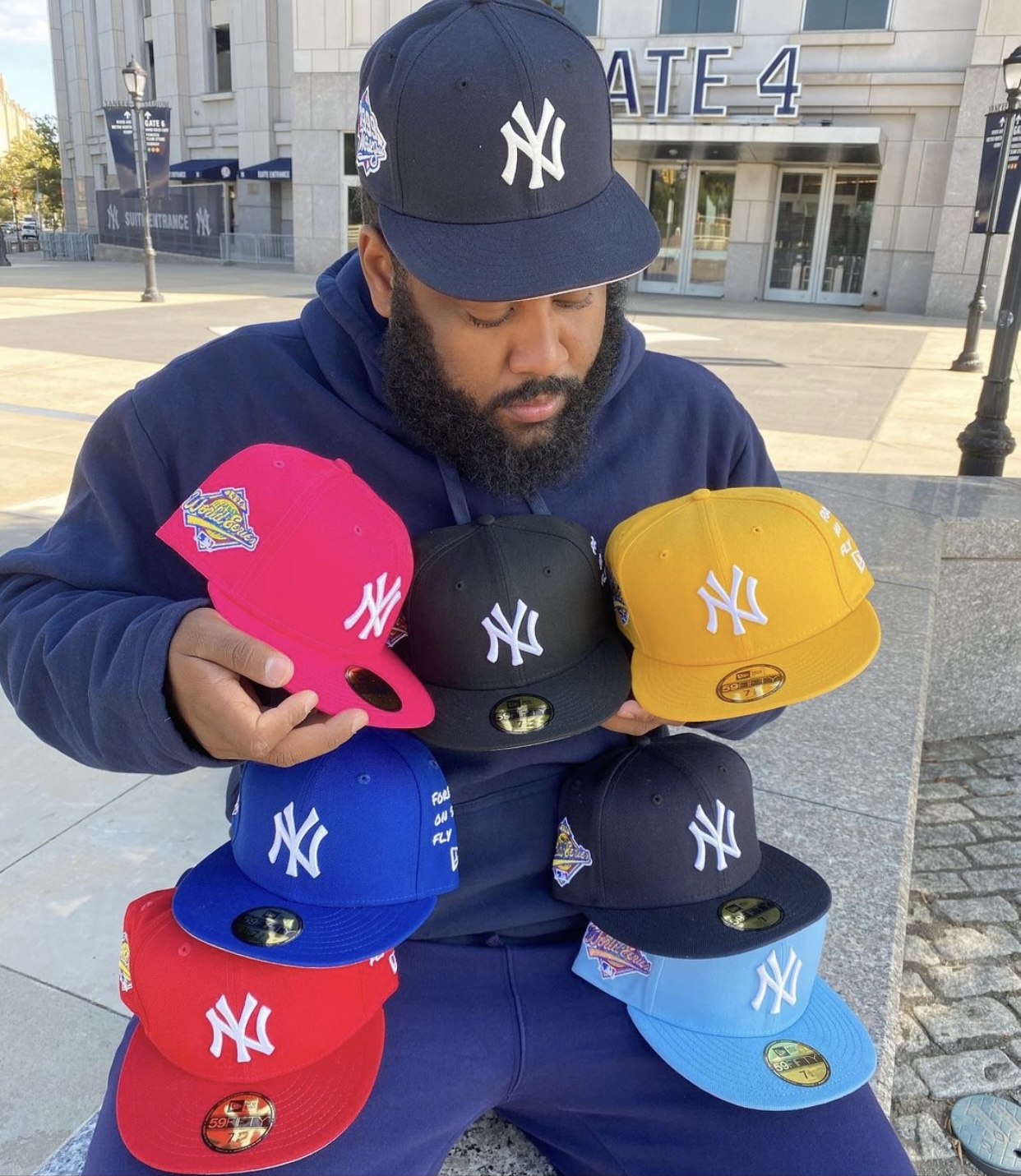 Stachel, who refers to the fitted as the "crown jewel of headwear," founded Hat Club alongside his brother Stephen Stachel in Mesa, Arizona, in 1992. While the company remains headquartered in Arizona, with most of its eight total outposts on the West Coast, in states like Arizona and California, its most well-known location is the NoHo store in New York, which has benefited greatly from the custom fitteds trend. While they cannot disclose any official numbers, Hat Club confirms it has seen triple-digit growth in customer acquisition, engagement, and social media followings across all platforms over the past two years. Hat Club's main IG account currently has roughly 309,000 followers. 
John "Jae Tips" Cotton, a New York creative who has been able to parlay the attention he was getting for his outfits (that often incorporated hyped-up items like Supreme jerseys or Nike Air Yeezy 1s) into his own clothing brand with a dedicated following, is another major piece of the recent movement taking shape within the hat world. Back in May 2020, he released a collab with Hat Club that included two colorways: a purple cap with a white Yankees logo and pastel pink undervisor (aka UV) and an infrared option with a baby blue UV. Both versions of the remixed classic retailed for $45. Each bore an embroidered side patch to represent the 2000 World Series between the Yankees and Queens' own New York Mets, which was famously known as the Subway Series. The colors were inspired by a pair of Bespoke Air Force 1s that Jae Tips had created in 2019 featuring details like a zebra print Swoosh and floral toebox. 
"A New Yorker has pride like no other. And I think that 'NY' logo, it's almost like your ID card. If you've got a flight somewhere, if you're doing some travel or something, you're going to make sure you have that on you like you have your ID," says Jae Tips. "It means everything to us."
The first drop did so well that he released matching purple Mets and Yankees hats with new side patches in October 2020. Just this month, he hosted a pop-up in Los Angeles that provided exclusive access to Los Angeles Dodgers caps in the now-signature purple and infrared color schemes. The Dodgers cap is another iconic MLB style that represents the West Coast at large, much like the Yankees cap symbolizes the East Coast. Matching Braves, Cubs, and White Sox versions are also on the way.
"Just to kind of see the impact that I had and we had with [my Hat Club collabs is] just phenomenal. It wasn't a monetary thing for me; it wasn't about the dollars. It was about doing something that I can make an impact with," says Jae Tips. "I learned that from a conversation that I had with DJ Clark Kent around the time I made the Air Force 1, and he was like, 'These people are never going to give you your flowers. You got to go out and go get them. Just keep being great at what you do and everything else will fall into place.' To be honest, I always just kind of look back at that when I think about the next move that I make. Just keep making moves and everyone else will catch up."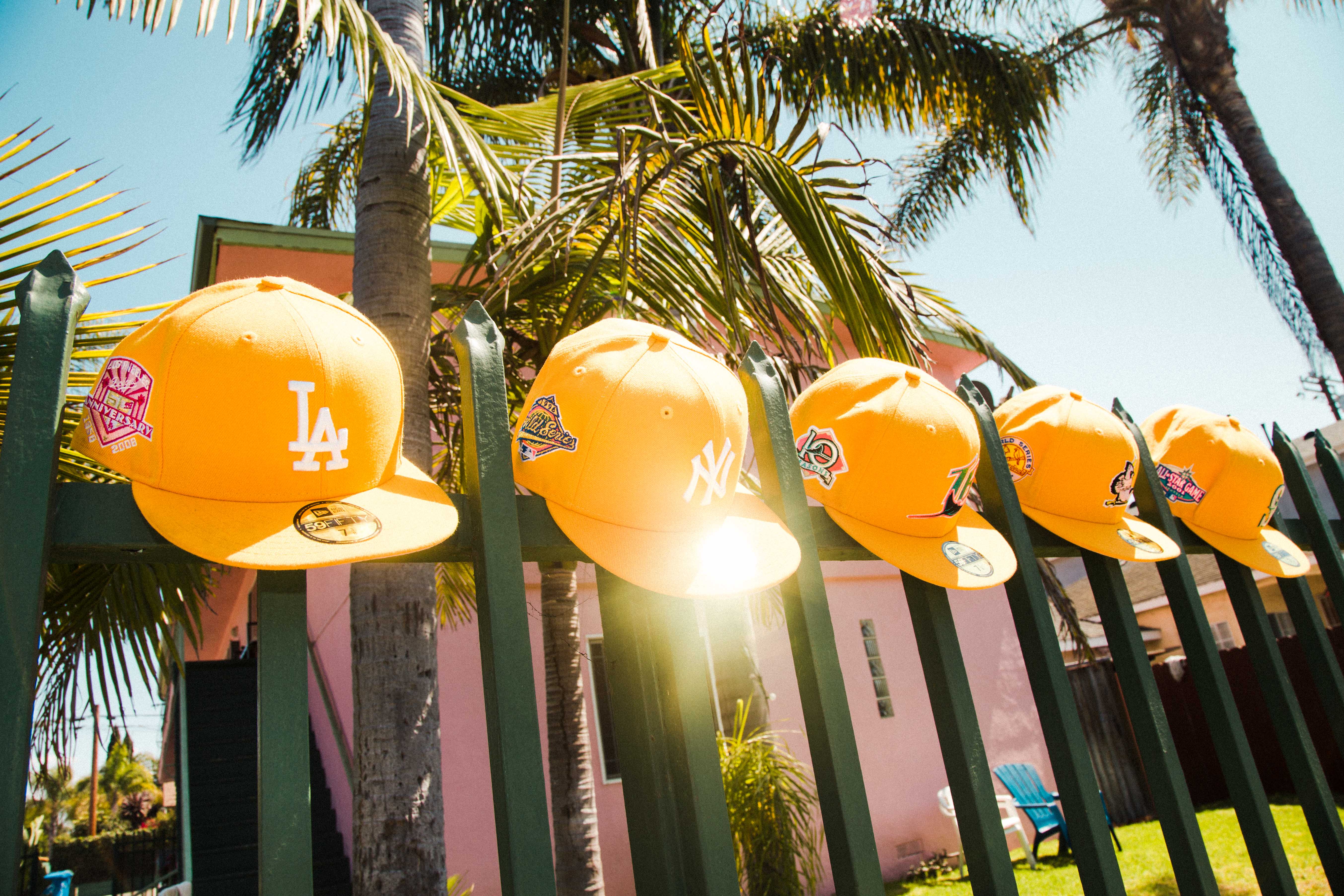 Farnham, who helped spur this trend by placing a pink undervisor on the NY Yankees cap, is now Hat Club's main headwear designer alongside Jon Nguyen, known in the hat community by his IG handle @t800jon. Farnham began as a sales associate at Hat Club's New York store in 2013. Nguyen started with the company in 2007 as a sales associate at one of its Arizona locations. Now, they are creating the hats that keep moving this trend forward. The duo has continued to capitalize on the momentum of the pink bottoms with dozens of new, experimental custom collections that arrive weekly, usually on Saturdays. The "Pink Lemonade" drop in October 2020 featured all-yellow options for each MLB team, with pink UVs. The "Breakaway" collection released in March 2021 fused MLB team logos with the colors of their city's NHL counterparts—a Mets cap was colored with navy blue, teal, and orange to match Islanders jerseys from the '90s, or a Chicago Cubs cap nodded to the Blackhawks' red, black, and yellow palette. Though they were once limited to the NoHo location, the pandemic has shifted these releases to Hat Club's online store, expanding the reach and notoriety of the brand. While the duo says the creative process for each collection varies, Farnham and Nguyen often find out quickly that they both have similar ideas brewing when they discuss new projects.
Hat Club is considered the forefather of the trend, but other retailers have been capitalizing on it, too. MyFitteds, a small, family-run shop located in Paterson, New Jersey, since the '90s and operating its online store since 2005, is currently producing some of the more creative designs on the market. Founder John Jang and his team of designers, Kenny Lu and Kevin Alejo, are peddling caps that pull from plenty of categories. A Yankees cap covered in woodland camo that wears a purple Yankees logo is a nod to Raekwon's legendary "Purple Tape." A Red Sox cap released in late February featured a colorful, layered Boston Red Sox logo on the crown, a nod to the Necco Wafers candy that is produced in the city. Jang has even used his children's favorite books for inspiration, flipping a Rockies cap (usually black and purple) with the earthy tones used on Mary Pope Osborne's Magic Tree House covers, or a Minnesota Twins hat (navy blue and red) to look like covers from Roald Dahl's Matilda series, with blue, yellow, and pink details. It's a unique approach in comparison to many shops that are simply flipping MLB caps with new colors, and it adds an extra layer of storytelling.
"My team and I, we think outside of the box. We draw inspiration from the most random things… [Other shops are] just throwing colors at the wall and seeing what sticks. I can't take that approach… I'm always quality over quantity," says Jang, who tells Complex that the timeline from ideation to receiving a shipment is about a three- to four-month process. "Two years ago, I wouldn't have thought to hit 10K followers on Instagram. Now, we're almost at, like, 75K in a matter of a year and a half. Kenny, Kevin, and I are pumping out new designs daily and submitting them to New Era because of the demand." 
Another recent creation from Jang and the MyFitteds team was a forest green cap embroidered with a large gold pegasus. The design was a nod to Uptown Jiggie (aka Pegasus), a hat shop that was stationed in East Harlem and viewed as a cornerstone of the community before closing in 2013. With all of the attention being paid to the hat world right now, especially in the Tri-State area, Jang wanted to use his platform to properly honor one of its OG mom-and-pop shops.
"I had to pay homage to them, because in a way, they fueled my competitive spirit to design greater things," says Jang, who notes plenty of OG collectors who reminisced when the design came out back in February. "It's a good thing that I brought it back out because those guys were amazing, and they were really good at what they did. It just sucks that they don't exist anymore."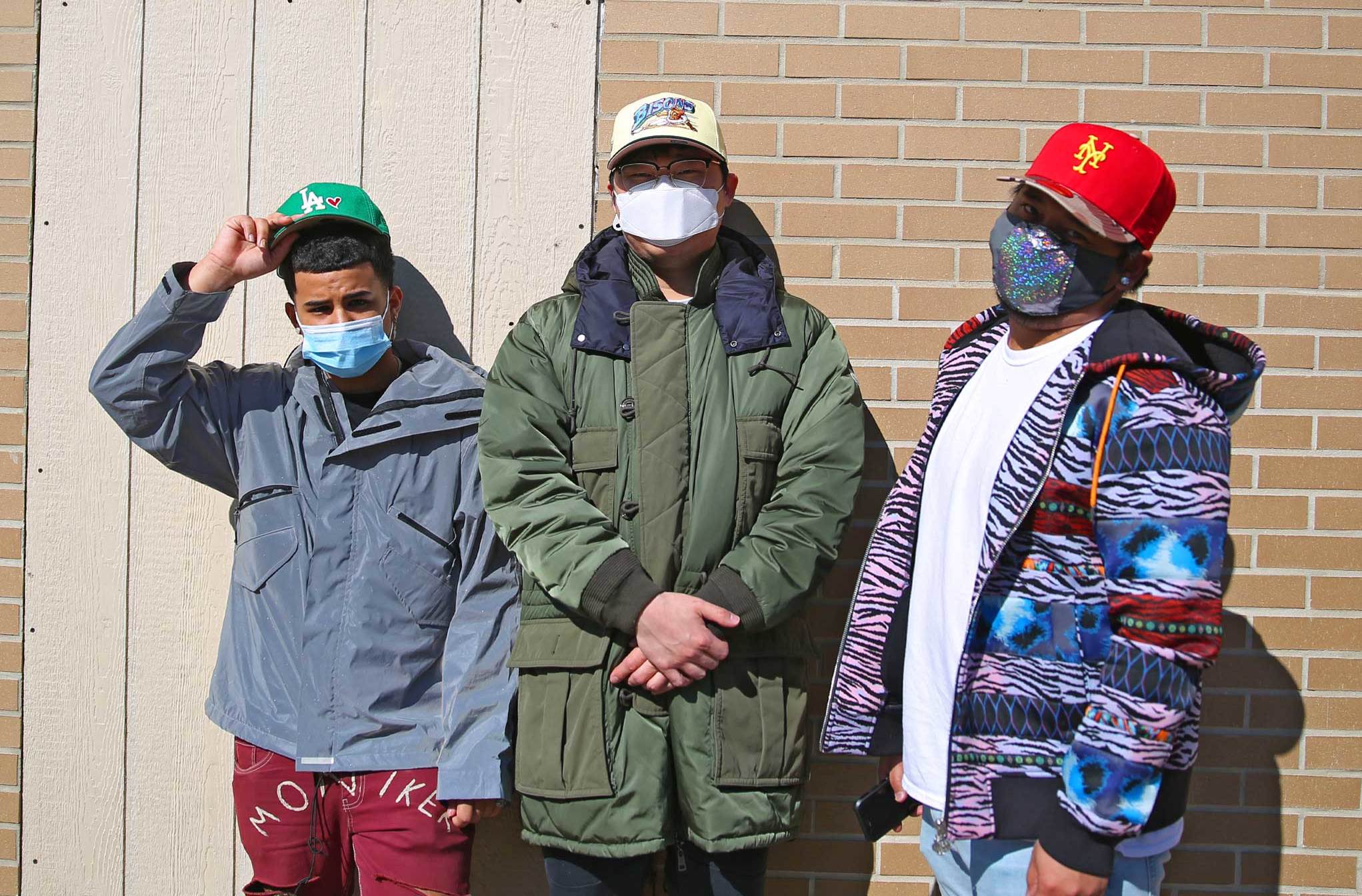 Pegasus might have closed down, but there are still plenty of independent hat shops scattered throughout the five boroughs that have catered to the local community for decades. Sports World 165 in Jamaica, Queens, 4U Caps in the Bronx, and Cap USA on 125th Street in Harlem are just a few of them. Cap USA first opened on Lenox Avenue in 2001, but has been located at its current 18 W. 125th St. location since 2016. Over the years, the shop owned by the Diallo family has become known as a go-to destination for locals to put together their new outfits by selling New York delicacies like Marmot parkas, Timbs, and 59Fiftys under the same roof. "Grey Brims," a classic look nicknamed because of their light grey undervisors, became one of its signature offerings. East Harlem native and creative Mikey Phelps even co-hosted Grey Brim Day, a meet-up of roughly 60 collectors that culminated at Cap USA in July 2020 organized by Thc Phi. 
"Everyone in Harlem and the Bronx knew about Cap USA. When I was in high school, it was my after-school hot spot to go to. For many years, it has been the mecca of purchasing Grey Brims and other apparel. It was the only place you could purchase a Pelle Pelle, B.B. Simon, and Grey Brim at once," says Phelps, who says there are already plans to host the second annual Grey Brim Day at Yankee Stadium on July 4. "Growing up in Harlem, the Grey Brim was the classic baseball fitted cap style, which was highly sought out in any hat store."
While Cap USA still caters to its original crowd in search of Grey Brims, 25-year-old head designer Thierno Diallo, the son of the shop's founders, is dabbling in the custom space to keep up with the current trends. A pearl-crowned, navy blue-brimmed Detroit Tigers cap with a 1984 World Series patch and a green UV recently sold out online within minutes. Other times, he says he opts to accentuate designs with the team's original colors. For example, he will use orange detailing from a Tigers logo to color the side patch or UV. 
"[Hat Club] opened a lot of doors. Now, we can be more creative. It opened that door and it showed us, 'Oh, OK, we can put a blue bottom under the hat. We can put a pink bottom under the hat. We can put a yellow bottom under the hat.' We can bring this to life for people who want that," says Diallo, who has been designing the shop's customs since he was 21, which have been co-signed by stars like Offset, Lil Yachty, Jadakiss, and more. He says Bloody Osiris even came in recently to purchase a leather fitted. "When I start helping my customers, that's where I get all my inspiration. When I'm helping people, when I'm speaking to people, when I'm conversing with them and I'm asking them, 'Oh, what do you feel? How do you envision your outfit? What do you feel will bring you more confidence when you wear your outfit?'"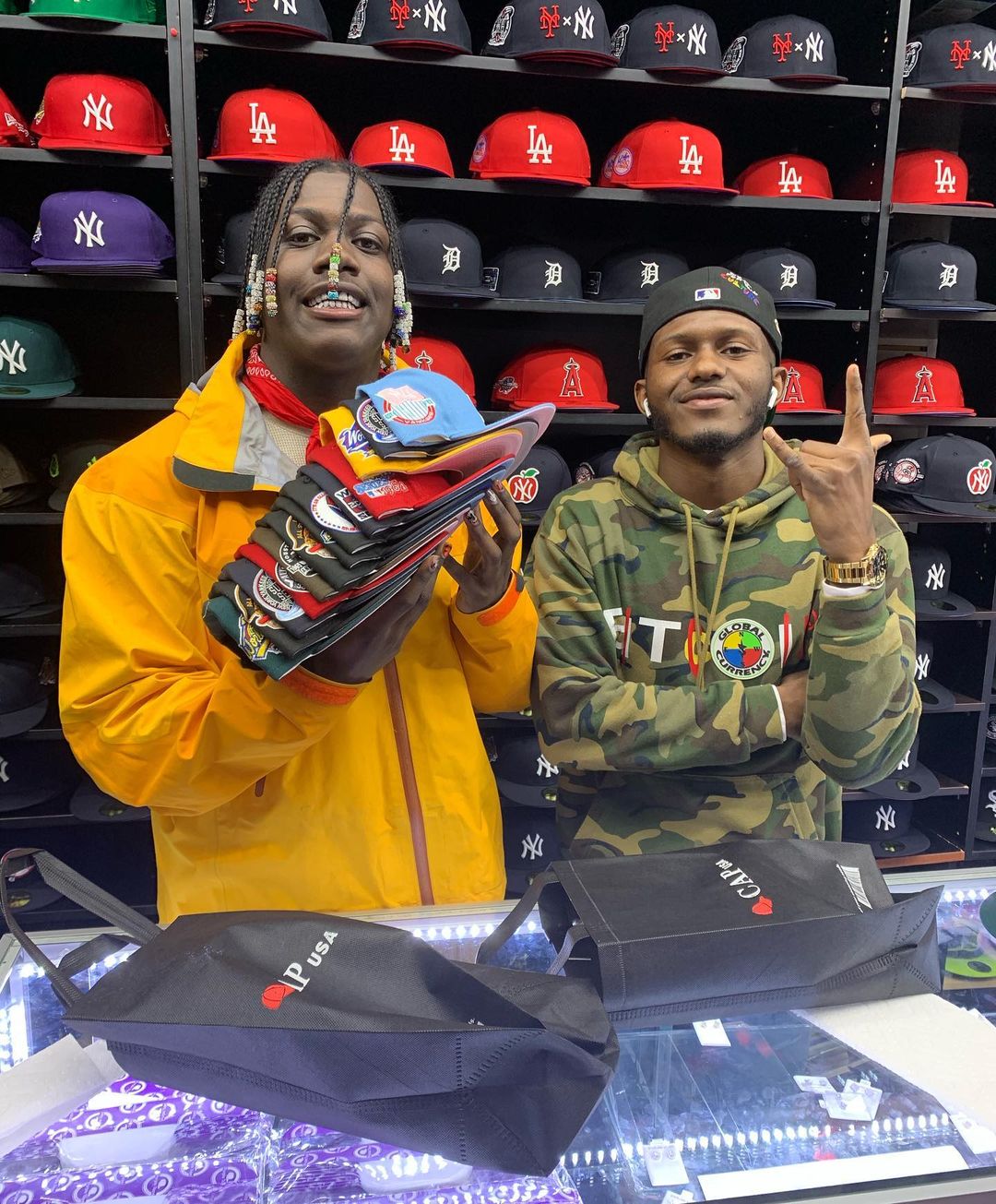 The custom trend is growing so rapidly that even big chain retailers like Lids, long known as the go-to destination for more casual consumers, are getting in on the action. Earlier this month, the company, which operates 1,131 stores, primarily across North America, began to roll out its series of custom colorways—Kelly green and orange styles for St. Patrick's Day and cotton candy-esque blue and pink options among them. Lids VP of buying Bob Durda, who has been with the company for over a decade, thinks this is just the beginning of this trend in the marketplace. He says a new strategy for the company moving forward will see Lids releasing one major fitted program a month. Unable to provide any official sales figures, Lids does confirm that fitted headwear is the No. 1 style in sales and inventory within its licensed category.
"From an accessibility standpoint, we're always going to be out front. We actually sell more fitted hats than anyone in the industry, by far. We just have that accessibility," says Durda, who notes that Lids designs about six months out from launch and already has its Fall 2021 lineup in the works. "I know some of the competition, they pre-sell and they take orders and it might take six, 10, 12 weeks to get your order. We're taking big swings. We're going to have the inventory at the stores. With over 1,100 locations, you're able to cover every major market and even a lot of small markets. You name a mall, we're pretty much in it."
The custom fitted trend's impact can be seen across social media, too. A sales associate from Pro Image Sports' Woodbridge Mall location in northern New Jersey, @wydjohnny1, cultivated a following on TikTok by showing off his collection of custom caps. Noah Hudson-Peralta, an image maker from Michigan, has grown an audience by showcasing his hat collection on a regular basis, along with tutorials on how to bend brims correctly, where to purchase hats, and more. Pierre Morin, a New York resident who has been collecting for close to 15 years and was the winner of the 2020 Lids Ultimate Hat Collection contest, has even started a YouTube channel, Views From the Vault, with fellow collectors to discuss the latest topics in the fitted hat world. One of the frequent speakers on the channel, Jason Mead, operates @hatcrawler, an Instagram page that keeps track of the dozens of hats being released by retailers around the globe each and every day for customers.
"[The pink bottoms] created this tidal wave of activity in the hat world. It's absolutely crazy what it's done. It's set everything off to the point now where you're seeing them in Lids stores," says Morin, who also recently collaborated with MyFitteds to release a Detroit Tigers cap made to replicate the style worn by J Dilla on his classic LP Donuts. "I think more people are starting from their head and working to their feet than ever before. That doesn't mean that fitted hats have trumped sneakers. What I'm saying is more than ever, someone is going to pick their hat before their sneakers. I think that's saying an awful lot considering I'm a sneaker guy too. But I'm always going for my hat first."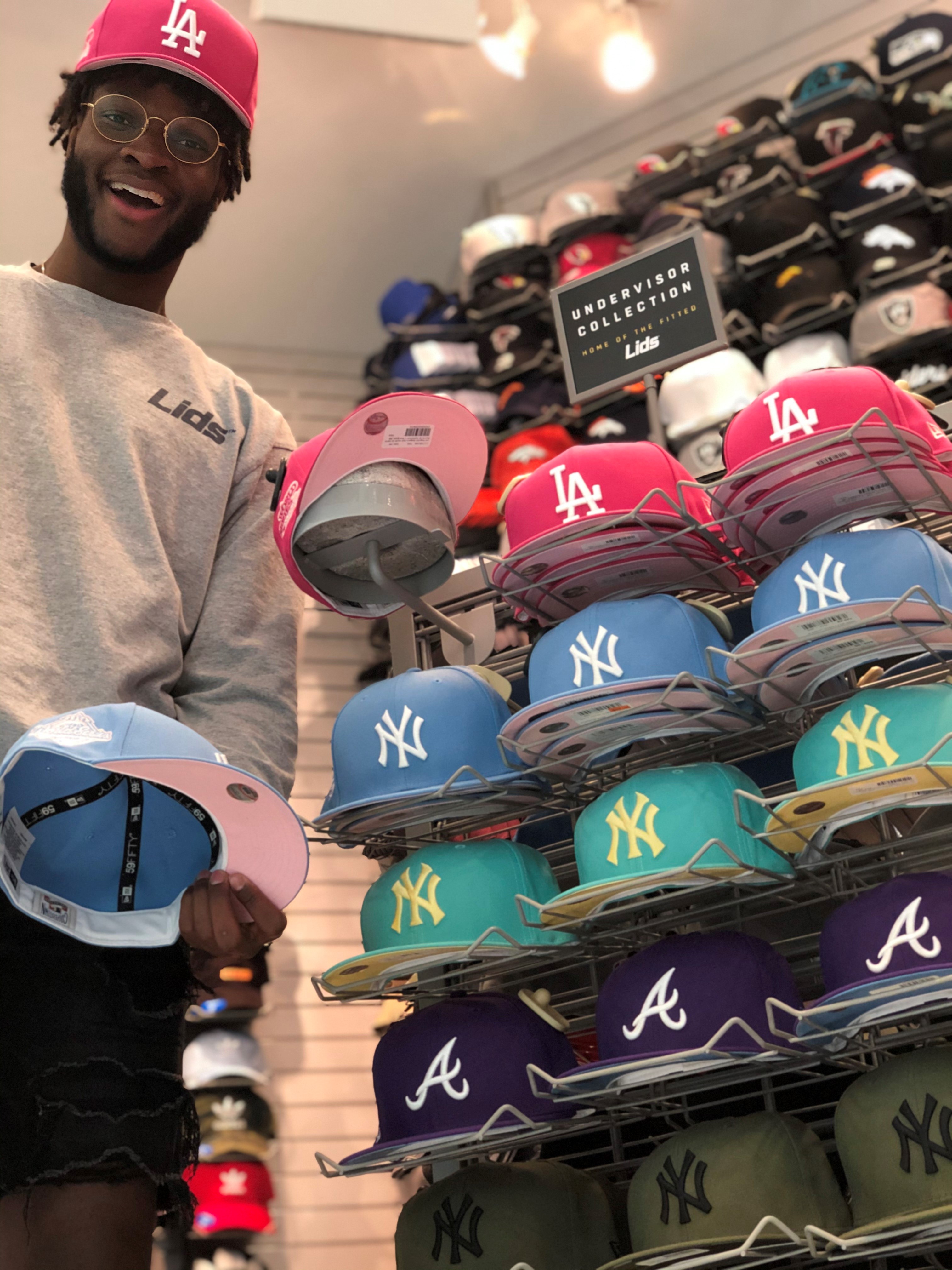 As the number of custom hat purveyors increases, copying has become a growing issue. All shops are creating their customs from the same suite of options presented by New Era. While some collectors and shop owners have voiced their concerns over increased copying, other shops have used popular designs originally introduced elsewhere to drive sales, and customers appreciate the ease of being able to acquire a hard-to-get colorway they are in search of after it has sold out elsewhere. New Era currently doesn't have a system in place to prevent copycat designs. 
"You're basically assembling something with Lego pieces that aren't yours. And what ends up happening is, as soon as that is assembled with the Legos that aren't yours, anyone can take it from the system and then order the minimum and sell it," says Morin, who suggests that New Era lock specific design combinations for a six-month window once a shop orders them to keep them more exclusive for a period of time. "But I also think it's very important to have integrity. I'd love to see more of these folks take some time and create their own designs."
Custom hat designers at these shops have access to a seemingly endless array of colors, commemorative side patches, and patterns like paisley or camouflage to choose from when crafting a new hat. Everything down to the thread colors can be customized. Side patches are one of the most important parts of the equation. Something like the 1999 World Series patch on a Yankees hat is common. But each team has its own special patches, which nod to events like World Series appearances, All-Star Games, and even inaugural seasons at a new stadium. The Philadelphia Phillies have a giant Liberty Bell patch that was used for the 1996 All-Star Game, or the Tampa Bay Devil Rays have a specific patch design to mark their first season in 1998, for instance. Some shops have taken the custom embroidery to extremes, placing a Statue of Liberty on a New York hat or rocket ship on a Houston Astros hat to nod to the Lyndon B. Johnson Space Center.
What seems like an "anything goes" scenario does have its limitations, though. Some teams have stricter guidelines on colors that can be used than others. Custom designs must receive final approval from each league and team before going into production. But multiple shop designers have noted the inconsistency when it comes to the process. Sometimes a simple flip of the color placement, or submitting on the "correct" week, is the difference between a "yes" and a "no." Something that worked last month might be a no-go the following because of an abrupt rule change. Aside from certain teams' specific rules, there isn't a hard and fast equation. 
"The ability to make it your own is the trend. So we think that there's a long runway for this," says New Era West Coast Lifestyle Manager Chi-Kay Lam. "As long as we continue to listen to the market, and continue to refresh our color palettes, and continue to offer quality service and on-time delivery, I think there's just the potential to keep this thing going."
Given the limited-edition colorways, product selling out minutes after being released, and even a resell market, many people from Jae Tips to New Era East Coast Lifestyle Manager Tom Keough are quick to compare the current state of fitted hats to the world of sneakers. The comparison is certainly understandable. Similar to the metamorphosis that the sneaker community has seen in recent years, the hat community is now seeing an influx of new people embracing the hobby. And while some might scoff at the new crop of people joining in on the fun or their passion becoming more mainstream than before, collectors like Morin are embracing the change. 
"I don't feel like my hobby has been cheapened by any of this. I think it's been enhanced," says Morin. "I enjoy it, man. I'm not putting my nose up to any of this. I think it's fantastic."