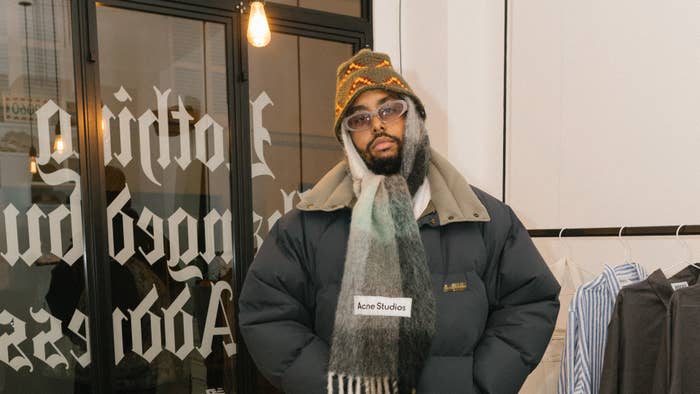 Kacey Lynch is almost home.
The founder of Bricks & Wood recently returned from Paris Fashion Week where not only did he take in the weeklong event, but he also put his own stamp on it. He hosted a pop-up at Paperboy to celebrate his second sneaker collaboration with New Balance in three years, a take on the 9060 inspired by his grandmother's home. It was the first time the brand had activated outside of the United States. Lynch called it a huge learning experience. 
"It just taught us that it's always worth a try. Whether it feels good or not, that risk is always worth it, especially when it's not a risk that can break you. Whether we succeeded in Paris or not, it wouldn't have broken us as a company," says Lynch. "We were going up against big fashion houses, bigger brands, and bigger events, but if you ask anybody in Paris you'd hear our name as well. We really left a footprint."
Lynch will host the third and final stop of his three-city pop-up tour this Saturday at his own Space(s) boutique in South Central Los Angeles, a fitting finale to his mini world tour, before the pair receives a global launch on Jan. 30. But right now, he's still on the East Coast, sitting at a round table in the center of t.a., a women's clothing boutique in Manhattan's Meatpacking District. In a few hours, the doors will open to kick off his second pop-up. The tagline for the project, "Nothing Changed but the Address" is plastered across the front windows of the space in white lettering. On Jan. 23, Bricks & Wood made New York City its temporary home.
"The idea was to give each target audience a genuine opportunity to get the shoes. Last time it was so small and so niche. We wanted to take that global approach this time," says Lynch.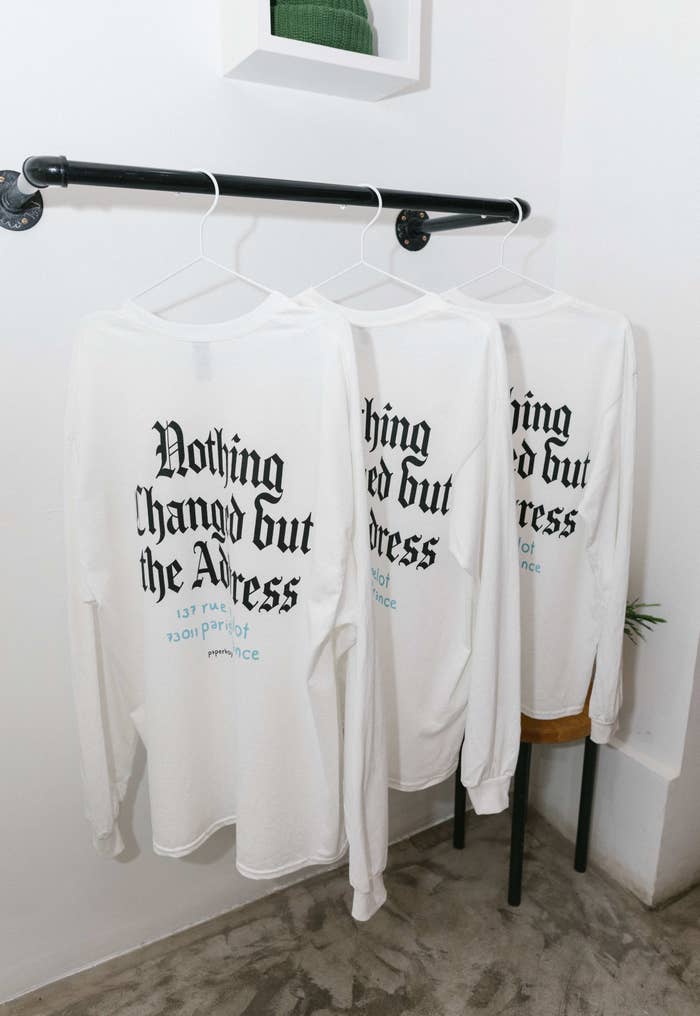 Bricks & Wood's 9060, which New Balance in-house designer Yue Wu of "Refined Future" 2002R fame helped bring to life, perfectly illustrates the theme Lynch sought out to execute. Green hits on the sole act as the front lawn. The use of grey and off-white suede across the upper are meant to resemble the home itself. Fuzzy cream laces nod to the comforting nature of a grandparent's home. Suede panels on the back heel can be peeled back like curtains to reveal hidden co-branding. And the baby blue liner was used because of the blue sky peaking through the background in a photo of the home Lynch provided. He was even able to shoot his grandmother on the front porch of the home that inspired the project for the official campaign.
But Lynch's last few months aren't all about sneakers. Back in September, he opened his first brick-and-mortar location Space(s) in South Central LA. In December, he released Bricks & Wood's Fall/Winter 2022 collection that featured experimental cut and sew offerings from the brand like a boxy Gabardine twill blazer and a reversible ripstop vest covered in camo. The brand is writing its next chapter. And Lynch is having fun again. 
"I feel like now I'm making the things that I was always inspired to make, the things I saw in stores like, 'Dang, I wish Bricks & Wood could make this,'" says Lynch.
A few hours before Bricks & Wood's New York pop-up kicked off, we got a chance sit down with Lynch to discuss his 9060 collab, the resurgence of brick-and-mortar retail in streetwear, seeing Virgil Abloh's influence all over Paris Fashion Week, and more.
This interview has been edited and condensed for clarity.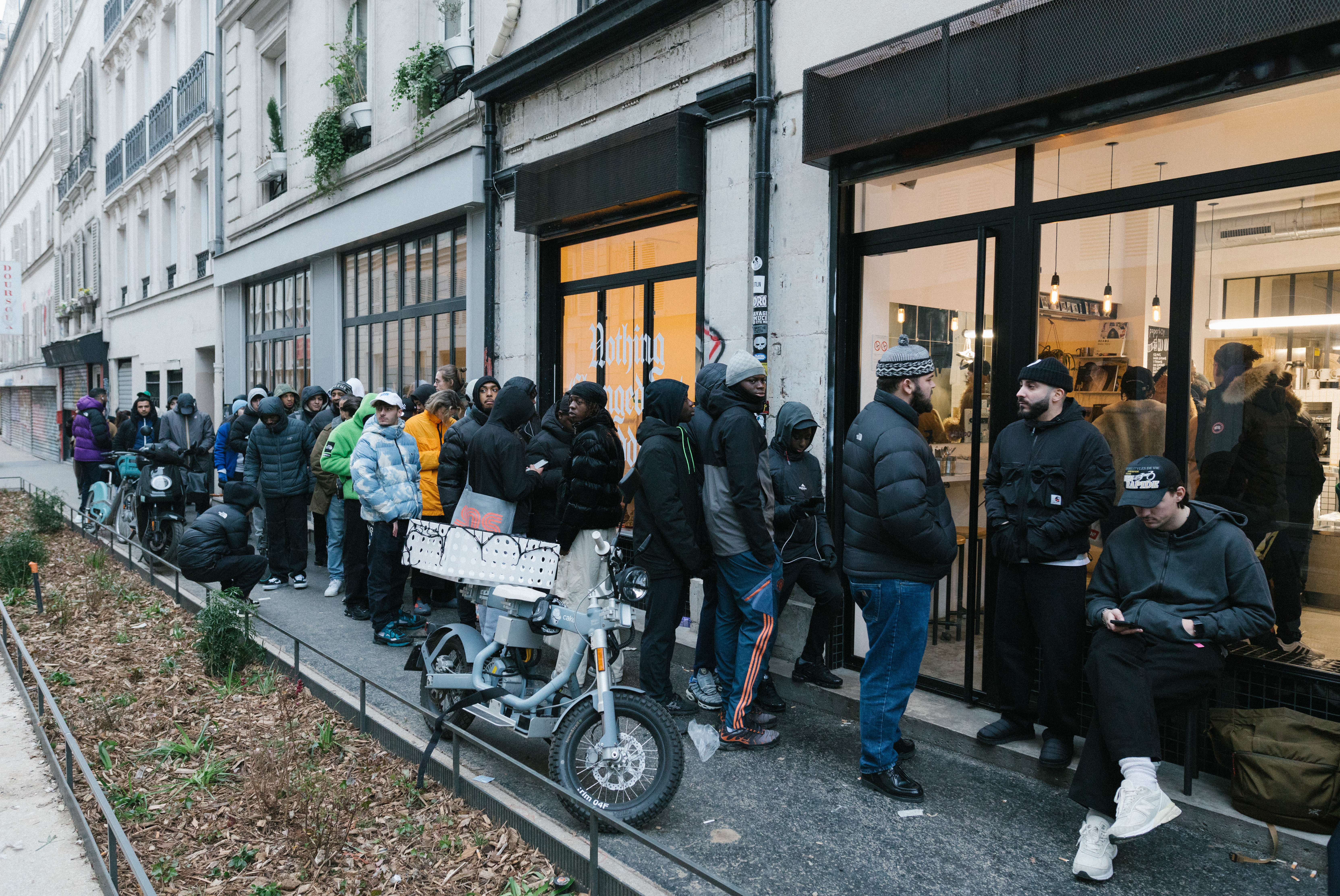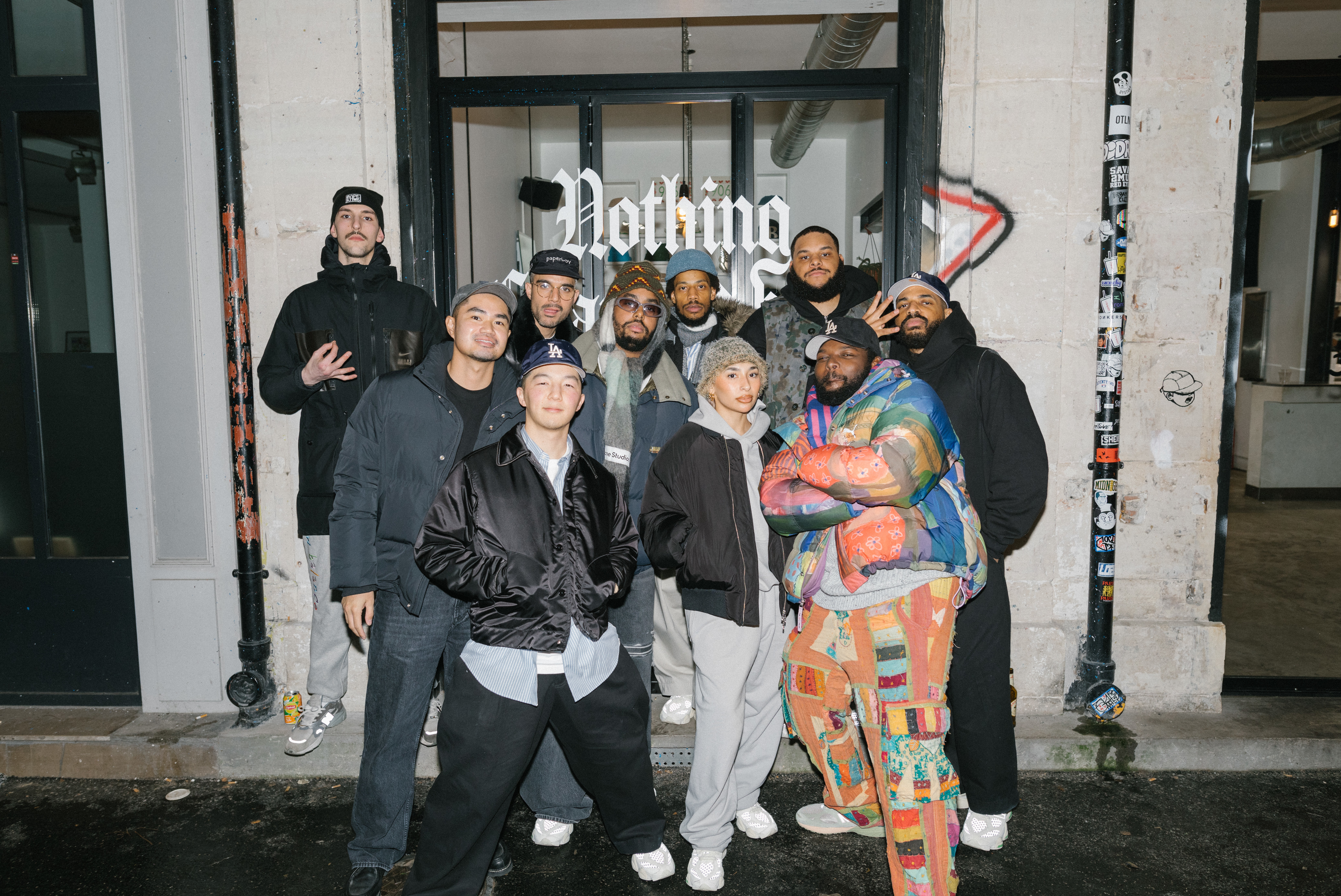 Can you talk about the growth of the Bricks & Wood when it comes to designs you're pushing, new silhouettes you want to experiment with, and where you want to take it?

Our goal is always to expand. We didn't want to just give you hoodies and sweatsuits and beanies forever. I've always wanted to dabble in cut and sew. So with the blazer particularly, that was unique because the reference came from a couture level brand, not in terms of the fit itself, but just the idea of doing a blazer at all. We had never touched anything close to that in terms of formality from our collections. So for us, we want to give you the things that drew you to us like a graphic tee or a hoodie, but we still want to make sure that we're finding that balance of growing too. I think that's what this fall collection shows, that risk to be like, 'Okay, y'all been getting this for the last five years. If we go this route, how do you react? Are you growing with us as an audience the way we are growing?' It's just trying to find that balance between us and the audience. 
We're still going to give you our iteration of streetwear because, at the end of the day, that's who we are. That's where I'm from. That's what got me here. I'll never lose sight of that. But at the same time, I'm almost a 30-year-old man. I can't sit there and say that I'm wearing graphic tees every day. It's just having our audience grow with us in the same breath. you know? So far, it's been received well and I think going to Paris and traveling has helped the audience digest it a lot easier because they see the different elements that we're in as well. 
Do you think that's necessary for streetwear brands to do right now in order to resonate in the space?

I've always seen it as both. I've always wanted to give both. I think where the industry is now, people want instant things. It's about instant gratification. But it gets to a point where that quickness dies out and we end up back in the retro. It happens every 15, 20 years, right? At this point, you can do the T-shirt thing and that's fine, but once that teenager turns 25, he's going to wish that he had bought the size up or that he didn't buy the graphic T-shirt that he doesn't wear anymore. He's going to wish he bought the item that had less logos, So, we're trying to find the balance of both. We try to create this idea of instant where it will make sense later on. It might only last for a year or two right now, but in 10 years you're going to wish you had it back. 
Is there a certain piece you've made that you're super proud of?

I think the blazer, for sure. Or the pants that matched the blazer. I feel like now I'm making the things that I was always inspired to make, the things I saw in stores like, 'Dang, I wish Bricks & Wood could make this,' or 'I wish I could afford the manufacturers to make things like this.' It was the littlest of things that I didn't know. A pleat. A welt pocket. I didn't know certain terms. I didn't understand why certain things were so expensive. Now that I'm able to make my own versions of that, I'm able to see where it's going. 
There's probably like eight brands that I really, really support and spend my money on. And now, I can genuinely wear my own clothes. That feels really good and I hope that someone can wear Bricks and Wood as their uniform the same way that we are starting to.
It's cool to hear you say how you're growing and learning in real time like that.

I'm very transparent about my process. I don't know everything at all. I can keep learning. I keep having fun with it. If I knew it all, there's a lot of things I wouldn't be doing or taking the time to do. I learn from every experience and I treat all this as my playground. We're just trying things out, taking a little risk here and there.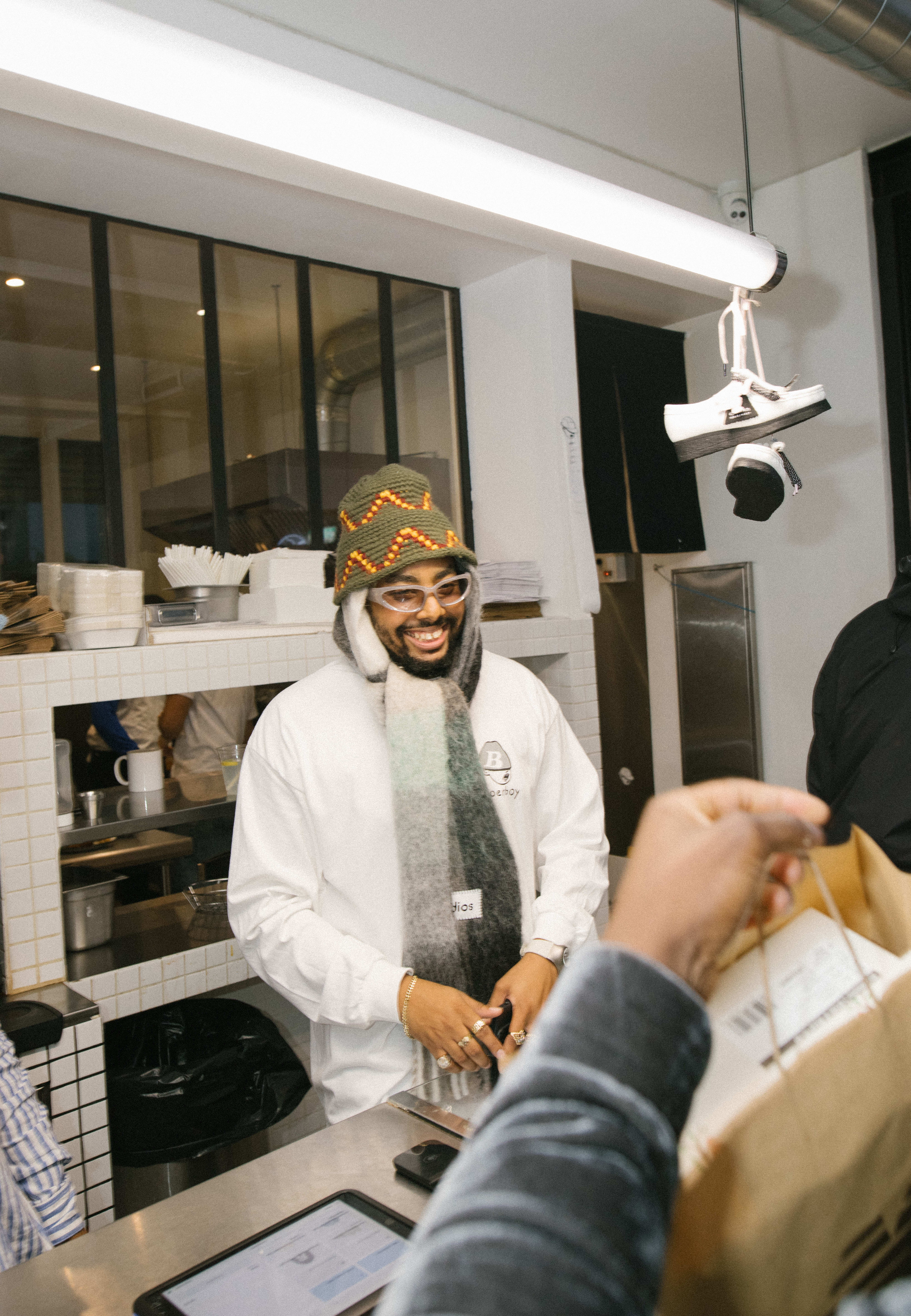 And you also have the shop now too. Why did now feel like the right time for that?

We opened up the shop on Sept. 30. That timing felt good because we were just in a slow point where the Fall/Winter collection wasn't ready just yet, but Spring was already pretty much sold through. We had just got a warehouse. So, we just had this extra space downstairs. Something just hit me like, 'This might be time.' I kept seeing the gap in the brand at that point. We have the warehouse. We have all the inventory. We are at our office. And now we just have space. The word 'space' just kept repeating in my head. When it came down to it, I knew it was right because it reminded me why I started a brand in the first place. I started a brand not because of design ideas or graphics, not even clothing. I started a brand because I wanted to open up a store because shops I went in when I was a teenager helped shape my interest in streetwear and fashion. Seeing cool buildouts, meeting cool people, that's what sparked everything. I saw a gap and I was able to pay homage to my younger self in a way. That's when I was like, 'Okay, this reminds me of why I'm doing what I'm doing.'
Everything I've been doing has been online drops, maybe a pop-up here and there. It kind of felt very stagnant in a way. I started to lose touch of my interest. So, now we can do a sneaker drop and drop it in my own store, or we could do an inline drop and people can come try the stuff on. That's what I always wanted to do. It reminded me why I do what I do. I always wanted to open up a shop within my community where I grew up, South Central. I did that. 
I feel like you're starting to see a lot of brands go back to brick and mortar, have the community be part of it.

I think people just realized. If you asked me when I was growing up, streetwear felt fun. Everybody was peers. Everybody was having fun with each other. Everyone seemed like they had a genuine friendship. When you do it online, you might be making more money or money quicker, but you're losing a lot of the personable things that made the industry what it is. I started a brand because of how I was treated when I walked into a physical shop and how I felt when I walked into that shop. 
Even trade shows are back. Not every brand's going back, but they're having them again. I think people just miss that shaking hands experience. For me, I couldn't keep doing a digital-only thing. If I kept doing it that way, I promise you I'd quit. It'll make what I do not fun whatsoever. 
Any final thoughts?

Shoutout to New Balance. Shoutout to Paperboy. Shoutout to my team. Shoutout to t.a. as well. We're just super appreciative of being in this position and the help that we've been able to get throughout this process. We just take it day by day, bro. No high expectations. No low expectations. We are just going to build.