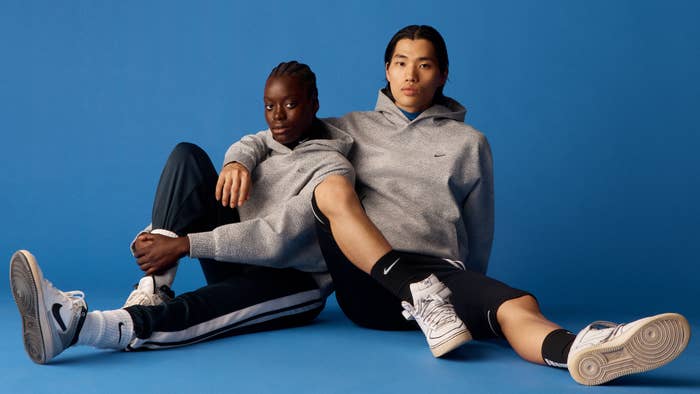 Today, Nike has unveiled one of its most significant apparel innovations since the release of Dri-Fit in 1991. After five years of development, the sports brand introduces Nike Forward with the launch of a hoodie that reimagines the production of fleece apparel.
"We're using a brand-new manufacturing method that we've innovated where we're taking fibers directly into a manufacturing machine, a needle punch machine, and outputting the fabric," Carmen Zolman, Nike's VP of Innovation Apparel Design, tells Complex. "Traditionally, with a knit or woven, you have fibers that you're spinning into yarns, then knitting or weaving, before dyeing and finishing. We've taken away all of the steps that we can, down to the simplest process, so that we can have a really small carbon footprint." 
Nike Forward's hoodie weighs less than one pound and is an all polyester garment made of 70 percent recycled content by weight. It is only available in gray because it cuts out the process of using water to colorize the garment with dyes. The label's first releases will not include any zippers, aglets, or extra trims because it makes it easier for the garments to be recycled. By moving away from traditional woven and knit techniques, Nike Forward's fleece apparel adds another sustainably minded production initiative to the brand's portfolio.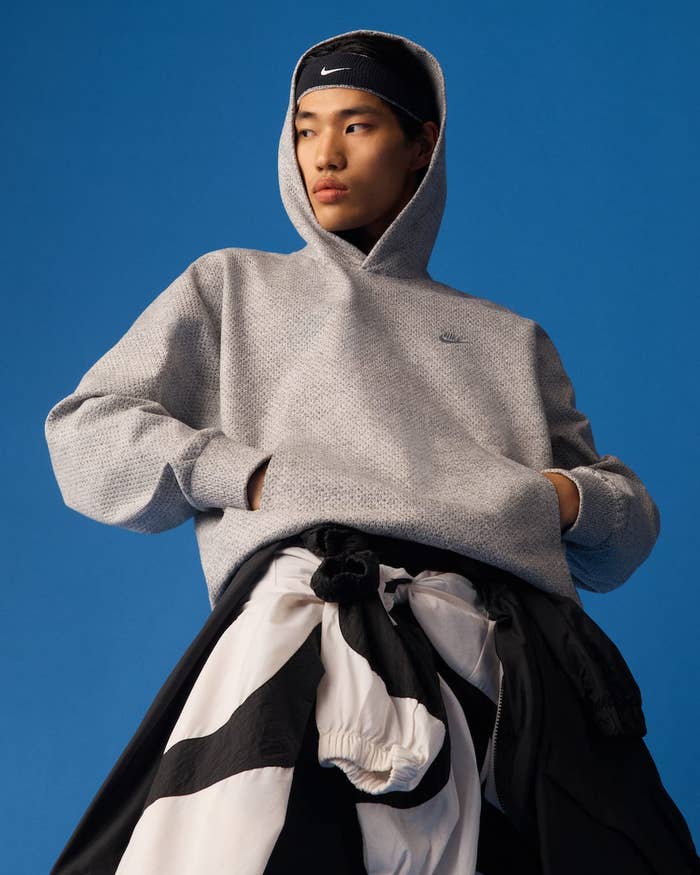 "On the sustainability standpoint, we really want Nike Forward to empower athletes and Nike on a journey towards a better world," says Zolman, who's worked as an apparel designer for Nike for the past 15 years. "So from this innovation, we actually weren't trying to retrofit another Nike technology and make it more sustainable. We built this from scratch and what that yielded in the end was a 75 percent carbon reduction compared to a traditional knit fleece."
Eco-conscious products are nothing new for Nike. Since 2008, all Nike Air soles have been made from at least 50 percent recycled manufacturing waste. The past 30 years, Nike Grind, a grassroots initiative that turns used shoes and Nike factory scraps into usable materials, has been used to make products like Decoded phone cases and Home Depot carpet padding. Nike currently works with the textile recycling group Wolkat to recycle 100 percent polyester goods and Kvadrat to recycle 100 percent cotton apparel. Zolman tells Complex that Nike Forward came about because Nike's athlete insights revealed that climate change was impacting their own abilities to make sport a daily habit. When looking at how extreme heat grinded major cities like London to a halt this summer, it's a no brainer why Nike is adapting to changing times. Of course, with the future of athletes in mind, Nike's sustainability minded platform does not compromise performance. 
"What's really incredible about this first [Nike Forward] material is that it's meeting our highest benchmark of warming for the athlete. And yet it's also one of our lightest fabrics ever," says Zolman, who points out that Nike's Therma-FIT ADV apparel set the warmth benchmark for Nike Forward. "Athletes are surprised and delighted in wear tests we've done about how warm they're being kept along with how light and airy the garment actually feels."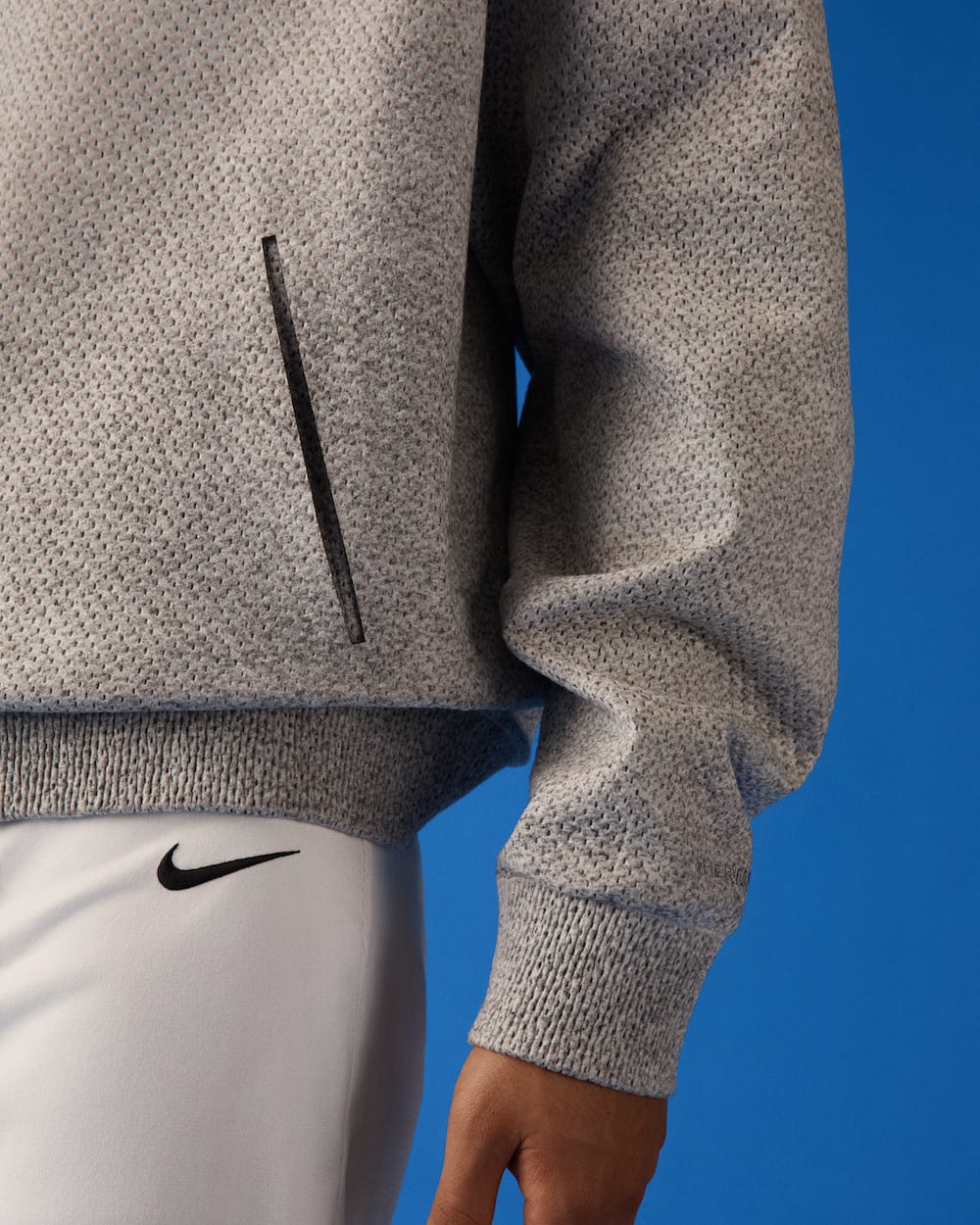 While Nike Forward's hoodie was designed for athletes, the silhouette falls in trend with the look of other popular hooded sweatshirts offered by labels such as Yeezy Gap today. While it's impossible to crystal ball Nike Forward's future within the fashion market, similar materials Nike's created in the past have been embraced by designers. Flyknit, a woven yarn that took a decade to develop and was designed to reduce footwear materials, has been forefronted in collaborations with labels such as Supreme, Off-White, and Acronym. The first Nike shoe released by Alyx and Givenchy's Matthew M. Williams was an imaginative take on Nike's Free TR Flyknit 3. Zolman believes that Nike Forward has a lot of potential beyond just hitting sustainability goals and sports performance.
"It's really unlocked a new material class, not a knit or woven, and with that has come all of these amazing new benefits," says Zolman, while pointing out the unique needle punch holes and raw cut edges produced by the Nike Forward manufacturing process. "It has a completely different hand feel, a different drape and garment silhouette. It's allowed us to do unique things like replicating and modernizing a rib trim that you would see on a traditional hoodie."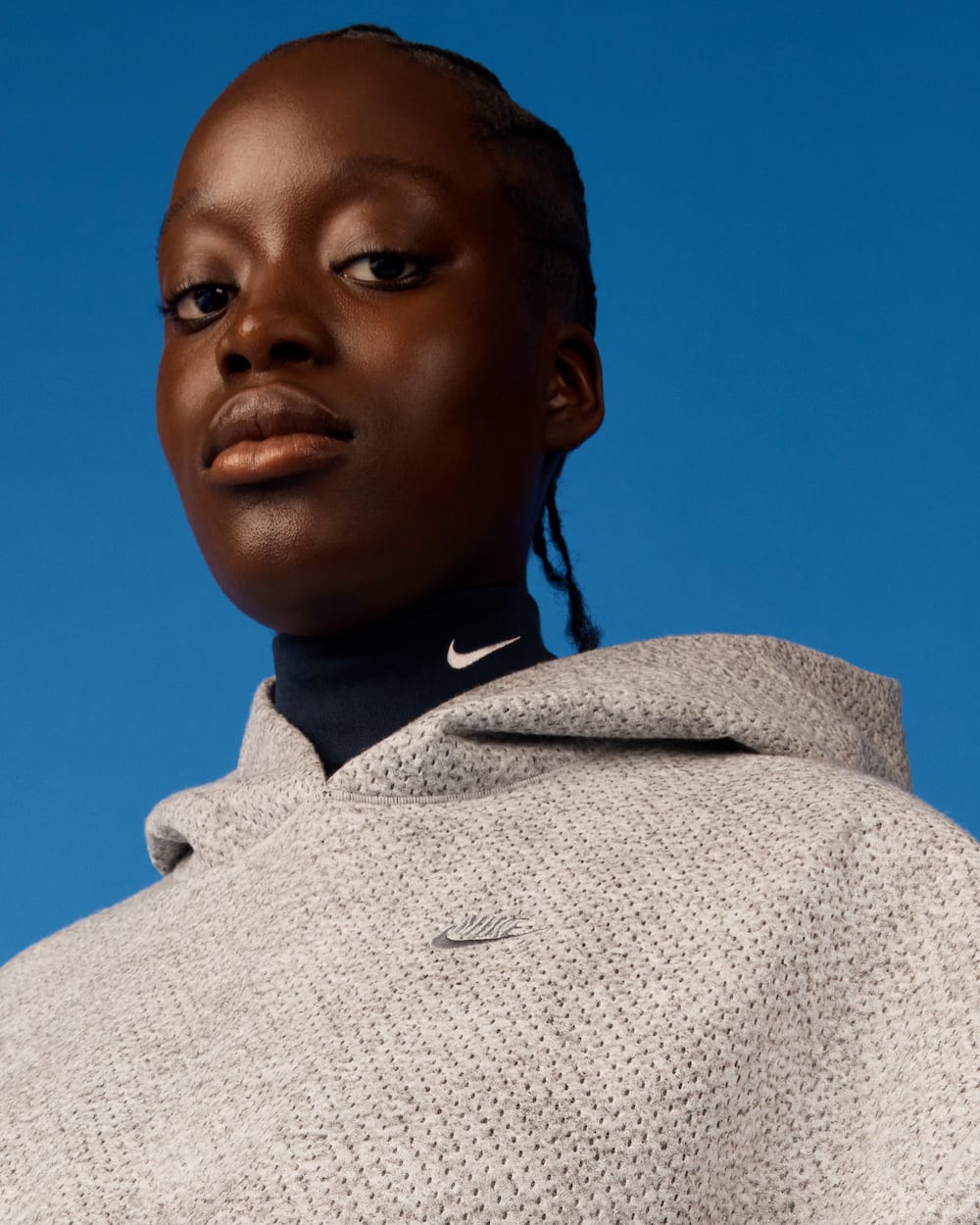 Nike Forward and other recycled polyester or plastic materials isn't an end-all solution when it comes to addressing the environmental impact of clothing production. While recycled polyester does save plastic bottles from sitting inside landfills, microplastics are released when these garments are washed. But with Nike Forward, the sports apparel giant is taking a step in the right direction that falls in line with reaching their sustainability goals set by their Move to Zero initiative unveiled in 2019.
"It's really an amazing unlock when you have a new fabric with different capabilities that allows designers to play with things that they wouldn't be able to do normally," says Zolman. "Really simple, really reductive. We truly believe this is our biggest innovation platform since Dri-Fit. So we are committed to a long journey for a better world."
Nike Forward's first garments, a hoodie and crewneck, will release globally on Thursday Sept. 15.