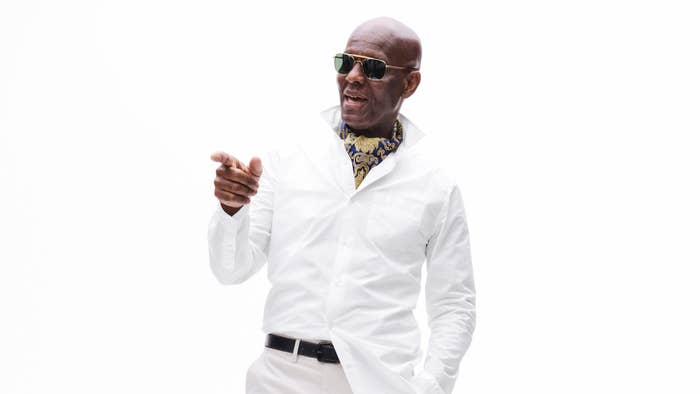 Dapper Dan is a designer known for redefining some of the most iconic labels within fashion. Years before luxury brand Louis Vuitton even released a ready-to-wear collection, the Harlem-based designer sampled the house's iconic logos to make custom garments that were worn by the most prolific rappers, hustlers, and celebs in New York during the late '80s and early '90s. Since then, Dapper Dan's work has influenced the output of high fashion labels like Balenciaga, has been referenced by Supreme, inspired a new generation of luxury bootleggers, and has recently led to him becoming the first Black designer to receive a CFDA Lifetime Achievement Award. Dapper Dan did all of this without ever presenting a runway show. 
 So what's next for Dapper Dan? A collaboration with Gap. 
 "Gap is like pizza, everybody eats pizza. And everybody at some point or another is going to bring a pie home," Dapper Dan tells Complex. "That's what Gap represents. It represents that part of food that we all relate to. Gap speaks to all of us, but it's a part of who I am and who we all are. So I love that."
Dapper Dan headlines Gap's Spring 2022 campaign titled "American Dream," which seeks to celebrate individuals who have shaped culture by carving their own paths. Alongside Dapper Dan, the campaign includes a diverse roster of creatives such as Chito—a graffiti artist whose unique airbrush work has led to collaborations with brands such as Arc'teryx, Supreme, and Givenchy. The campaign's video is narrated by Kai-Isaiah Jamal, a poet and activist who is also the first Black transgender model to ever walk for Louis Vuitton. "American Dream" follows in the footsteps of other iconic Gap commercials such as LL Cool J's 1999 ad where the rapper promoted Gap's easy fit jeans while sneaking in a Fubu hat, which helped popularize the Black-owned fashion brand nationwide. Hip-hop's relationship with Gap has only grown since. Fast forward to today and Kanye West is architecting a new creative vision for Gap while engineering collaborations for the brand with Balenciaga. Dapper Dan sees his collaboration as a part of that lineage of Black creative influence.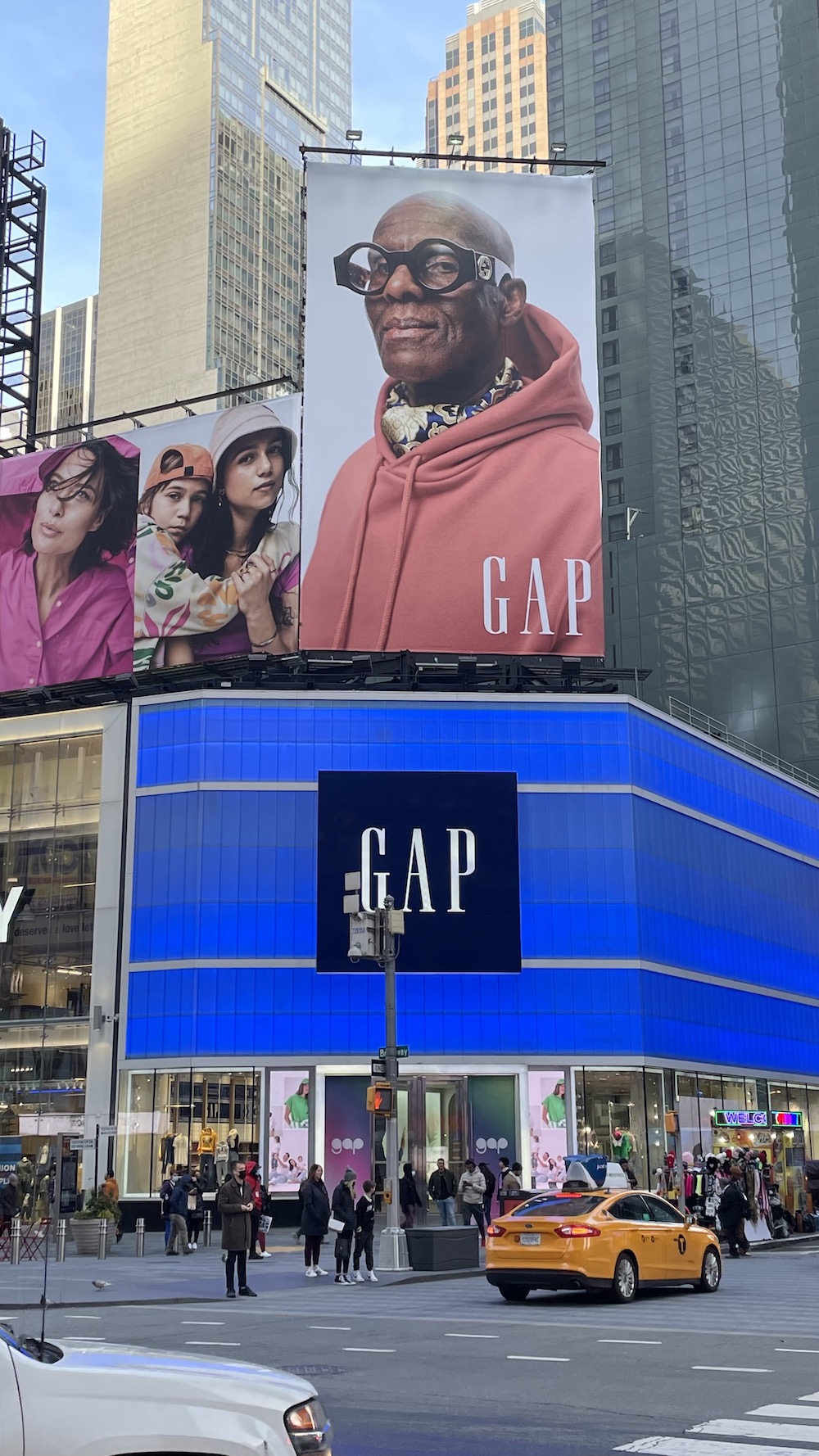 "We should be in those spaces that the Gap offers us because we can reach everybody and make them feel good. I got into fashion initially because it made me feel good" says Dapper Dan, who strongly believes that clothing has a transformative quality, especially as a designer who grew up poor. "I walk out of that neighborhood, I go downtown with something fashionable, and all of a sudden I move beyond a certain status symbol that's associated with people in the lower classes. Whether it's LL Cool J, Kanye, or Dapper Dan, we give a chance for people to feel us, to feel our presence, and to tap into something that they feel is elite at the same time."
To commemorate their collaboration, Dapper Dan is set to release his take on Gap's signature logo hoodie, which simply replaces Gap with "Dap." The coral pink hoodie is available this afternoon for $99. The designer's latest release is perhaps one of the most subtle ways that he has ever repositioned a brand's logo. And logos are something Dapper Dan understands better than anyone else. After all, he helped make LV's monogram or Gucci's interlocking "GG" a symbol of prestige within hip-hop culture.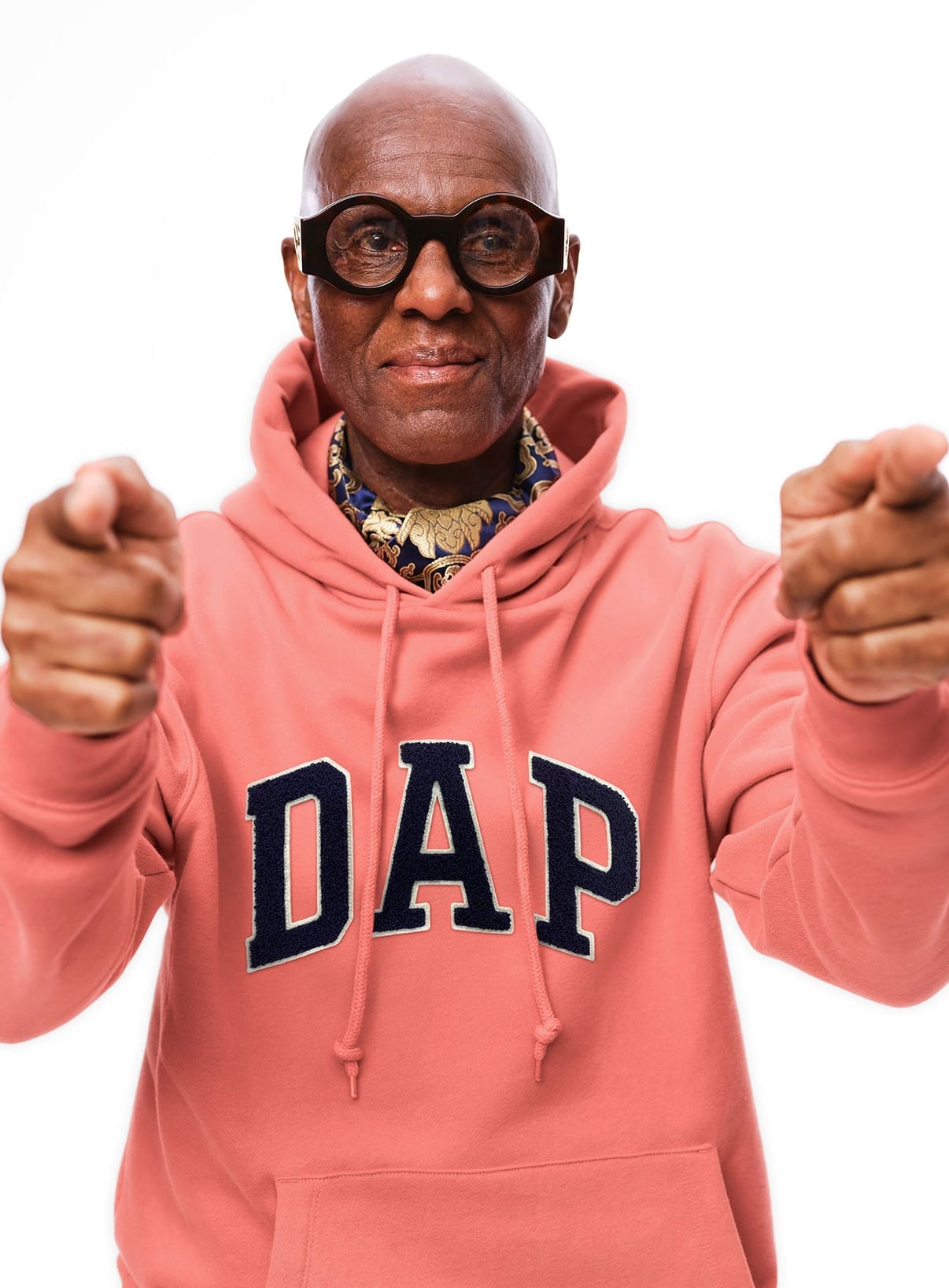 "How this logomania trend came about was through us saying: 'We are as good as the people who wear it. We just don't wear it the way they wear it,'" says Dapper Dan when asked about the power of logos within fashion. "So I initiated a way for us to wear these symbols in a way we feel good about it. I took a symbol and gave it a little more of a divine presence by connecting everybody to it. So now everybody feels elevated. Now we are even more elevated because we know the role we played in assembling what we all see today. We commandeered that symbol so that everybody can go along for the ride." 
Dapper Dan doesn't believe that he dictates fashion. Instead, he says that he "translates culture." When Dapper Dan was approached by Boogie Down Productions, and heard the influence of reggae within their music, he designed custom leather outfits for them inspired by Rastafarian culture. He made Eric B a jacket with a Gucci logo on the back because he recognized that the DJ was into "fly swag." Whereas for Rakim, a MC who was also a Five Percenter, he designed a piece that incorporated the logo of the Five Percent Nation. Both jackets are well-recognized within hip-hop culture as they graced the cover of Eric B and Rakim's seminal 1988 album Follow the Leader. 
"What I did was look at what people wanted to do and how they wanted to represent themselves," says Dapper Dan. "I translated what they were feeling, what their music represented, into fashion."
Dapper Dan continues to do that to this very day. He's recently made custom pieces for legends like LL Cool J and Missy Elliott—who wore a Dapper Dan garment made in collaboration with Pepsi to celebrate the Super Bowl this year. While Dapper Dan's work is typically associated with the golden age of hip-hop, he has dressed contemporary rap artists as well. Last year, he made Saweetie and Doja Cat's Gucci looks in the music video for "Best Friend." He has maintained a relationship with Gucci since 2018 and still has the support of the Italian luxury house. His landmark collaboration with Gucci came about after his fans called out the luxury house for copying his designs without giving proper credit. It led to Gucci opening a 4,700 square-foot space for Dapper Dan, complete with a storefront and an atelier, inside a brownstone on Lenox Avenue in Harlem.
"I got guys who come in here who are Wall Street guys and they explicitly ask for that big Dapper Dan logo on the back. Gucci recognizes that," says Dapper Dan. "So what Gucci does with Dapper Dan is that when we have that special client, who is insistent, Gucci and I will work together on this. We are both open to that and that's what's happening now." 
Last year, Dapper Dan teased that he will unveil his own eponymous line in the near future. He decides not to give out too many details but of course emphasizes that he's still working on perfecting his upcoming brand's logo. "The logo that I will be presenting is going to be so profound and will encompass my whole journey," he hints to Complex. "It's going to take in all of us." And as his Gap collaboration shows, Dapper Dan is only looking to move toward the future. He compares the fashion industry to the Harlem River he grew up swimming in as a child. 
"The Harlem River is like our culture. It's always there, but it's always moving. You have to pay attention to the current," says Dapper Dan. "So you have to look at fashion like that there. You have to pay attention to the river and move with the current. It's still Dapper Dan, but I don't get tied up in who I am. Every person who comes in to get something made is part of my collaboration."