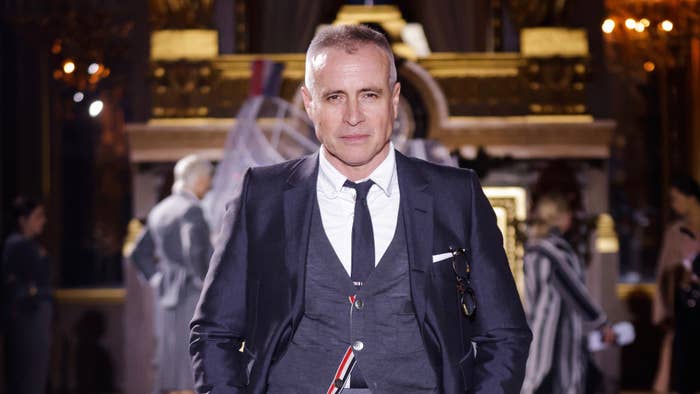 Thom Browne has come out on top in the battle over stripes.
According to Women's Wear Daily, the American fashion label won its highly publicized lawsuit against Adidas on Thursday, when a Manhattan jury determined it had not infringed on any of Adidas trademarks. The decision came more than a year after the sportswear giant filed an $8 million lawsuit against Thom Browne, claiming the label's parallel stripe designs were "confusingly similar" to its three-stripe branding and would cause confusion among consumers.
Adidas claimed it first confronted Thom Browne in May 2007, after noticing its use of a three-stripe design on apparel and footwear. After a number of "good faith" discussions, Thom Browne agreed to stop using the mark and began using the grosgrain and four-bar designs several years later. It wasn't until 2018 when Adidas raised more objections.
Thom Browne's legal team questioned why the sportswear brand waited more than a decade to file a complaint. Adidas claimed it only became aware of the designs about five years ago, when Thom Browne filed a trademark application for the "Grosgrain Signature."
During the nine-day trial, Thom Brown's attorney Robert T. Maldonado pointed out that Adidas failed to prove that the label's stripe design caused them any harm. He also argued that consumers wouldn't mistake a Thom Browne product for an Adidas piece, as there is a significant difference in pricing.
The jury decided Thom Browne was not liable for any damages or profits made from the sales of its stripe-bearing designs.
"For over 20 years now, Thom Browne has been a pioneering force in luxury fashion, bringing a wholly unique and distinctive design aesthetic that combines classic tailoring with American sportswear sensibilities," a spokesperson said in a statement. "We look forward to continuing to design and provide the creative products that have become the hallmark of the Thom Browne label."
A representative for Adidas said the brand is "disappointed with the verdict," but will "continue to vigilantly enforce our intellectual property, including filing any appropriate appeals."