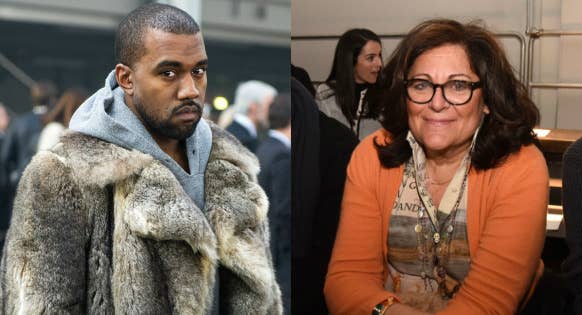 It looks like Kanye West and Fern Mallis will be squashing their Twitter beef soon.
Following Kanye's adidas "Yeezy Season 1" debut, the New York Fashion Week founder stirred the pot when she told the New York Post she was "kind of over Kanye" and that she was not a fan of his music, attitude, or agenda.
Of course, Kanye responded to Mallis via Twitter and proposed the two have a one-on-one sit down at his favorite restaurant and meeting venues, The Spotted Pig. Mallis responded saying she appreciated the invitation, but would prefer to speak with Kanye for her "Fashion Icons" interview series at the 92nd Street Y. 
While an interview has not been confirmed, it looks like we may be closer to what will be a much talked about sit-down. 
"His publicist got in touch with us, asked if we could send a formal invitation," Mallis recently told Threads. "We need to book it, otherwise we need to move on."
Assuming that invitation has been—or will soon be—sent out, it appears the ball is in Kanye's court.
Stay tuned as more information about this meeting rolls in.
[via NY Post]