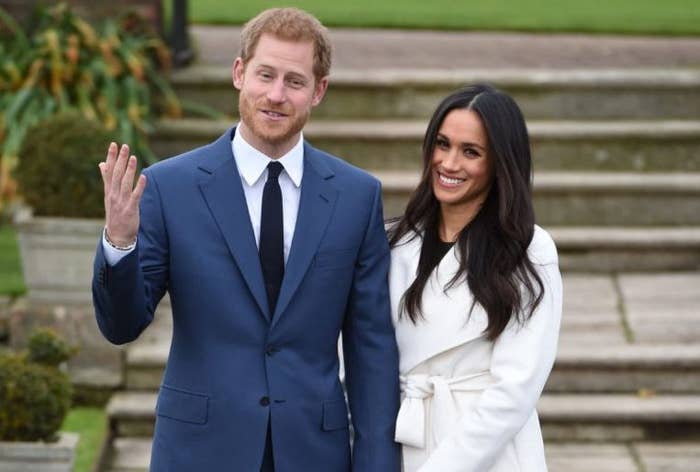 In case you've been living under a rock today, Meghan Markle and Prince Harry are engaged. It's kind of a big deal: Britain's most eligible bachelor is off the market; Meghan will retire from acting (and her notable role on Suits) for a life of charity work and endless public appearances; it will be the most high profile Royal wedding since Prince William and Duchess Kate wed back in 2011; and Meghan will be the first divorcee to marry into the Royal family in over 80 years. Not bad for a Monday! 
Being that Meghan lived in Toronto for fived years while filming Suits, its no surprise that she's a fan of a few local labels, and chose a coat from North York-based designer LINE the Label for her appearance with Prince Harry during the official engagement photo call at Kensington Palace earlier today. The dressy trench features a knotted waist and oversized collar, and retails for $799. 
"We are incredibly honored that Meghan chose to wear a LINE coat to mark this very special occasion," John Muscat, president and co-founder of LINE, said via news release. "Meghan has an effortlessly chic sense of style, which we've always admired. We know this particular coat is one of her favourite pieces so we have officially decided to name it the 'Meghan.' We are elated for Meghan and wish her a lifetime of happiness with Prince Harry."
The exact jacket is currently sold out (surprise surprise), but LINE is accepting pre-orders of the "Meghan" coat via email at line@nkpr.net.