On Wednesday morning, John Elliott, the American sportswear designer who dominated last year's NYFW:M, presented his Fall/Winter 2017 "Stretch the Floor" collection. The show—creative directed by Nate Brown and Institute—and the line were inspired by Elliott's love for basketball and his aspirations as an athlete (Elliott played AAU basketball growing up).
Days before Elliott presented his biggest collection—45 looks, including a collaboration with Nike and the brand's first suit offerings—the designer welcomed Complex into his world, and his process. Here's a diary by Elliott where he breaks down what the days before the show were like, how he felt after after unveiling his 10th collection, and why this was one of the toughest shows yet.
As told to Karizza Sanchez.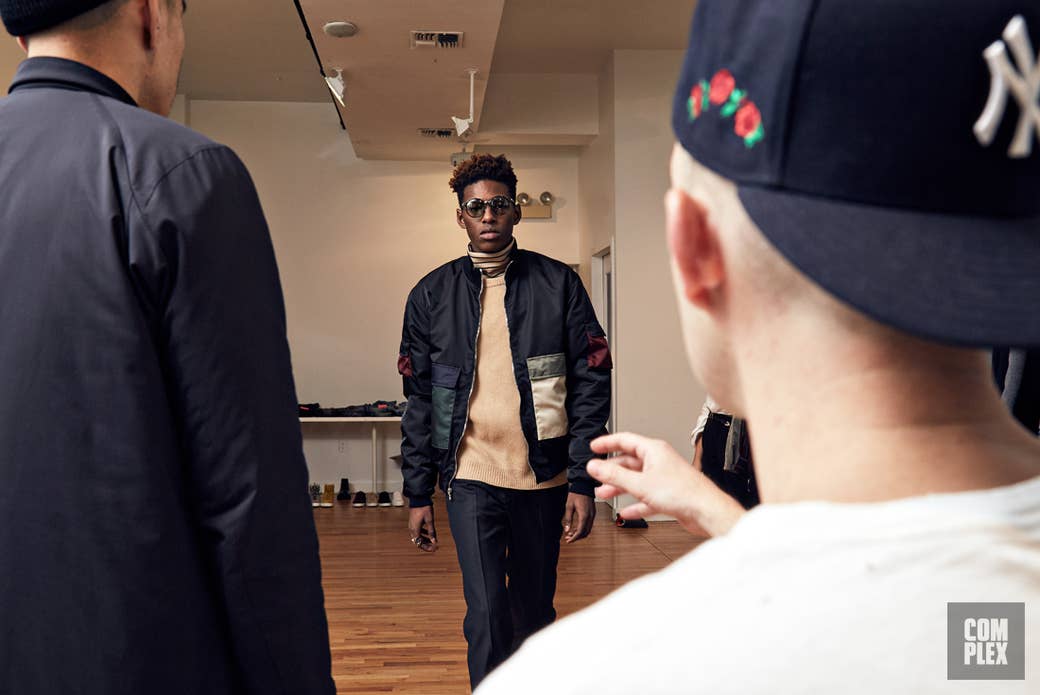 Day 1: January 28
Today was actually a fucking super rad day. We started casting yesterday and probably saw 120 models. Today, we saw like 60. We haven't done the final casting of the show, but I think we're in a good spot. For us, it's interesting because I think we've had a specific guy that we've worked with season after season. In a way, they've almost become like family, but some of those guys just aren't walking [in shows] any more. But it's good to see fresh faces—it keeps the aesthetic young and the energy up.
For the remainder of the day, [stylist] Eugene Tong and I did looks for the show. Eugene and I go into it understanding the concept of the collection. It's an exercise in storytelling—you tell a story that relates to the overall concept, you think about what you've done in the past, and where you want to take the brand in the future. We're always trying to push the point of view to a new place.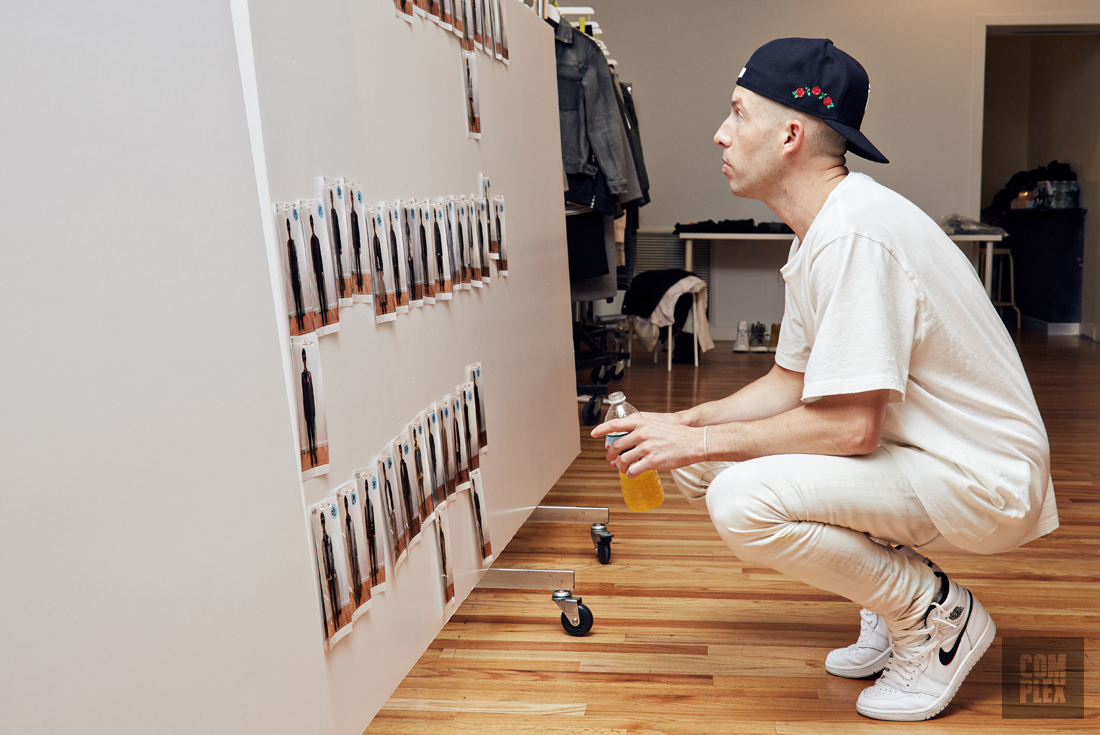 We also went through the collection. Our offices are in L.A. but we develop product all over the world, so sometimes you only get to view these products in tech packs, drawings, and in your imagination for a while. When you get to see them in person, it's just a whole new energy. I told [my business partner] Nobu Yamamoto today, "Man, we gotta enjoy this moment." When you start putting looks together the pieces become defined and they almost develop a personality of their own. It's an indescribable feeling to have a concept, discuss that concept at great length, and turn it into reality. That's what it was like today and last night. I was at the showroom 'til 3 a.m. last night, turned on the Migos' album [Culture] and was dancing and trying stuff on. I couldn't stop. It was too much fun.
You hear about the [Muslim Ban] protest that happened today and it's just fucking sad. I just try to remind myself of how appreciative I am of this, you know? My team and I appreciate our lives and what we get to do.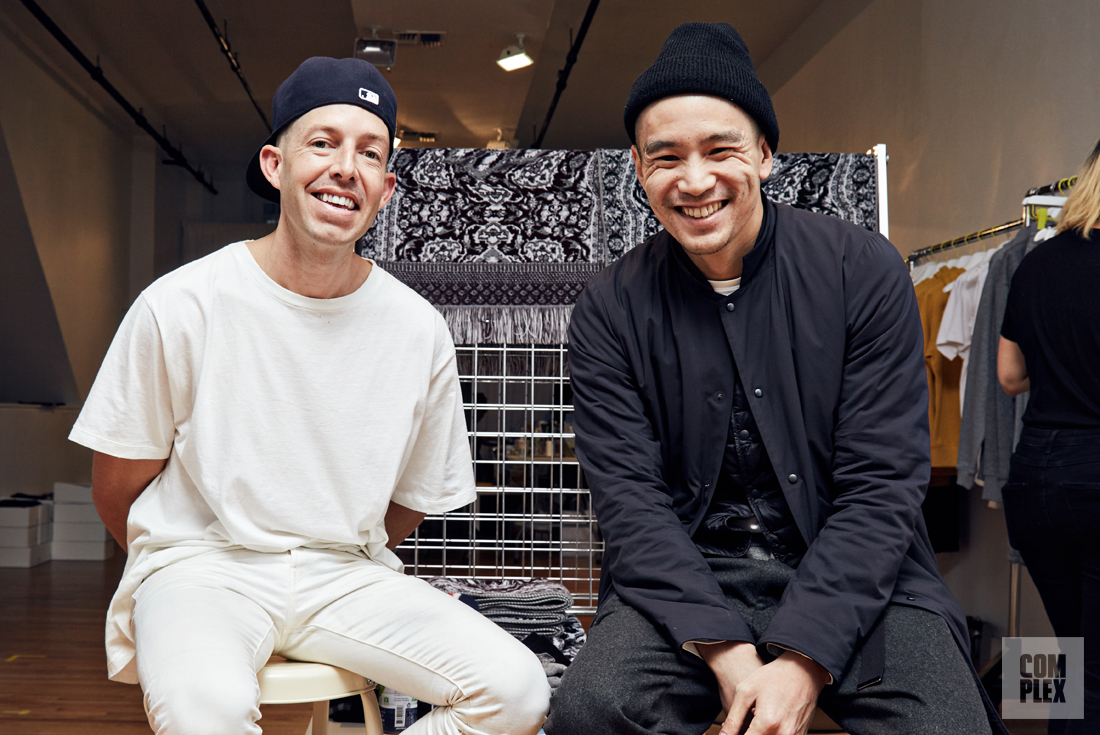 Day 2: January 29
Today was tougher. We have four employees stuck all over the country trying to get to New York with samples. They can't get to New York because of the Delta outage and the protest. It's just been a disappointing day but, you know, I'm sure they're going to get here. I hope they do. We have to get them here both for their safety and because they're carrying samples we absolutely have to have for the show.
But anyway, this morning, my team and I got up and worked out at 8.am. I think it's important for us to get together as a team, get the energy flowing, feel good about yourself, and feel like you're in control. After that, we got to the showroom and had The New York Times stop by. We finished casting yesterday and we have about 40 or 42 models—it's a big show.
I approached this season wanting to tell a super autobiographical story and wanting to, in a way, let people in on who I am on a deeper level, as a person. I wanted to try and share my experience, a thought process, and a way of living. I played AAU basketball, and playing AAU basketball in the spring and summer put you in gyms and tournaments with kids from all over the state of California. This whole season is about tournament basketball and how pre-internet culture was, for me, really exchanged through competitions and being in gyms. I think the essence of sportswear is in competition.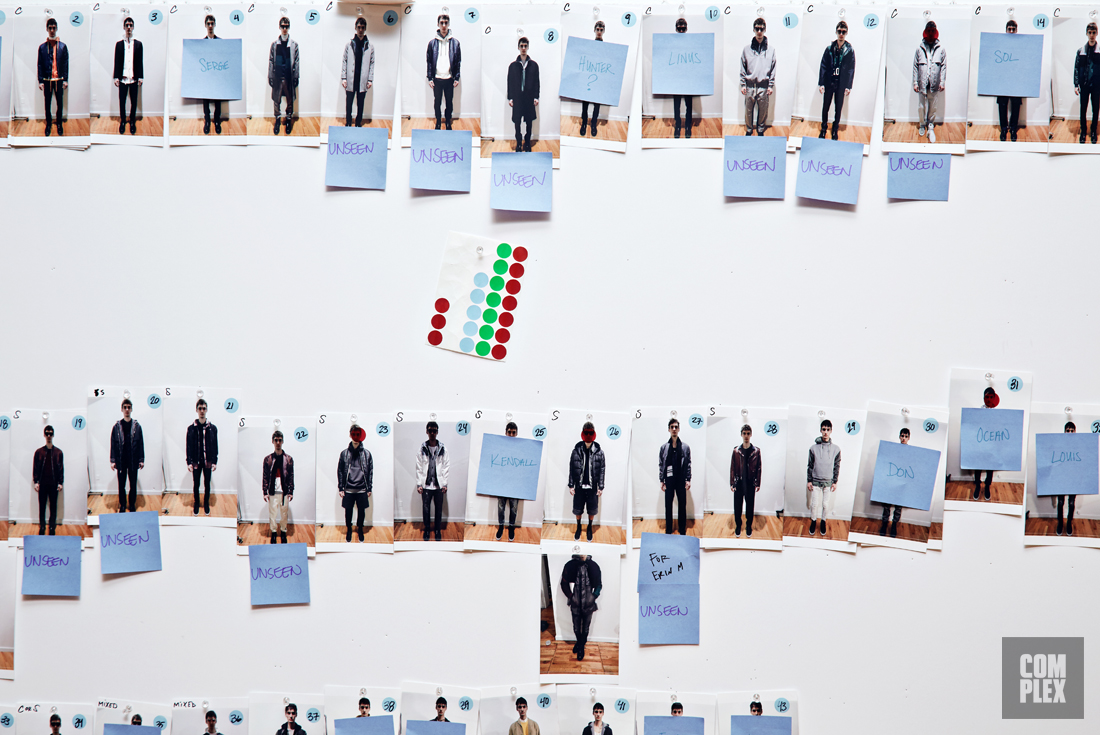 In five or 10 years, I want people to refer to us as a sportswear brand. And I think that what we're about to show down the runway is our first true sportswear collection. I developed the collection with two different teams in mind—one with a conservative coach and program, and the other with a more liberal program. I titled it "Stretch the Floor" because it's a modern ideal in basketball where you take a power forward, put him at the 3-point line, and try and open up the floor so you can get to the basket a little bit easier. The collection can also be "translated" that way: Some of the products are reversible, have sleeves that can be zipped off and are interchangeable, or literally have lines that are stretched out and distorted. But it also has a more literal meaning, which is to live outside your comfort zone and expand your thought process.
I think I say this every season, but this is my favorite collection. There have been collections that have stood out more than others, like "Running Through Vietnam," for example, was a collection that I loved. I loved "Watching Water," the Spring/Summer 2017 collection, but the motivation behind that was light-hearted and super playful. It was my take on an imaginary yacht club, so I just had a ton of fun with that collection. This one's about my childhood and my aspirations as an athlete. I can't share specifics yet, but I've had trouble sleeping because of the Nike sneakers that are going to go down the runway on Wednesday.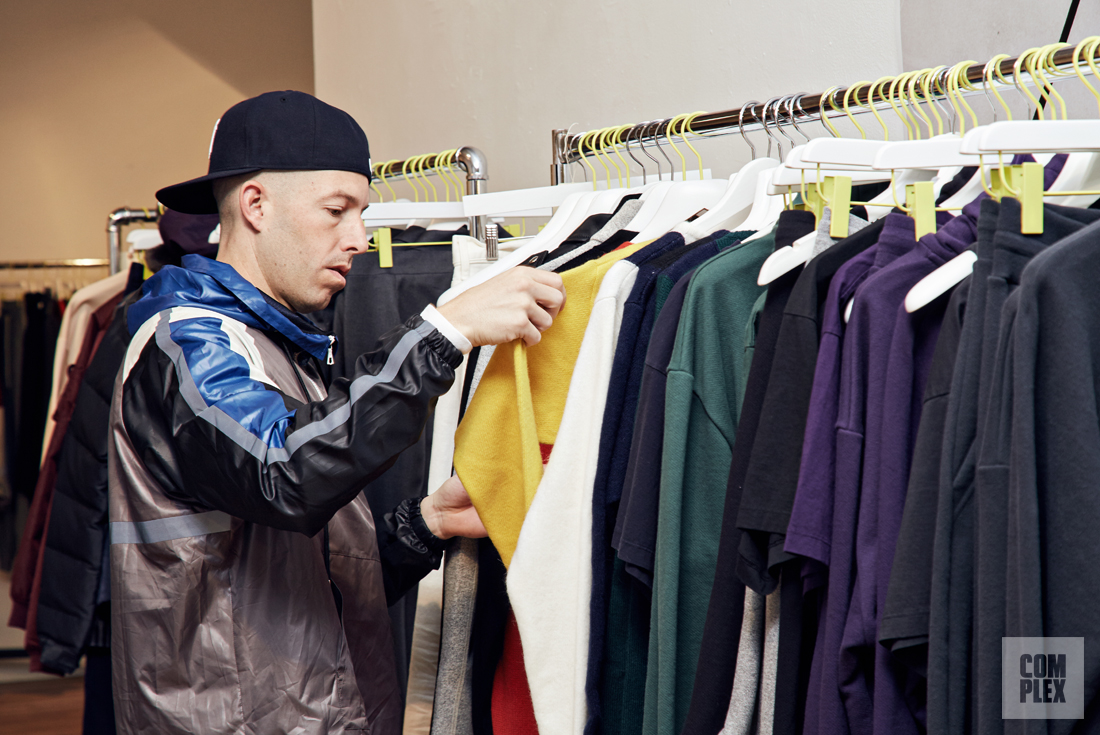 Day 3: January 30
It's been nuts today. I think we had 24 models here. We weren't able to fit everyone so we pushed some to tomorrow. Right now, Eugene and I are workshopping a couple more looks and then hopefully tomorrow we'll look at them again. We're waiting for more stuff to arrive, like accessories, tape belts, socks, and other small things but we're in a good spot. Luckily, all of the samples we were missing made it to New York. I don't think any of those guys from my team have had more than an hour of sleep. But they're here; samples are here. I'm definitely in a more positive space than yesterday.
We probably won't assign footwear tonight; we'll do that tomorrow. But there are a million things that go into a show besides styling looks. There's guest lists, seating charts, dressing celebrities… On top of that, you're still managing your day-to-day business. We're still doing drops for our website; we have a drop tomorrow at 11 a.m. We need to make sure that deliveries go out for wholesale. My partner Aaron [Lavee] also did a walkthrough at Clarkson Square earlier, which I didn't go to because I don't really need to know the layout of backstage and I trust Aaron to handle that. We have half the team working on wholesale line sheets and shooting flats to get that ready for wholesale, which starts literally the day of the show in the afternoon.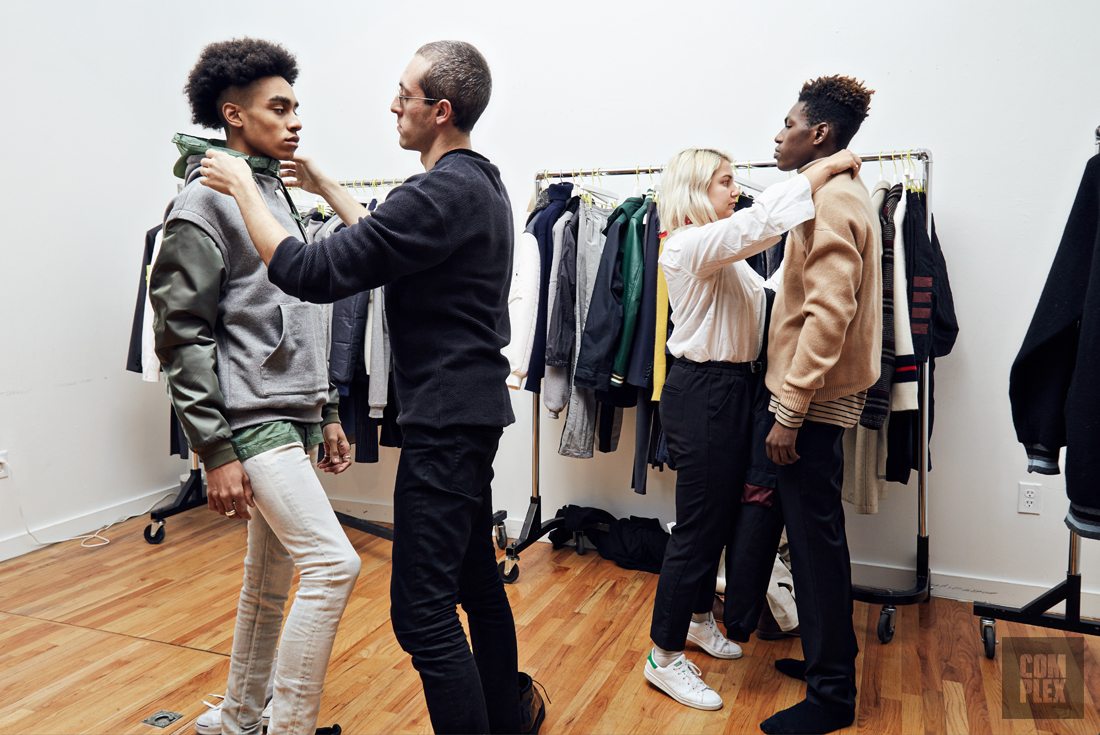 All that said, the highlight of today was probably seeing [model] Sheani Gist in the first look. He's never opened or closed a show for us, but I think he's ascending to the point where he can do that. Seeing him in that tailored look—the brand's first—got me excited 'cause, in a way, that is such an important step for our brand. That and just seeing the collection on bodies and having the whole team here.
I'm obviously always nervous for shows, but I'm excited, too. We have three collaborations in this collection and I think when they go down the runway, "our guy" will be pretty excited about it. When I see some of the stuff I'm like, "God, I fucking want that!" That's a good feeling. I'm sure I'll be nervous tomorrow, but if you're not nervous you've probably ascended to a level... I bet you Ralph [Lauren] doesn't get nervous, but he probably has a helicopter drop him off at his show.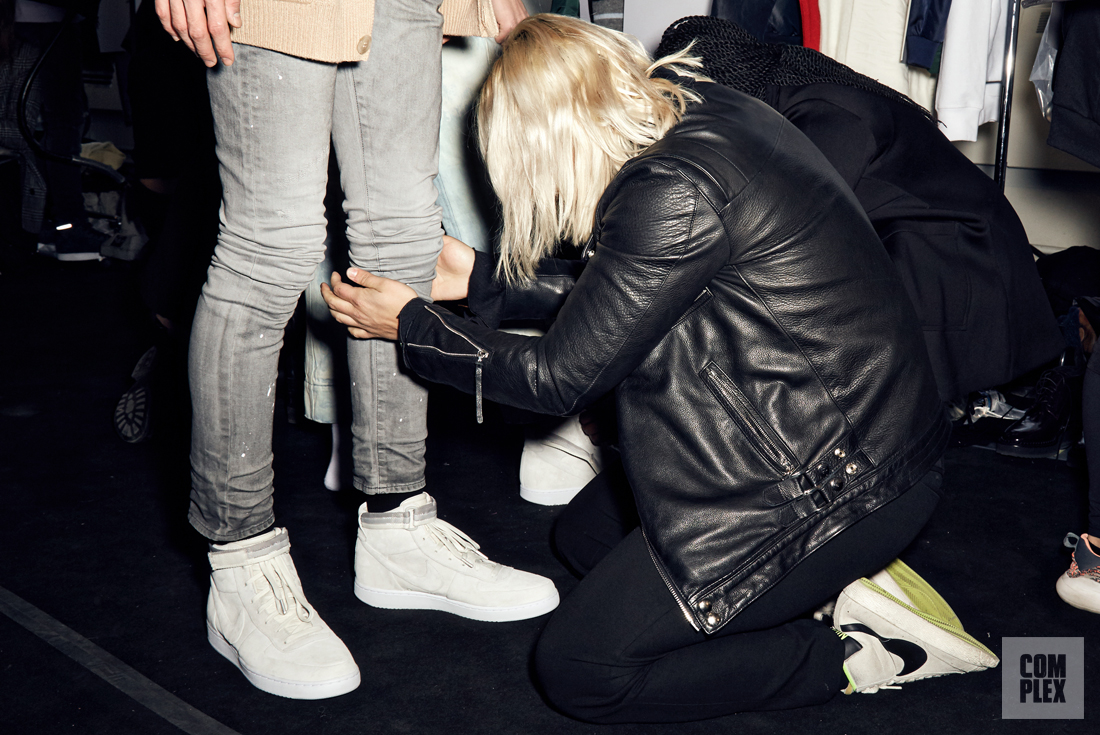 Day 4: January 31
We finalized more looks, did some troubleshooting, handed out accessories and shoes. We're doing 45 looks. With ambition comes challenges. When you're ambitious with something you encounter unexpected bumps on the road, so you troubleshoot those. We were running out of socks, shoe options. It's like, "Oh shit. We've never had a show with 45 looks before." But they were good problems to have.
The funny thing is, I was expecting the sweater program to arrive in full, today. But last night, around 1:30 a.m., Eugene was leaving and I was like, "We'll have the sweater program tomorrow." Nobu, my business partner, was like, "Well, actually, that box is lost." That had the majority of the sweater program. Thankfully, Nobu found it this morning; it had the majority of our cashmere—oversized drop shoulder cardigans, cashmere beanies, cashmere scarves. We'll have it for sales and workshop it into looks. It's just like anything. When you work on something and have ideas, you want to present it in full.
We're a day away from the show, so it's definitely one of those days where you have mixed emotions. I'm excited but definitely nervous.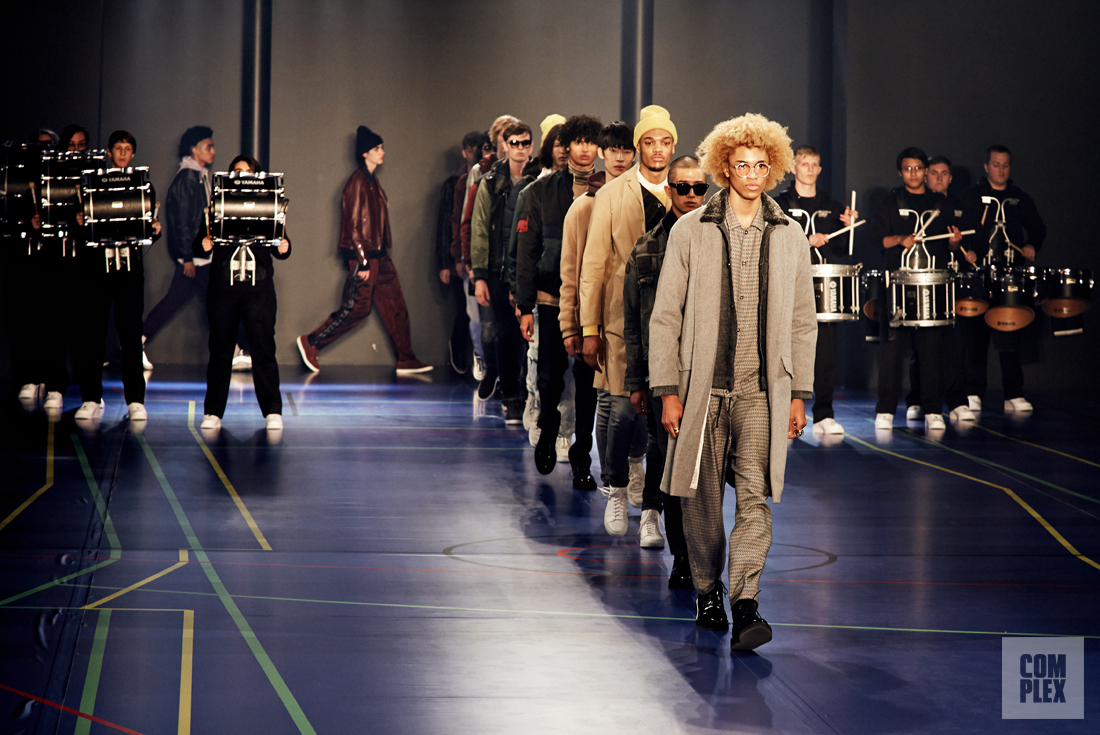 Day 5: February 1 (post-show)
I haven't had a chance to look at the internet but I heard some good things [about the show], so I'm happy about that. I'm proud of that collection. I'm proud of my team. I'm excited for people to react to the [Nike] Vandals. I had that in the works for a long time and I've wanted to work on those shoes for forever. To see all the love and excitement people have for those shoes is so rewarding and exciting for me. To see the reaction to the show and see people talk about the tailoring component, be excited about our cashmere component and the light tech with the colored zippers, it's exciting. Tonight I'm going to have dinner with my parents, hang out with my team and friends, and celebrate!
The last four days were different from a typical run-up to a show. "Watching Water" ran incredibly smoothly. The night before the show, I was in bed at 10:30 or 11 p.m. This show was definitely bumpy. Nate was workshopping the music all night; he didn't sleep. We didn't hear the soundtrack until this morning. We had people at the showroom all night, last night. The collection coordinators didn't sleep. I think we expected to replicate that experience, but this show was bigger than any of the other ones we've done.
Aaron and I were two young kids who started a brand with $30,000. Now, we're one of the biggest shows in New York Fashion Week. I pray we have the opportunity to keep doing this and to keep telling stories. I hope this piece will let people know the challenges that go into doing this but also inspire people to be like, "I can do that too." It's a ton of hard work but it's fucking achievable.