Nate Brown hates attention. The sixth floor of New York's Soho House, a swanky, members-only club, is crowded, so he picks a table sandwiched between a fireplace and a DJ booth, in a secluded corner, away from everyone else. When we sit down, he stares at me intently, like I just cracked a code.
"How do you know me?" he asks.
"I've seen your name in credits, and people have called you the 'real DONDA guy.'"
He doesn't buy it. Instead, he looks at me incredulously and says: "It's interesting you say that."
His suspicion isn't entirely surprising. At a towering 6'3" (to a T, says Brown), with a slender frame and cheekbones that can cut glass, it's easy to mistake Brown for a well-known actor or model. But he's far from anyone who's been in the public spotlight. Until this, his first extensive interview, he has chosen to be a cipher. His profile picture on LinkedIn is the logo of Institute, the creative agency he founded in 2013 and the only work experience he lists on his page. Brown's name pops up in credits for projects by Kanye West's well-regarded creative company, DONDA, without specifying his role. His Wikipedia page runs a mere three sentences. He enjoyed a brief moment in the limelight with a lead role in the 2009 Gaspar Noé thriller Enter the Void, but oddly he says he doesn't remember much about it. (To this day, Brown claims, he hasn't watched the entire film.) "So much of what I do [as a creative director] is very behind-the-scenes," he says. "Often times it's relatively unknown that we even create that kind of stuff."
Except the work, and the people and brands he partners with, aren't exactly unknown. Those behind-the-scenes involvement add up to a staggering list: He designed stage visuals for Jay Z's "Magna Carter World Tour"; Beyoncé's "The Mrs. Carter Show World Tour"; her joint tour with Jay Z, "On the Run," and her seminal MTV Video Music Awards Video Vanguard 15-minute performance; Kanye West's "Watch the Throne" tour with Jay Z; West's two-night show at Revel in Atlantic City and the recent 808s & Heartbreak concert in Los Angeles; and Drake's "Would You Like a Tour?" tour. He has also directed music videos for Pusha T's "Suicide" and Travi$ Scott's "Quintana," and the video for West's American Psycho–themed short film starring Scott Disick. This past September, he created a video installment for Alexander Wang's 10-year anniversary runway show and a cinematic piece that used 65 cameras, drones, and a bullet-time rig for Rag & Bone's Spring/Summer 2016 fashion show. He's a co-creative director for John Elliott's namesake menswear brand and has worked with Elliott on runway shows, campaigns, and the label's first magazine Research Document Vol. 1. They traveled to Vietnam to research "vibes" for the Spring/Summer 2016 collection.
Brown begins to warm to the conversation after a while. Born in the chocolate capital—Hershey, Pa.—he says he had a "hectic" and "crazy" childhood. His father was an anesthesiologist who wanted to travel a lot, so he and his family moved every year—to Pittsburgh, New Zealand, Hawaii, Texas, Los Angeles, Maine, Nova Scotia, Virginia, and a "ton of other places" he can't quite remember—until he was in late teens. He never went to school—not high school, elementary school, or even kindergarten—a fact I asked him to confirm three times because it was hard to believe. He and his four siblings were, as he puts it, "educated at home" by his mother—he doesn't like the term "home schooled" because he says it has a stigma attached to it, like "you're a weird kid." He says he has attended school just three days in his lifetime, and only because in Richmond, Va., where he lived after his parents went through an ugly divorce, it was illegal for anyone under 18 not to be enrolled. "I had no education, in the sense of standardized schooling," he says. "School was always vibey. I'm not ashamed to say that. I can read a book. I've learned via every possible avenue."
Brown, 27, says he's always had a laser focus on aesthetics and beauty. As he tells it, BMX bikes and skating are where art, design, music, and his "don't-give-a-shit mentality" came together for him. He became interested in Transworld, bikes, and photography, and would work odd jobs, like washing dishes, to save up money for lenses and cameras. During high school, Brown started designing T-shirts—which he says were emblazoned with graphics his mom probably wasn't thrilled about—and sold them when he went on road trips with friends to skate and BMX competitions. "[Designing T-shirts] was my first foray into what I do now, which is basically creative direction," he says.
Still, he says it's always been difficult for him to think of himself as an artist, and doesn't go to galleries to just look at art. "Unless there's some kind of science or technology applied to it, I find it hard to just make an image," he says. "Making a visual to me has to have, again, a purpose. I don't think a beautiful image is enough. It's not the purpose of why I'm trying to do what I'm doing."
Brown counts Engadget, a gadget web magazine, as one of his favorite blogs and listens to a Carl Sagan or Elon Musk podcast for inspiration. He throws Steve Jobs' name around throughout our conversation; when I tell him I get the sense that he admires Jobs more than any artist, he agrees, though he says he would "never in a million years" compare himself to someone as incredible as Jobs. "I relate to technologists, futurists, but I guess I have this ability, this thing, which is understanding visuals."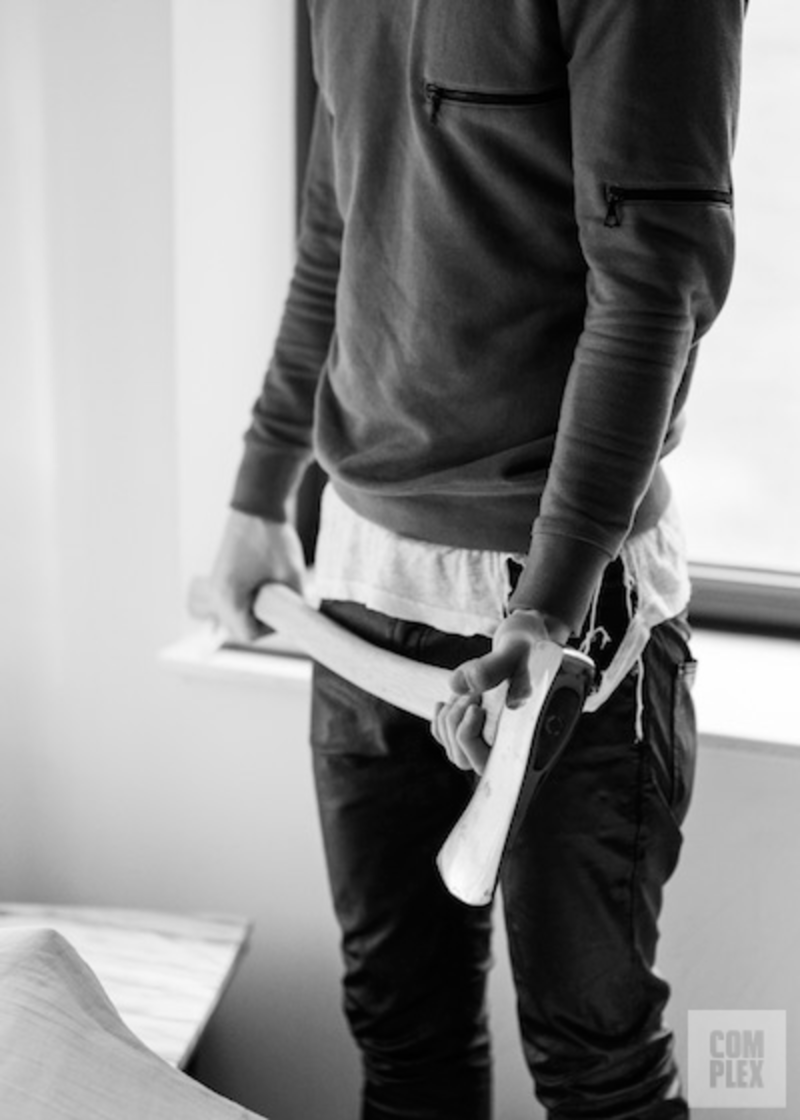 What Brown is trying to do, simply, is mix science with art. He credits his mother, a civil engineer and who he describes as a "hippie," for instilling that philosophy in him. "One of the things my mother taught me as a kid was, everything traces back to math," he says, adding that she was also interested in movies, culture, music, and fashion.
"I don't like creativity for the sake of creativity," he adds. "I don't like design for the sake of design. The beauty behind it is a secondary thing." He cites some of his favorite artists—Bruce Nauman and Richard Serra—and says that even they have "some kind of science down in order for them to get their stuff to a place where the world knows what it is."
Over the years, Brown has been able to apply his mission statement of fusing art with science through creative direction—a job he thinks is often misinterpreted. "I think people, especially in this day and age, feel like if you look at a photo on Tumblr and put it on your blog you're a creative director," he says.
A true creative director, he believes, should be able to take a concept from a conversation with two people and turn it into an event that thousands will attend, or a product that people will buy for years to come. "I'm not a specialist, I'm just a curator," he says. "I have the right conversations with specialists, and as a curator, turn those specialties into a project."
He doesn't have a database of visual references (he says he tries to be careful with visual references because he thinks it can "just be copying") and says he "isn't deep in the web finding photos" that no one has ever seen before. Instead, the world is his database. Having conversations, listening to music, watching films—and now his own work—are what inspire him. He approaches all of his projects in a methodical way, acknowledging that there are a multitude of ingredients at play: He evaluates what he's trying to do, what the angle is, and most importantly, if it pushes boundaries. Slowing down his speech for emphasis, he points out that he doesn't like to do things that are "hyper exclusive."
Stylishly dressed in an olive green Acne bomber jacket, suede pants, camel Saint Laurent boots, and a green mohair sweater, Brown speaks about his craft with confidence. It wasn't always that way.
"Most of my working life was spent being thrown into situations I was under-qualified for, and just trying to understand how I can get through something in the best possible way," he says. At 16 he was hired by American Apparel to be like George Clooney in Up In the Air, Brown says—terminating employees on behalf of upper management. "Dov [Charney] thought I had a cool energy, so he literally wanted me to just make sure all these stores were cool," he says. "I remember going into a stockroom with this 34-year-old woman who was pregnant, and having to fire her." The job often drove him crazy. "I had to stop. I was just a somewhat lost 16-year-old."
Brown showed plenty of pluck, however, putting together fake résumés and listing his mother as a reference. "I'd just pray that when I went into an interview I would be charming enough that they would be like, 'Oh yeah, we don't need this piece of paper. You're cool, you can get a job,'" he says. He recalls having "literally zero," eating bagels out of trashcans on Allen Street in Manhattan. "I was the epitome of fake it till you make it."
In 2004, renowned casting director Barbara Fisher spotted Brown riding BMX bikes under the Brooklyn Bridge and hired him as a model/muse for Cloak, Alexandre Plokhov and Robert Geller's now-defunct downtown New York cool-guy label. Then she cast him in the thriller Enter the Void, which landed him in Tokyo for three months of filming—a "complete brainfuck" he says. He spent a year and a half promoting the film, which premiered at the 2010 Cannes Film Festival.
Returning to New York from Tokyo, he was cast by a woman he considers a mentor (though he declines to give her name) to model in Barneys' seasonal mailer. That led to an important opportunity as a fashion photographer, also for Barneys, shooting model Karlie Kloss—one of her first shoots. "I didn't know what I was doing, but it was pure, raw creative expression," says Brown. "That's when I was like, 'I'm not doing any other projects. I'm doing this." He plunged into creative assignments for Barneys—using videos, photos, interactive media, and GIFs—work that eventually morphed into The Window, the luxury retailer's online editorial site that helped launch the solo careers of Alexander Wang, Robert Geller, and others.
"I was just blown away by fashion film," says Brown. Later he was hired by Industrial Color Brands and Software CEO Steven Kalalian, who would become one of his three mentors (along with the mystery woman and his mother) to build a platform that would support new media in advertising. While there, he admits he used (without permission) Industrial Color's studios to shoot personal editorials with models he knew, hoping the work would be picked up by SHOWstudio, a website founded by famed fashion photographer Nick Knight, which is exactly what happened. Brown says he can't remember for sure, but he thinks he got fired from Industrial Color because of it.
No matter. Brown was well on his way to success. In October 2011, Kanye West invited him to Alabama to work on the "Watch the Throne Tour" with Jay Z. Brown calls Kanye his "homie."
"This is an organization that has been striving to stay secret, and I will not be the person that expels that."
"We just got along," Brown says. "We had a similar work energy. We were both just like, 'How do we apply these forms of media that we've grown used to into new places?'" The two worked closely together on a variety of ventures, including Cruel Summer, the film released in conjunction with G.O.O.D Music's album of the same name, which premiered at the 2012 Cannes Film Festival. Brown soon joined West's DONDA, the creative organization West announced via a series of tweets in January 2012. Asked about his role in DONDA, Brown, like other creative types who've been linked to the company, dances around the question. "This is an organization that has been striving to stay secret,"—he pauses—"and I will not be the person that expels that," he says with a laugh. "West likes to pull people that are in all parts of the world and utilize them," he adds, insisting that it's all about collaborations, rather than individual roles or responsibilities given to each person. "It's the best possible curation of people at the time," he says. In fact, he never received a formal invite to join DONDA. He and West simply share a "mutual understanding of references and design and ideas."
The non-invite came at a perfect time. Brown had already directed commercials for big beauty brands like L'Oréal, Nars, and Sephora, and he wanted to apply what he'd been doing in fashion to music. Cruel Summer, West's 30-minute film about a car thief and an Arabian princess, helped Brown dial into what it was he was trying to achieve. "I realized this is the kind of stuff that gets me up in the morning," he says. "I was like, 'I'm down, sign me up. Let's do this all the time.'"
Brown is slouching in a velvet lounge chair, his knees splayed wide apart. Occasionally, he checks his phone and responds to a text message. "You can strip away anything in my life but if you take away my iPhone and my MacBook I'm literally nothing, I'm reduced to nothing," he says. "Those are two perfect items." Brown is getting revved up, speaking in a stream-of-consciousness manner, explaining that he'd like to get into health, human advancement, and technology next. "What can I do on different planets?" He pauses and admits this is where he starts to sound like a mad person. "What can you do under water? What can you do with tech fabrics? What can you do with atoms and particles?"
It's a strange train of thought, sure, but not surprising for someone like Brown. He goes to Soul Cycle and then the gym every morning, counts Juice Press as one of his favorite spots in New York, and takes 48 supplements a day. He wears expensive brands like Acne, A.P.C., and Saint Laurent, but says Amazon Prime is the "coolest thing in the world." When I ask him what it is exactly he wants to do, he says, like a true Steve Jobs disciple, "To make our time and life on earth fun, efficient, exciting, beneficial, unique, and beautiful."
Even with all his success, Brown wants to keep working and treat every day as if it were his first time in the studio or his first time sitting down with his producer at Institute. He wants to feel as exhilarated as he did years ago. "I'll be a bartender at the Soho House if I have to, if I don't like what I'm doing, because that sounds kind of fun," he says. "It always has to stem from this place of really enjoying it, being excited about it, and having fun doing it. If you're not having fun doing it then back it up. No one's forcing you, especially in this industry."
"I'm a firm believer that the work will speak as loud as the work needs to speak."
It's a lesson he learned from Beyoncé. On Feb. 19, 2014, Brown was in Glasgow, Scotland, working on the "The Mrs. Carter Show World Tour." A day before the concert, he and the production crew were restless, trying to figure out the lights and visuals; the choreographers and dancers were on the stage rehearsing routines. "We were all complaining and tired," he remembers. "Everyone was also getting worried, freaking, like giving up on life 'cause she was on the way." When Beyoncé arrived at the SSE Hydro stadium, she ran through the two-hour show, from top to bottom, once. And just like that, she left to catch a private jet to the Brit Awards in London, changed into her sparkly teal gown on the plane, and performed "XO" for the first time to a crowd of screaming fans. Following her performance, she flew back to Scotland, went straight back to the venue (still wearing the same teal sparkly gown), got up on the stage, and ran through the show twice. "She got off the stage and goes, "If I can do this, you guys can definitely do this," Brown recalls. "She's not human!" After that pep talk from one of the biggest artists of our time, Brown says he and the crew stayed up until the next day to make the show happen. "It was an eye-opening experience."
It's been nearly 11 years since Brown worked at American Apparel and all the "hysteria" in his life. If you ask Brown now how things are, he says that for the first time ever he feels like he's at "ground zero"—the "best place you can possibly be" because "you can only go up from here." He says he's no longer constantly terrified. But he says he never wants to "make it."
"It's OK to appreciate the success and celebrate, but move on," Brown says. "If you can say, 'Oh I've made it' then the only thing that can come from this is you're gonna get fat, you're gonna start spending your money instead of earning it." He gets a little dark: "Your life can only go downhill from there. I'd rather just be dead."
Brown's response is a bit dispiriting, but not surprising. He has expressed the same sentiment throughout our three-hour conversation. It's why he suspiciously asked me how I knew him. It's also why, when I told him people recognize his name, but have no idea who he really is, he seemed pleased. "I love it," he says, perking up in his velvet lounge chair. Friends always tell him to promote his brand more, he says, but he doesn't mind life behind-the-scenes, working with top professionals with excellence, not fame, as the goal. "I'm a firm believer that the work will speak as loud as the work needs to speak."
"In reality, the work is me."