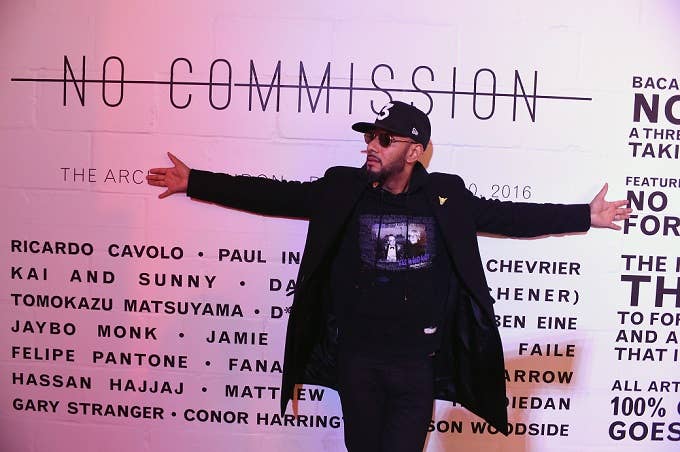 Last Thursday (Dec. 8) marked the first step into international territory by BACARDÍ​ x The Dean Collection's No Commission project. Just south of the River Thames, under some railway arches, was BACARDÍ​'s Global Chief Creative for Culture​ Swizz Beatz, Blood Orange, Emeli Sandé and a room full of their guests bringing together the worlds of art and music. No Commission first kicked off in Miami at Art Basel with performances from Alicia Keys, Pusha T, A-Trak, DMX, Wiz Khalifa, among others. It then landed in The Bronx where A$AP Rocky, Young Thug, Q-Tip and Pusha T and more took to the stage across the four-day event. Now, it's hit the UK and it's launch party set the bar high for the next few days of the project.
On display throughout the night were, of course, the eye popping works of art being sold. This was an unmissable opportunity not just to buy works of art, but also just to simply enjoy them. Works of art from corners of the globe as disparate as Newcastle-upon-Tyne and Marrakech collided in a dizzying melting pot of styles that ranged from fine art portraiture and eye-popping street art to pop art and graphic design. As has been the case throughout this project, juxtaposition was key. Beautifully pristine works of art were displayed in railway arches while a chandelier hung overhead and crisp club beats burst from the speakers. The boundaries between so-called high and low culture were laid to waste in a snobbery-free display of the most cutting edge art the world has to offer.
Warm-up DJs held things down while musicians, artists, photographers, celebrities and a room full of art lovers enjoyed the range of BACARDÍ​ cocktails on offer. After an eclectic set of rap bangers, R&B slow jams and wild electronics, R&B heart-melter Blood Orange took to the stage. Captivating the room with his stunning voice and beautifully written songs, Blood Orange's tender performance had even the uninitiated completely entranced. In what was a seamless flow of entrancing vocal performances, tracks like "Augustine", "You're Not Good Enough" and "Better Than Me" were the narrow favourites.
From there, Emeli Sandé​ followed Blood Orange with a triumphant and truly electric set. Whether she's playing to 100 or 1,000 people, she fills the room. Where Blood Orange's performance had been beautifully delicate and fragile, Emeli Sandé​'s follow-up was a indomitable force of nature. Everyone felt blessed to have seen such an intimate (albeit powerful) performance from one of the UK's greatest ever singers—one who will surely never perform to anything smaller than an arena ever again.
Thursday night was only the beginning, however. Over the next few days, BACARDI x The Dean Collection continued to bring together the worlds of art and music with live sets from Lady Leshurr, Bugzy Malone, and more, with more opportunities to see work from the likes of Ricardo Cavolo and Hassan Hajjaj.
Head here to find out more about No Commission and the artists featured.