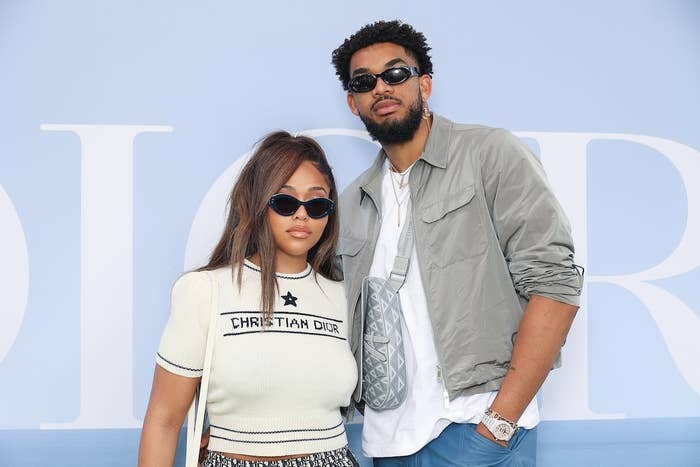 Jordyn Woods iced out her NBA player beau Karl-Anthony Towns for his 28th birthday.
On Tuesday, the influencer and socialite, 26, gifted Townes a matching diamond ring and chain set ahead of the Minnesota Timberwolves' game against the Phoenix Suns. Although the Timberwolves faced a 115-133 loss, Woods still surprised Townes with the pieces, courtesy of crafter Tim Da Jeweler.
The couple began dating in 2020 and have since flossed their lavish relationship on social media and in interviews, with Woods telling People that gift giving is one of her speciality love languages.
"We love gift giving and ... What is it? The love language? The love language is quality time. We love everything," she told the outlet at the Femme It Forward's 2nd Annual Give Her FlowHERS Gala last week.
"I'm excited. Every holiday, we like to really go large for each other," she added. "He does so much for me. I do what I can for him. I want to say it's a lot. So when it's time to show that appreciation, we like to go all out."
The relationship has also been a healthy outlet for Woods, years after she was ousted by the Kardashian-Jenners for kissing Tristan Thompson, the on-and-off partner of Khloé Kardashian. Thompson apologized to Woods' former friend Kylie Jenner for his role in the hookup, which happened in 2019, in the latest Kardashians episode.
"I feel like everyone got affected differently but I think you were affected the most by a situation with losing a sister, basically. Like, you lost Jordyn, who's a big part of your life," Thompson said to Jenner. "I know how much she meant to your life and your guys' connection was, you know, you guys were two peas in a pod. So the fact that I put myself and her in a situation that wasn't right and wasn't smart made it tough for you and Khloé."