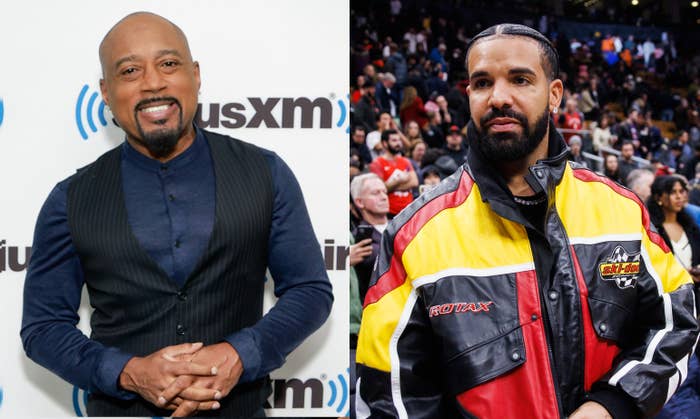 A picture of Drake sporting his new hairstyle is making the rounds on the internet, but FUBU founder Daymond John is focused on the rapper's outfit.
While hanging with Kevin Durant at an NBA open run, Drizzy was on the sidelines sporting a bright blue FUBU tee and jeans. The brand, which was founded in 1992, became a go-to calling card for rappers and young people alike, garnering several hundred million dollars in sales revenue worldwide.
John told TMZ that seeing Drake in FUBU over thirty years after its inception was a surprise, but "it's a testament to the foundation he and his partners carved out." He also credited Megan Thee Stallion, Chris Brown, and SZA with keeping the brand alive.
FUBU largely withdrew from the American market in the early '00s, focusing overseas. Due to renewed interest, the brand has recently collaborated with Pyer Moss, Urban Outfitters, and even Forever 21. In November 2022, FUBU tapped Black Fashion Fair founder Antoine Grégory to curate an archival collection, celebrating the brand's influence and its place amongst the rich history of Black designers and brands.