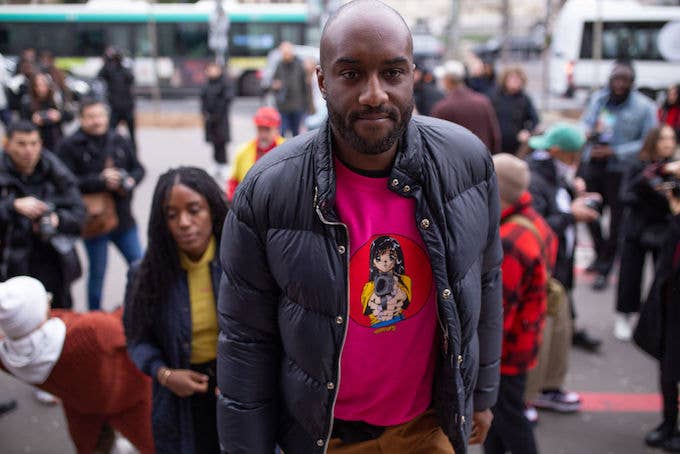 New Guards Group, a luxury fashion holding company based out of Milan, is home to many of the industry's leading streetwear brands. In addition to their investments in acclaimed labels Palm Angels and Heron Preston, the Italian company also helped launch Virgil Abloh's illustrious Off-White trademark. In a recent interview with Business of Fashion, Davide De Giglio, one of New Guards' co-founders, opened up about how he turned his entrepreneurial vision into a million-dollar reality. 
De Giglio knew he wanted to build a fashion company when he first traveled to New York over two decades ago. "I moved to New York to start a business with $700 in my pocket," the co-founder recalls. "The word 'vintage' was everywhere, and I started buying used T-shirts and denim, then going back to Italy with a few bags and selling them to my friends."
In 2018, the holding company recorded €235 million in revenue, which is projected to nearly double this year at €420 million. The impressive array of talent New Guards has partnered with undoubtedly contributed to that growth, and Off-White's flourishing influence is leading the way.
While describing New Group's trajectory, Davide remembers connecting with Abloh for the first time during a meeting with Kanye West. "So, I had a few appointments with Kanye, who's a genius. But I also realized there was this guy Virgil next to him; always calm and very sweet," De Giglio recalls.
Marcelo Burton, whose streetwear brand was launched by New Group, knew Virgil and connected him with De Giglio upon request. "Marcelo was close to Virgil and I said, 'Why don't you ask Virgil if we can do something together, because I think he has a vision.'"
Upon their first official meeting, De Giglio describes the beginnings of the company's partnership with Abloh. "At the time, he was printing Ralph Lauren shirts with 'Pyrex' and then the numbers '23' and '13' on the back. I said, 'If you want to elevate your message and you don't want to just be another streetwear brand, we need to choose the best cotton, the best print technique, the best Italian factories.'"
Earlier this year, fashion outlets began reporting that French luxury group LVMH—where Abloh sits at the creative helm of Louis Vuitton—was in talks with New Guards, which De Giglio explains "amazed" both he and the luxury conglomerate.
"I was talking to them. We have a very good relationship. When I'm going there, I'm learning. And this is very important. We have a very good relationship with Louis Vuitton because of Virgil," he noted. "But we were both amazed by the [speculation] … Because you know, the leaking was also in numbers and things and so on. And I don't really know how."
Although he doesn't appear to either confirm or deny the rumors, the New Guards executive did outline how he wants to build New Guards into a Italian fashion group that looks to the French for guidance. "Look at the French: they have big fashion groups. There is not one Italian company like this," De Giglio explains. "This is something that I see: to be an Italian company capable of building something. Italians have a thousand years of experience in making clothes. It's in our DNA."