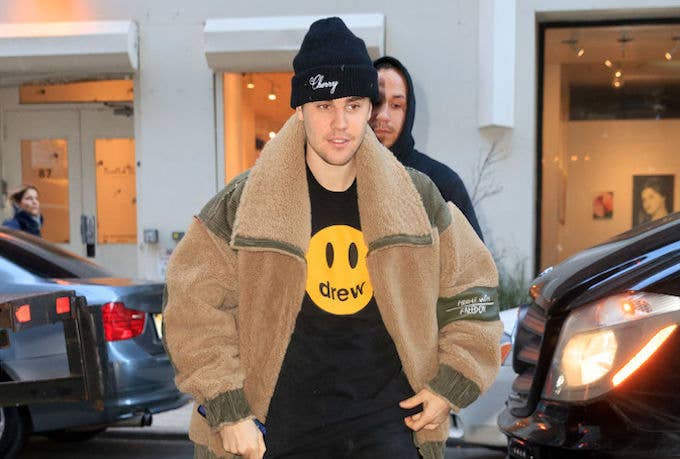 Since launching his laid-back streetwear brand Drew House in January, Justin Bieber has signaled that he intends to shift the focus away from his music career and toward his other lucrative ventures. Bieber's star-studded rolodex provided a failsafe marketing strategy for Drew House, and since his wife Hailey Baldwin was seen wearing it, so was every young Instagram influencer far and wide. However, the brand's hype manifested into online retailers selling knockoff products clad with the signature Drew House yellow smiley face, prompting a public denouncement from Bieber himself. 
The singer took to Instagram Wednesday to post a photo of a branded Drew House jacket being sold on the online retailer Redbubble with the text "Fake." According to The Blast, the global marketplace was selling a knockoff DH hoodie for approximately $45, as well as lookalikes of two of the brand's classic T-shirts for less than $20. 
Redbubble reportedly removed all the Drew House counterfeits from their site after Bieber's accusation on social media, and released a statement explaining that they've been in contact with the singer's team. 
"Redbubble is a global marketplace for more than 845,000 independent artists who want to showcase and sell their own unique designs. All content is uploaded by users and we take abuse of the platform and the rights of others very seriously," a company representative explained. "We have removed all the designs in question from the marketplace and have reached out to Mr. Bieber's team to ensure a quick resolution to the matter."
Drew House most recently opened up their first ever pop-up in Hong Kong during Art Basel. The VCR-themed interactive shopping experience allowed shoppers to get a hold of some of the exclusive pieces that had sold out following the brand's initial online launch.