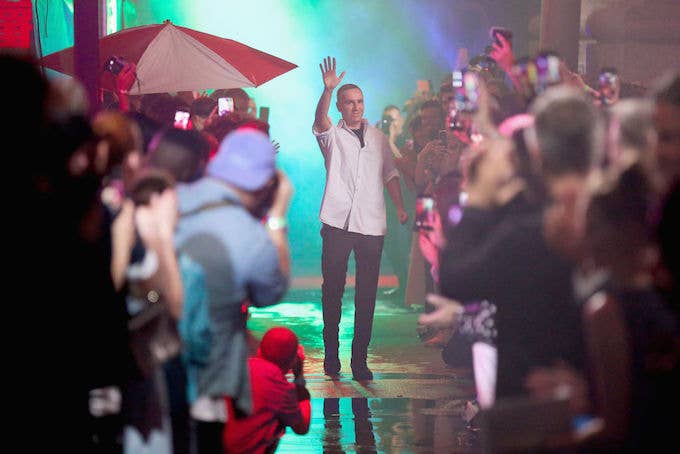 Grailed, the designer menswear reseller, will be bringing their community-driven online marketplace to a storefront in the Fairfax district of Los Angeles for one week only in April.
Featuring garments and accessories from notable designers such as Hedi Slimane, Raf Simons, Rick Owens and more, Grailed has established itself as the premium destination for a rare, curated selection of luxury menswear. The marketplace has developed a devoted consumer base, particularly given the range of pieces their notable sellers maintain, which span genres and time periods. 
"Open to all members of the Grailed community, attendees will have the opportunity to directly interact with the Grailed team and shop over 1,000 pieces of the most hyped and rarest menswear ever," the company's announcement reads. "Coveted pieces from designers including Raf Simons, Rick Owens, Junya Watanabe, Number (N)ine, Needles, Margiela and more will be for sale, including never before seen pieces—available only at #GrailedLA."
Although the company's founder Arun Gupta has stated that classifying Grailed as a streetwear marketplace is "mildly inaccurate," he does acknowledge that with streetwear's influence making its way into mainstream fashion, the result is hybrid of that and high fashion. 
Reselling culture has reached the forefront of popular online fashion marketplaces in recent years, with TheRealReal, Vestiaire Collective, and more providing women with a slightly more affordable option when sourcing vintage designer assortments. However, Grailed is devoted to menswear, which many other sites have yet to prioritize. 
The L.A. pop up will take place at 7907 Rosewood Ave between April 6 and April 12, and will include pieces from Grailed's most esteemed sellers—Middleman Store, Horror Vacuo, Silver League, Ako Okada, and Groupie. A few of the collectible pieces that will be available at the sale can be viewed below.