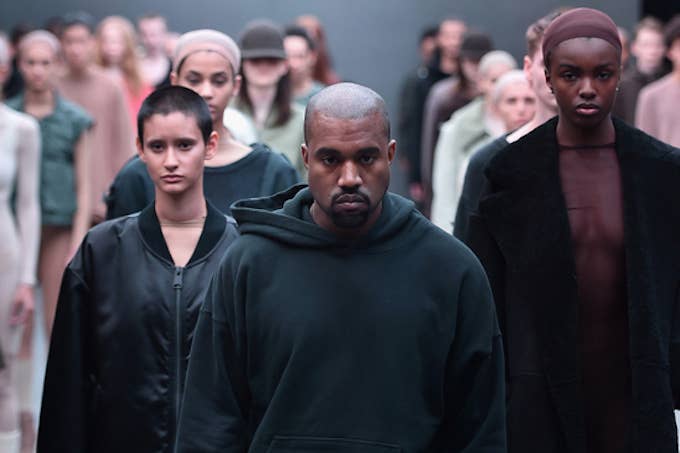 UPDATE (9/1/15 11:37 a.m.):
It appears that you can currently buy tickets for Yeezy Season 2 screening on Fandango (who has also changed the screening date to Sept. 10.) The two theaters we've found already offering tickets were both located in California, with one in Montebello, CA; the other in Ontario, CA. The twist at the moment, is that while the Montebello theater is planned to screen the event at 4 p.m., the Ontario location is planning to show the event at 1 p.m.
While more theaters are likely to unveil release information in the coming days, the important takeaway is that Fandango, who—based on the their website—was the only source implying the event was to be shown on Sept. 11, has clearly shown that the program will indeed be playing on Sept. 10.
See the original story below
We're still waiting on Yeezy Season 1 to hit stores, with the prices for a large swath of the gear recently revealed in GQ editorial starring The Weeknd. But while we're holding out for Yeezy Season's first iteration to land on store shelves, it seems we can gear up for Yeezy Season 2.
As teased on movie ticket site Fandango, there's a mysterious new posting, simply titled "Kanye West Yeezy Season 2 Premiere," with a planned theatrical release on Sept. 10...or 11. Before you think this is just a bizarre coincidence, check out Rotten Tomatoes, and the sites for regional theater chains Marcus Theatres and Santikos Theatres—like his first collection, it looks like Ye is planning to screen Yeezy Season 2 in theaters.
Aside from that, the stories seem to vary. While Marcus Theatres and Santikos Theatres claim the film is coming out on Sept. 10, they also lack any substantial information beyond that. Fandango's page has the most information, including an allotted runtime (an hour and fifteen minutes) and rating ("R")—it's also the only one to imply the film will be releasing on Sept. 11. We spoke with a Fandago representative, and they told us that all the information they had was what was on the film's page—in other words, what we see now is all the info we have.
Regardless of the release date, both days dovetail with the rapidly approaching New York Fashion Week, which begins on Sept. 10. The designs shown during this iteration of NYFW will represent the Spring/Summer 2016 season.
This information aside, we all knew that Kanye would follow up his insanely hyped adidas collection with another as soon as possible. In his exclusive interview with Complex, cool teen™ (and Yeezy Season 1 model) Luka Sabbat claimed to have seen pieces from the clearly upcoming Yeezy Season 2.
"I already saw season two. There's so much more clothes. There's way more shoes, by the way, than the two that dropped. And there's not much adidas branding on most of it, it's just a Kanye brand which I think is dope"