 "If you have a body, you're an athlete," goes the old Nike adage. Considering how physically stressful commuting through the city is—what with subway sprints, bus stop blitzes, and climate defying office buildings—there's value in having athletically-influenced clothes for all of urban life's challenges.
It's this foundational principle that guides the recently reinvigorated NikeLab ACG line. Recently rebranded under the NikeLab banner in early 2015, the latest iteration of "All Conditions Gear" has taken a dark, urban-centric approach to its products, while tapping Acronym co-founder Errolson Hugh to lead the project.
Fans of Nike and Acronym can take solace in this new ACG. Focusing on "stealth" and mobility, pieces like the 2-in-1 jacket, and the Inversion Top incorporate the movement an athlete demands, while accommodating for climate changes, comfort, and—of course—style. This attention to detail doesn't just make the clothing the perfect choice for the urban athlete​, it's part of what makes them timeless. 
We know you probably have nostalgic memories of ACG from the '90s, with radical and colorful designs that had more to do with tackling dirt trails and battling the backcountry. But looking at the product assured us that the new city-centric designs are still as utilitarian as they've always been. Acronym's practical minimalism coupled with Nike performance? Who doesn't want that?
Utility and practicality are central to both Acronym and ACG. Do you approach designing for Acronym the same for ACG, and if so how?
The process is the same, as far as the methodology that we use. But the intention is different, and that's the difference between the two brands. With Nike in particular, we're looking at sports utility in the city—imagining that the ACG end user is a Nike athlete. How they're going to interact with the city is everything we use to determine everything we do. As far as we go about it, the way we develop it is very similar. They're both in pursuit of form and function.
You mentioned that city-focused mentality. Noting that ACG's earlier iterations having a more outdoorsy, wilderness perspective, What prompted this shift to an urban perspective?
The urban perspective came 100 percent from Mark Parker. We were brought in to speak on it at the very beginning, that was very clear. Mark constantly stated that he wanted a clean break from the old ACG. He wanted something new and not retro. He was very adamant about bringing it to new spaces. Nike had already worked out their understanding of the city as the landscape, and had done a ton of research into what they meant and thought it was important and felt it deserved its own approach. The functional requirements of the city are different than the outdoors, and until now most brands focused largely on the outdoors. With a project like this, we were looking at cities fundamentally at first, and addressed the needs of a city's inhabitants.
Taking into account Nike's athletics-focused history, the brand is notorious for building fabrics that are grounded in athletic performance. I'm wondering how you keep previously used fabrics fresh when they've been utilized on sneakers, or other Nike apparel? Are you bringing in any new fabrics, designed exclusively for ACG, that are inspired by previous Nike tech fabrics?
To answer the first part of the question, for us new doesn't necessarily mean better. We're always happy to work with tried and true fabrics. Particularly, when they come from other industries and areas. We can take something out of active sportswear, and put it into something different. Or we can take from the military—or other origins—and recontextualize it. Every time we do that it looks fresh, and recontextualizing is often a huge help with that. At the end of the day, the reason why we like tried-and-true fabric is because they do what they're supposed to do. To the second part of the question, ACG is definitely a collaboration. Nike has a huge fabric development wing. They have their own standards, color system, etc. It's a dialogue really. We work with Nike designers and try to find the best fabric for each design that we work on.
In particular with these past couple NikeLab and ACG collections, there has been a focus, not just on urban life, but commuting as a whole. Commuting by car, or foot, or in a city like New York, what are the things about those individual actions that you've identified as particular struggles? What are the struggles of commuting you've focused on, and what are the obstacles that you're designing around for that?
I don't use the word commute as much as I use mobility. Commute means going to work and going home. In the modern space we're always moving.  It's hard to determine where people work. I spend a lot of time even in the car. The key thing for ACG is what separates designing for an urban situation versus an activity based sport is that the city is a geographic area, and within that area, you can have a number of different climates. You can have a number of modes of transport, and any number of environments within that short space of time. That unpredictability and that ability to adapt to those things rapidly is what drives the design for ACG.
Like living in New York, you have things like going from a hot subway car to a cold city sidewalk.
I know all about it. Or in the summer being sweltering hot, and it being air conditioned. Those aren't transitions that you encounter in other organic environments.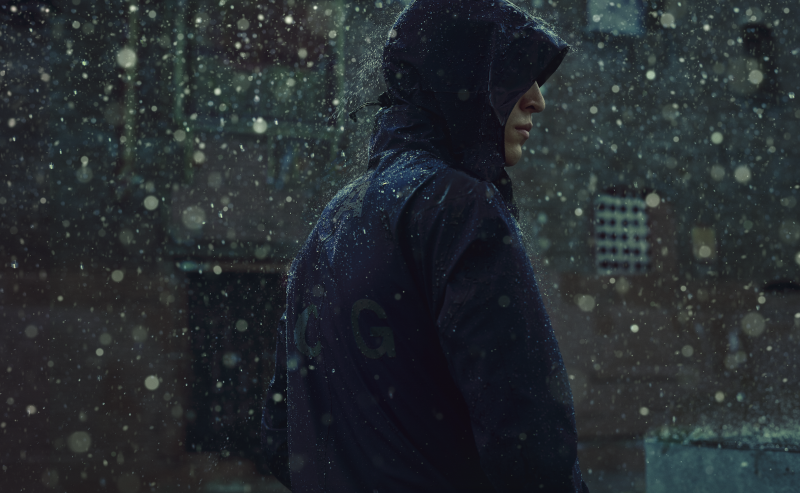 I was looking at an older collection, and to quote the press release, it said you were using "Gore-Tex Wind Stopper fabric to equip the wear from the swirling gusts of the city." I was kind of struck by how precise that is. How do you determine what small scale day to day moments to design around for each individual collection? What are those instances that you're going to design for this collection?
That goes back to experience. Everyone has things that they do everyday, and they have things that they're annoyed by. We have a huge catalog of those things ourselves. The city is such a dynamic and unpredictable environment. Rather than focus on specific activities and solutions, what we tend to do at ACG is determine how to achieve the widest spectrum of possibility. The idea of using a physical fit block to encourage a mental state—a feel of readiness that we instill in all of our garments.
How do you, as a designer, describe the fit of the ACG collection?
We decided to call it the 'All Conditions Fit.' It's ergonomic, anatomic; a 3D dimensional pattern. You can see the shape of the body inside the pieces. We built these points into the fit block. A normal fit block is cut for a body standing straight up and down, like a suit for example. When you sit down in a normal suit, you don't feel comfortable. In contrast, the ACG Collection is cut into the shape of the person who is about to move. That benefits in terms mechanics; how you can move, how you reach your step. It gives the collection a certain underlying attitude visually, and from the user experience, it provides a sense of control.
More directly, how can non-athletes benefit from the ACG tech?
As the guys at Nike say, there are no non-athletes. "If you have a body, you're an athlete." In terms of movements that you make in sports, they're more extreme than everyday actions. But if you can do a sport in a garment, you can wear it to do something in your everyday life. You can't say that about everyday clothing. Track jackets and sneakers, are widespread because they function differently in this way.
Thinking on multiple uses, how do you incorporate multiple functionality in a single garment?
You do it very carefully [laughs]. It's a lot of work. It takes a lot of prioritizing and a lot of thinking. Everyone has their favorite thing, and we broke it down. Asking ourselves things like, "why is this my favorite jacket?" Over the years, you take notes. Over time, that also involved a lot of fit block testing. We fully realized that it evolved. Specifically with the 2-in-1 jacket, layering is a huge thing. We were trying to get this maximum spectrum of activity and use, and for that we developed a new method of attaching the jacket and liner together. The goal for that was to be as unobtrusive as possible. Instead of using the normal attachment system, we installed the zipper in the collar. It allows you to have most of the jacket closed, which provides other options for wearability as well. That has continued into the other pieces this season, and we will be making things backwards compatible. All of the new liners will work with the old liners and jackets.
From what it sounds like, if an element can be invisible, it's reached design perfection?
For functionality, yes. As far as aesthetics I would probably say no. Clothing has a unique quality in terms of design in that it's that access point where functionality and identity merge. How you wear something because of what it does, or what it says about you as a person. What does being invisible even mean? It becomes complex. For something to be successful, I think it has to have that cultural, personal aspect, as well as the technical wearing aspect.
We talked earlier about how sport is foundational to Nike's background, but at Acronym there's clearly a military influence for those designs.
A lot of designers reference military, but they do so in a cultural sense. They'll do a bomber jacket because of what it means culturally. We look at it and try to understand "what are the original intentions of the original designers, when it was originally being made?" Those are functional force principles, which are almost always about physics. The microclimate the pieces function in, the fabric that they use, the environment that they're in—all these things influence how something like that created. When we look back at military, we're looking at those force principles. We try to reference that intention. For us, that's not really a gap for us to bridge.
Noting everything, in a big picture sense, how are you paying homage to ACG's history, while bringing it forward?
One of the things in the back of my mind, is that we have to have the same aggressiveness, swagger, and the willingness to take risks. Mark Parker was very specific in wanting to do something new with ACG. We are aware of the cultural heritage that ACG has and are respectful of that. But you'll see in the details, like a pop of orange color on a liner, that we're aware of what it has been, but not staying backwards. Look in the details, and we're showing what's absolutely necessary.