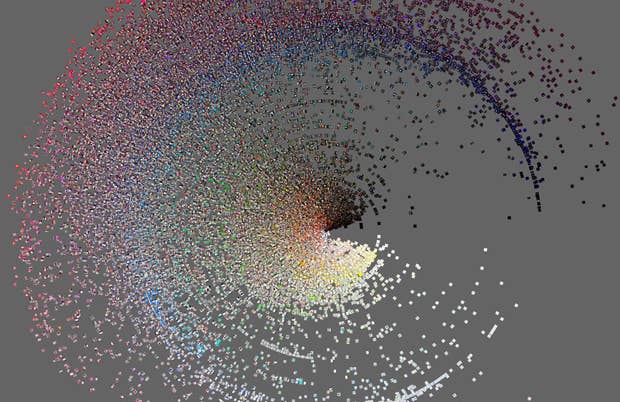 A genius new exhibition called "The Aggregate Eye," showing now at the Amelie A. Wallace Gallery at SUNY College at Old Westbury New York, examines the patterns created by our ever-increasing output onto social media. Using Instagram photos, a team of researchers and designers took a sample set of 2.3 million Instagram photos, from 13 different cities around the world. The images were than put into data visualizations using the actual photos, organized by a number of different ways: time, hue, in radials, in montage, in plots, by location, and in intersections of these variables.
The exhibition is part of the Phototrails project. The thinking here is that concrete visualizations can be gleaned as representations of cities, without using maps, traditional photographs, or film. The results are striking and undeniably unique to each location. Take, for example, this time-lapse visualization of photos from Brooklyn posted to Instagram during Hurricane Sandy, wherein a visual narrative develops.
Though the project is said to rest in the field of cultural analytics, the composite images created here are undeniably beautiful. The best part? The software used to create the composites is free—download ImagePlot here, if you'd like to attempt something of this type.
Check out the Phototrails website to see these images and more in greater resolution, with scrolling capabilities. You might even catch a glimpse of your own photo, if you zoom in far enough. If you're interested in seeing the exhibit in person, here are directions on how to get to the gallery. The exhibition is on display now and runs to December 5.
Phototrails is joint project initiated by Nadav Hochman, Lev Manovich, and Jay Chow, between the department of History of Art and Architecture at the University of Pittsburgh, the Software Studies Initiative at California Institute for Telecommunication and Information, and The Graduate Center at the City University of New York.
RELATED: 20 Museums to Follow on Instagram
[via Phototrails]