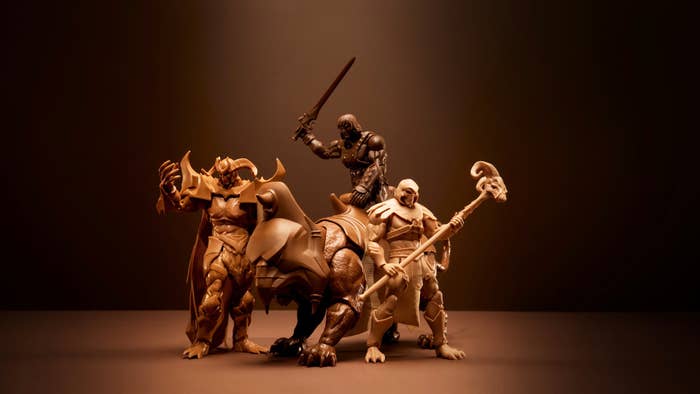 Virgil Abloh planted his flag on Eternia.
In 2021, the celebrated designer joined forces with Mattel to create a special toy range centered around Masters of the Universe, an animated series based on the company's superhero line. This week, Mattel formally unveiled the four-piece collection, which delivers He-Man, Skeletor, Battle Cat, and Skele-God figurines presented in monochromatic taupe hues.
"My metric is to find ways to always create a new relationship, a new client a new bond in a collaboration, and that is where this idea has resonance," Abloh said last year. "For me, the He-Man characters are such a great like nostalgic property to do this.'' 
According to Mattel, Abloh was given special access to the MOTU world and established the collection's framework and concept. Following his death in November 2021, Virgil Abloh Securities took the reins and completed the project while staying true to his initial vision.
"Virgil had a deep interest in the MOTU property, in which aspects of his interest were rooted in nostalgia,"  London-based design agency Alaska Alaska said in a statement. "The selection of characters for this offering we believe to be rooted in their iconography and significance within the franchise. The design direction looked to preserve the existing iconography, using color theory as a point of entry into novelty, and collector's culture, drawing a parallel between art collectors and comic book collectors."
You can take a look at The Masters of the Universe c/o Virgil Abloh™ collection below. The toys will be sold separately beginning at 9 a.m. PT Friday at the Mattel Creations website. Each figurine will also come with a comic book and art print designed by Reggieknow.