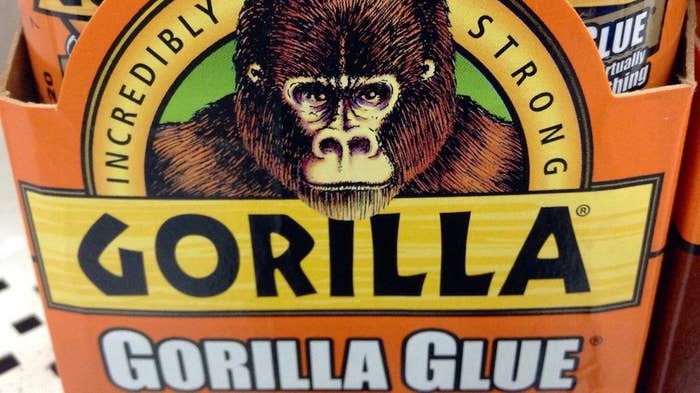 UPDATED 2/6, 3:28 p.m. ET: The "Gorilla Glue girl" saga continues.
After seeking medical attention, Tessica Brown is now trying to save her scalp and hair. Brown's story has caught the internet's full attention, leading Chance The Rapper to applaud followers for uplifting Brown even after getting their laughs off.
"I'm glad mfs actually supporting her thru this," Chance tweeted. "When I watched the video the second time it was hard to laugh cause I could tell shorty genuinely didn't know she had put one of the worlds most powerful adhesives in her shit. I hope she recovers well."
See updates and the original story below.
UPDATED 2/6, 3:44 p.m. ET: Tessica Brown, a.k.a "Gorilla Glue girl" has apparently sought medical treatment.
On Saturday, the Louisana TikToker posted an Instagram photo of the St. Bernard Parish Hospital Emergency Room in Chalmette. She didn't reveal any details about her visit and simply captioned the image with a single-tear-face emoji.
In a subsequent post, Brown is seen lying on a hospital bed as a medical staffer appears to apply some kind of topical to her hair. But, again, she remained tight-lipped about the treatment she was receiving, as the caption included a series of prayer hand emojis and nothing more.
Brown went viral earlier this week after revealing she used Gorilla Glue Spray on her hair and had been unable to remove it over the past month. The now-viral TikTok video drew a slew of suggestions from medical and haircare experts with some suggesting she try everything from rubbing alcohol to tea tree oil to mayonnaise treatments.
Clearly, none of those worked and she's now seeking a more permanent remedy.
See the original story below.
Guess what? Using Gorilla Glue on your hair is apparently a "bad, bad, bad idea."
TikTok user Im_D_Ollady—real name Tessica Brown—issued the warning in a couple of now-viral videos in which she claimed to have used the heavy-strength adhesive to "finish off" her hairdo. Brown explained she had run out of her go-to hair spray one day and decided to use the Gorilla Glue spray as a substitute. Weeks and more than a dozen washes later, Brown's hair has remained unmoved.
"Hey, y'all. For those of you that know me know that my hair has been like this for about a month now. It's not by choice. No, it's not by choice," she said at the top of the video. "When I do my hair, I like to finish it off with a little Göt2b Glued Spray, you know, just to keep it in place. Well, I didn't have any more göt2b Glued Spray, so I used this: Gorilla Glue spray. Bad, bad, bad idea."
Brown went on to say that she had washed her hair 15 times and saw zero improvement. She then ran her hands over her slicked-back hair to demonstrate the severity of her situation.
"My hair, it don't move. You hear what I'm telling you? It. Don't. Move," she said. "… So I'ma tell y'all like this: If you ever, ever run out of Göt2b Glued Spray, don't ever use this. Unless you want your hair to be like that forever."
Brown then took out a bottle of shampoo, lathered it up in her hands, and then vigorously applied it to her hair. As expected, zero movement.
Someone at Gorilla Glue apparently caught wind of Brown's issue, and provided some suggestions. The company advised her to soak her hair with warm water or rubbing alcohol.



Hi there, we are sorry to learn about your experience! We do not recommend using our products in hair as they are considered permanent. You can try soaking the affected area in warm, soapy water or applying rubbing alcohol to the area.


— Gorilla Glue (@GorillaGlue) February 4, 2021
Here's hoping Brown gets herself out of this sticky situation.
You can read some of the reactions to her videos below.