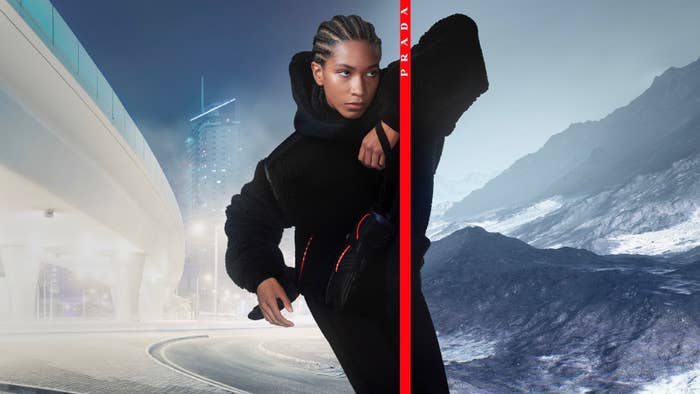 Prada has your cold weather gear covered.
The Italian fashion house recently unveiled its fall/winter 2022 campaign for Linea Rossa, its sports-centric lifestyle line that combines functionality with timeless luxury. Shot by Norbert Schoerner, the images highlight the collection's versatility by juxtaposing snow-covered mountains with city landscapes. The models are seen transitioning between the distinct environments while wearing pieces suitable for both winter sports and everyday wear.
Designs featured in the campaign include waterproof down vests with heat-sealed sections, opaque white Impavid sunglasses with 100 percent UVA protection, nylon pique sleeveless tops, windproof gloves, and the Extreme-Tex stretch ski jacket. 
"Fall/Winter 2022 collection's high-tech features make it adaptable to extreme weather outdoors, as well as city living," the label wrote, adding that the campaign "creates an impossible hybrid of contrasting locales, reflecting the collection's extreme adaptability."
Famed TikToker and competitive dancer Charli D'Amelio stars in the campaign alongside models Emanuel Dostine, Aviana McClish, Sherry Shi, Sebastien White,
You can check out the fall/winter 2022 campaign below. The collection is available now on Prada's website.