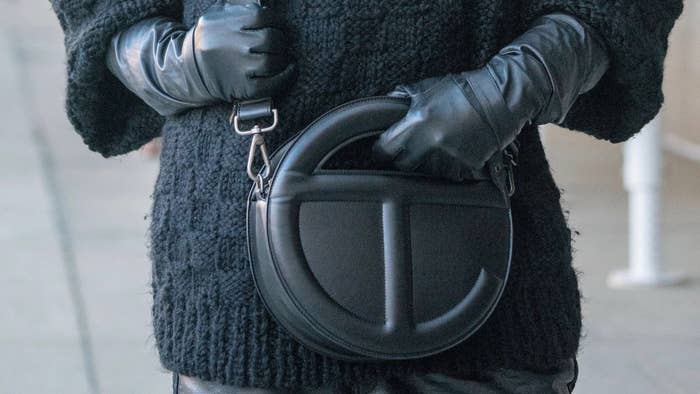 Telfar has, once again, divided social media.
During its recent show at New York Fashion Week, the genderless fashion label lifted the curtain on the Round Circle Bag, its most expensive handbag to date. The all-black accessory is shaped like Telfar's signature T-inside-a-C logo, a structural piece measures 11 inches tall and 11 inches wide that features a zip closure, a detachable and adjustable shoulder strap, top handles, as well as hidden compartments. And, just like Telfar's highly coveted Shopping Bag, the latest addition is made from faux leather with twill lining. It's pretty much everything you would expect from Telfar Clemens' imprint. Well, almost everything.
On Wednesday, the brand released a Telfar TV promo for the Round Circle Bag, and confirmed it would cost $567—about $300 more than the most expensive Shopping Bag. 
"What is the world coming to when rent is more important that new Telfar bag?" a voice is heard saying in the video. "Come on, get with the fucking program. I know y'all not tripping."
Though $567 is considered "affordable" in the luxury market, the price is quite steep when compared to Telfar's previous offerings. The label has established itself as a purveyor of "accessible luxury," as its most popular handbags sell for as low as $150. While some customers scoffed at the cost of the Round Circle Bag, which has since sold out online, others defended the price point as nothing more than a smart business move.
You can read some of the reactions below.