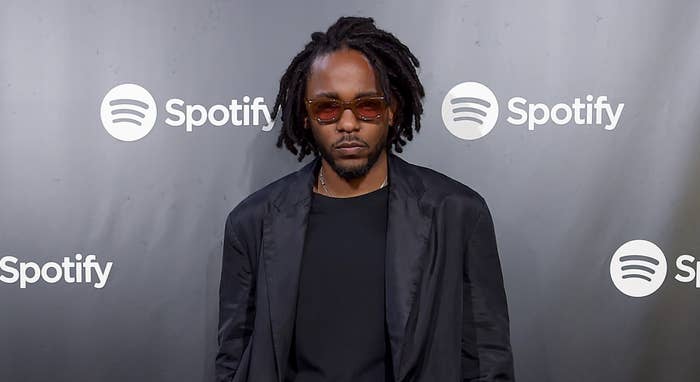 Though his sartorial choices are typically understated, Kendrick Lamar clearly appreciates bold style moves.
On Thursday night, K-Dot hit up Twitter to shout out his former collaborator Taz Arnold. The Compton rapper posted a series of Arnold's fit pics in which he's seen rocking everything from a bright orange Hermès scarf and a matching MCM leather cap to a pair of floral print jeans and brown cowboy boots to Louis Vuitton shades and a STÜSSY x Our Legacy x Denim Tears jacket.
"The westside original," Kendrick wrote. "My mount rushmore of style."
Kendrick has worked with Arnold on multiple projects, most notably his 2015 album To Pimp a Butterfly, on which Arnold was credited as a co-writer and producer. Though he's well known for his music work, Arnold has also made a name for himself within the fashion world. The Los Angeles native has collaborated with MCM, consulted for Kanye West's Pastelle clothing line, and appeared in the now-iconic Paris Fashion Week photo with Ye, Virgil Abloh, Don C, Fonzworth Bentley, and Chris Julian.
Arnold spoke about his influences in a 2009 interview with the Los Angeles Times.
"When I grew up, there was a hippie thing going on. At the same time, L.A. was a magnet for people who wanted to enjoy the weather," he explained. "Berry Gordy moved Motown here, all the athletes who got money wanted to move here. I was soaking up the hippie, black consciousness, surf-beach aesthetic. My parents weren't artists—my dad was a construction worker and my mother a manager at AT&T—but they made things like embroidered denim. My mom had magnetizing water, pyramids, rainbows and neon lights in the house. We had a lot of cats, and owls lived in our palm trees. It was like living in an aviary."