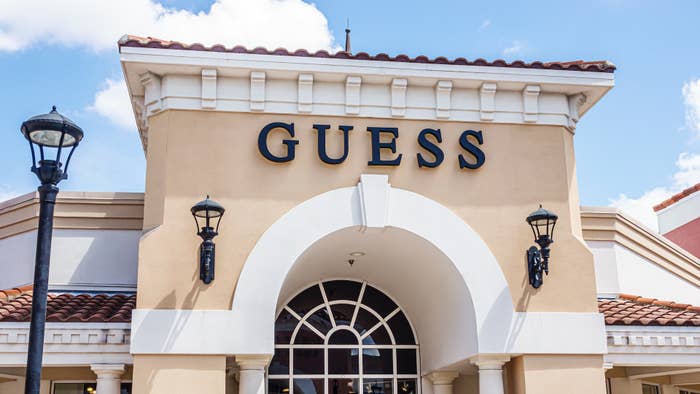 UPDATED 3/27, 6:25 p.m. ET: In a statement provided to Complex, Signal Brands, Guess' handbag licensee, stated that it has stopped the sale of the totes with regard to the feedback from social media.
"Signal Brands, the handbag licensee of Guess, Inc., has voluntarily halted the sale of its G-Logo totes," the company stated. "Some on social media have compared the totes to Telfar Global's shopping bags.  Signal Brands does not wish to create any impediments to Telfar Global's success and, as such, has independently decided to stop selling the G-logo totes."
See original story below.
Guess received some mild backlash this week over a bag design that looks awfully familiar.
The piece in question is a faux-leather tote that has drawn comparisons to Telfar's wildly popular Shopping Bag, aka the Bushwick Birkin. Twitter users pointed to the bags' similar boxy, structured shape, their dual handle feature, as well as the tonal stitching and embossed logo on the front.
Telfar began producing its Shopping Bag in 2014; however, it didn't become an "it-bag" until several years later. Praised for its sleek design and relatively affordable price point, the bag became a must-have among everyday people and celebrities. This included everyone from ASAP Ferg and Bella Hadid to Dua Lipa and Solange Knowles. Even New York Representative Alexandra Ocasio-Cortez has rocked the coveted bag, which is known to sell out within minutes—sometimes seconds—after each drop.
Brand founder/designer Telfar Clemens spoke about the bag's success and his commitment to accessible fashion during an interview with TIME magazine earlier this year.
"My love for just seeing things, you know, kind of on a mass level, it means that you kind of changed or shaped something in some kind of way. But I think it's more special when it's accessible," Clemens shared in a video accompanying his TIME write-up. "It can still be 'it' and everybody can have it … I think a lot of things that are being praised are just like, you know, like my personality and the personality of the brand, you know? They're based on my actual belief system, like a business strategy. I should continue to trust my instincts and listen to my voice of how I perceive the world and how that affects my work."
The price for Telfar's Shopping Bags range between $150 to $257, per the brand's website. Paper magazine points out that the Guess tote is not listed on the brand's online store, but is being sold by different department stores, including Macy's, Hudson's Bay, and Dillards; Those retailers are selling the G-Tote for $78 to $95.
You can check out reactions to the similar-looking bags below.