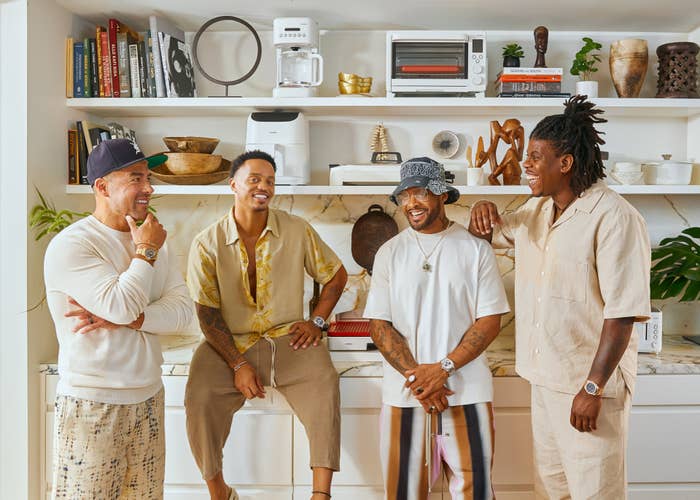 Ghetto Gastro and CRUX are back for round two.
More than a year after releasing their inaugural CRUXGG collection for Williams Sonoma, the Bronx-based culinary collective and appliance-maker are bringing their bold kitchen line to Target shelves. Ghetto Gastro co-founder Jon Gray and CRUX founder Shae Hong said accessibility was the primary factor behind the partnership, as they're looking to get their products "on as many counters as possible."
"For the first collaboration, all of us believed that we would want it to be premium and have a hard to access feel, which is what we did for the Williams Sonoma collection, but ultimately we want to make it accessible," Hong told Complex. 
"A big part of what we are doing is impact. Niche and luxury is cool, but we want to scale product and scale the impact," Gray added. "Target is able to communicate our message and what we stand for and they weren't hesitant in doing that and standing behind us and allowing that to come through with the merchandising. It's very hard for you to tell a story and create theater in the store and it becomes an experience for the customer. Target is the best at doing that. When they approached us about partnering and stood behind what we stand for."
Unlike the Williams Sonoma collection, the Target offering is much more subdued when it comes to colors. The new and expanded range delivers a total of eight products including a coffee maker, toaster oven, air fryer, waffle maker, and smokeless grill—all of which will be available in the "smoke" (matte gray) and "snow" (matte white) colorways. The products will also feature red accents and "a Nintendo Game Boy-inspired digital display" that gives off both futuristic and nostalgic vibes.
Gray told Complex the CRUXGG team is looking bring contemporary culture into the kitchen as well as fix the disconnect between aesthetics and kitchen appliances.
"Most people care about what they put in their body or on their body and ways to identify themselves. Often there is a compromise for what is inside their home with appliances," Gray explained. "And with the pandemic, and people spending more times in their homes, and being more intentional with what they put in their home. Whatever are you putting into your body, giving people the tools to make nutritious meals at home, easily. That's part of the core competencies, but coming from where I come from, I also know that shit needs to be aspirational and be dope."
You can check out the second CRUXGG collection in the images below. The products went on sale today exclusively at Target locations and the online store; grab some for yourself here and head here for more information. 5 percent of the proceeds will benefit Dan Colen's Sky High Farm, the New York-based Project Eats, as well as other nonprofit organizations dedicated to ending food insecurity.