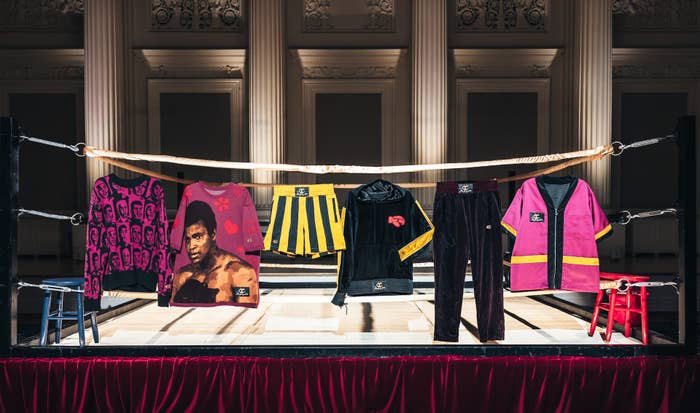 Champion Athletic and Muhammad Ali Enterprises are back for round three.
In celebration of the boxing legend's 80th birthday, Champion teamed up with Don C to create a capsule of boxing-inspired athletic wear that salutes Ali's illustrious career. The items include classic boxing shorts emblazoned with the iconic phrase, "Float like a butterfly, sting like a bee"; a velvet boxing hoodie with satin details; a cashmere-blend sweater inspired by Andy Warhol's portrait of Ali; a plaited jersey graphic tee; velveteen track pants; and a satin cornerman's jacket that's based on the custom robe Elvis Presley gave Ali in the 1970s.
"As the blueprint of the Be Your Own Champion spirit, Ali's athleticism, activism, confidence and dominance in the ring made him one of the most iconic people in the country," said John Shumate, Champion's VP of brand marketing. "Decades later, Ali's influence still resonates as he is credited by some of today's biggest athletes for defining swag, style and what it truly means to be a Champion and the Greatest Of All Time."
The Don C collaboration marks Champion's third collection honoring the late boxing icon. The latest limited edition range will be available Jan. 17 at select retailers and on Champion's official website. Check out the unisex pieces, which range from $250 to $550, below.