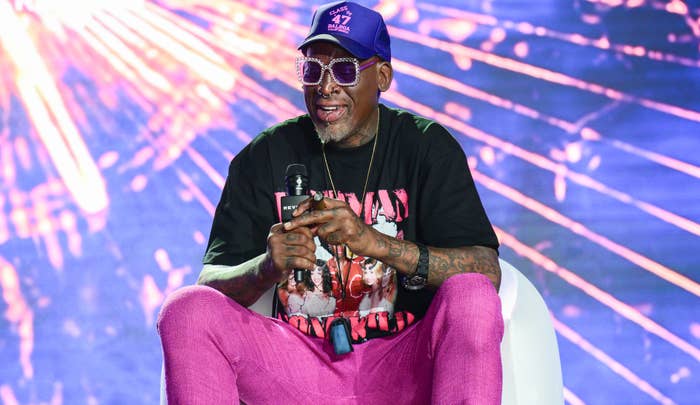 UPDATED July 9, 11 a.m. ET: Dennis Rodman's girlfriend has shared her thoughts on the former Chicago Bulls star's recent tattoo.
Earlier this week, Rodman honored his new flame, Yella Yella, by getting a portrait of her face tattoed on his right cheek.
Yella Yella reacted to the five-time champion's new ink in a conversation with TMZ. "I actually told him not to do it," she admitted. I'm like, 'What're you doing!'"
She continued by revealing that Rodman's tattoo was supposed to be even bigger, which is hard to imagine considering the ink takes up the majority of his face.
See original story below.
Dennis Rodman is honoring his girlfriend with a new face tattoo.
The NBA Hall of Famer professed his love to the special lady by getting a portrait of her face inked on his right cheek. Rodman's tattoo is courtesy of Black Ink Crew: Chicago star Van Johnson, who took to Instagram on Thursday to boast about the tattoo session.
"So I ain't do too much today, cooled out at my townhome tattooed a living legends face of his woman on his face, that's about it... What y'all do?" Johnson wrote alongside a video of Rodman displaying his fresh ink.
The five-time NBA champion's girlfriend also makes an appearance in the short clip, which is captioned by the phrase, "Start your own legacy when you're God favored."
According to TMZ Sports, Johnson inked Rodman's face at the former Chicago Bulls star's residence, with the entire process taking a little over an hour to finish.
"He was a champ, he sat through it," Johnson told TMZ. "Pretty random, but he love the hell out that girl."
Though Rodman is largely remembered for his extravagent life off the floor, the 62-year-old was a first-ballot Hall of Famer and for good reason. Rodman won two championships with the Bad Boy Pistons (1989, 1990), before adding another three rings (1996, 1997, 1998) alongside Michael Jordan and Scottie Pippen in Chicago. In addition, the two-time All-Star was named Defensive Player of the Year in 1990 and 1991, while earning seven All-Defensive First Team selections.