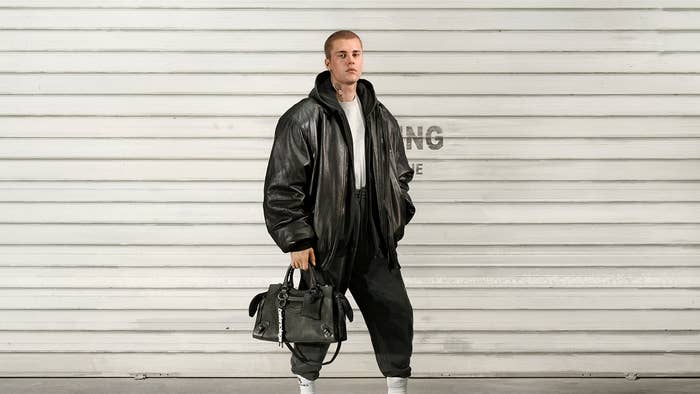 Justin Bieber is the new face of Balenciaga, heralding the arrival of the French fashion house's Fall 2021 campaign.
As revealed on both Instagram and Twitter, Biebs stars in the latest Balenciaga campaign wearing an oversized leather jacket, hoodie, and trackpants. Sporting a distinctive silhouette, Bieber's look is completed by the latest DIY Runner sneakers. Also featured in the campaign is 68-year-old French actress Isabelle Huppert. 
Bieber has collaborated with a number of high-profile brands throughout the past few years, notably working with Calvin Klein, Crocs, and launching his own fashion line Drew House.
Among the other models featured in the campaign, which is photographed by Katy Grannan, is Eliza Douglas, a frequent Balenciaga collaborator. It's not all that common that the French fashion house taps huge celebrities for its campaigns, although last year Cardi B joined forces with the brand.
Balenciaga hosted a fashion show in Paris earlier this month, and Kanye West was spotted among those in attendance.
Check out more photos from the Balenciaga Fall 2021 campaign below.