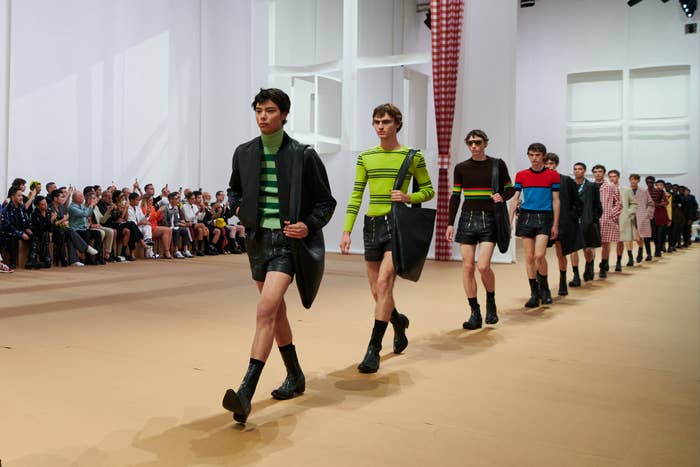 Two years ago, Raf Simons joined Prada as co-creative director alongside Miuccia Prada, who has the same title. They share responsibilities and design the men's and women's collections together. It was an unconventional but well-received arrangement that gave a new take on collaboration. 
Their work together over the last few seasons has felt like a true meeting of the minds, with references from both Simons' and Prada's previous collections showing up in new ways. They are also aligned on how they believe a fashion brand should function with collections that offer societal commentary and partnerships with artists that expand the brand's perspective. Prada Linea Rossa, its technical sportswear line, recently teamed up with Cassius Hirst, Damien Hirst's son, to produce a limited edition collection of reimagined America's Cup sneakers. And they are working with artist Theaster Gates on a program that helps Black designers (a few of them sat front row at the show).
The partnership seems to be working. Prada reported a total net revenue of $3.68 billion for fiscal year 2021, which is a 41 percent increase compared with 2020 and up by 8 percent from 2019. Prada has been able to balance thoughtful design with commercial success.
That merge between thoughtful and commercial was prevalent in the Spring/Summer 2023 men's collection, titled Prada Choices. Simons uses youth culture as a springboard for his collections, while Prada has spent her career offering alternatives to the imagery and aesthetics that are typically lauded in fashion (youth, beauty, etc.). But both designers think cinematically, creating spaces and characters to help translate their vision.
The show invite was either a gingham shirt or trench coat made of paper that immediately evoked a childlike energy that was also felt at the Prada Foundation show venue, a multiroom space that was designed to look like a mocked-up house made entirely of raw edge paper and accentuated by long gingham curtains and a floor covered with strips of brown paper.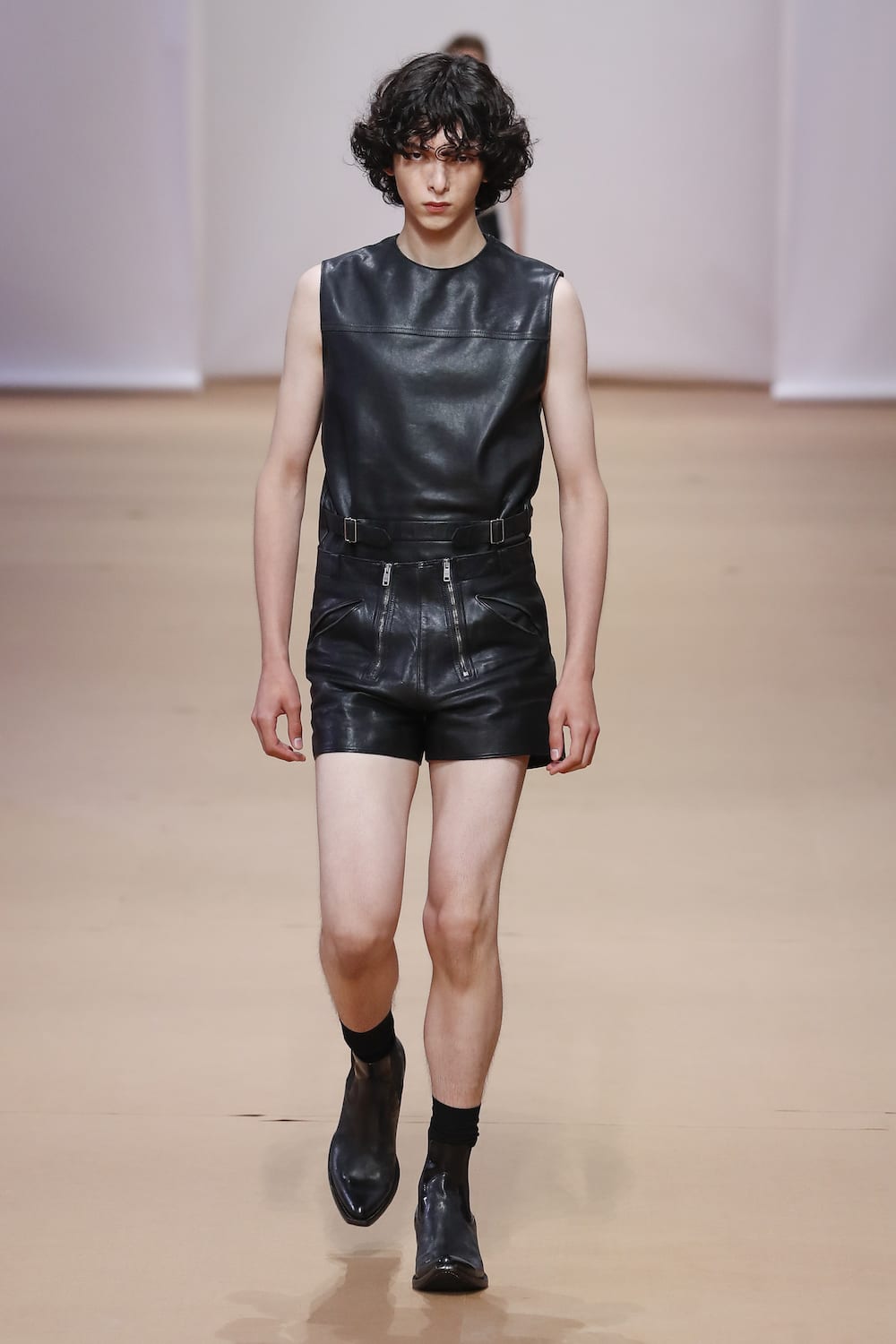 The collection was pared down. Mrs. Prada and Simons called it "an expression of curated processes" in the post-show release adding that the line is an expression of the design process, which involves complex decision making even with simple results. There was a focus on wardrobe staples like the suit, which was slim; a washed denim, which was also close to the body (and included short shorts); and leather jackets and shorts with zipper details. The line was accentuated with gingham jackets, which lent the items a new context, and striped knits. Each look was paired with a black cowboy boot that curved upward, or a black sneaker covered with a splash of colors. 
If the pandemic has taught us anything, it's that the state of the world affects what we wear, whether we notice it or not. And as we ease back into "normal" life, the paradox of choice can be a struggle when you consider getting dressed again. But with this collection, Prada and Simons help us by offering their simplest proposition.