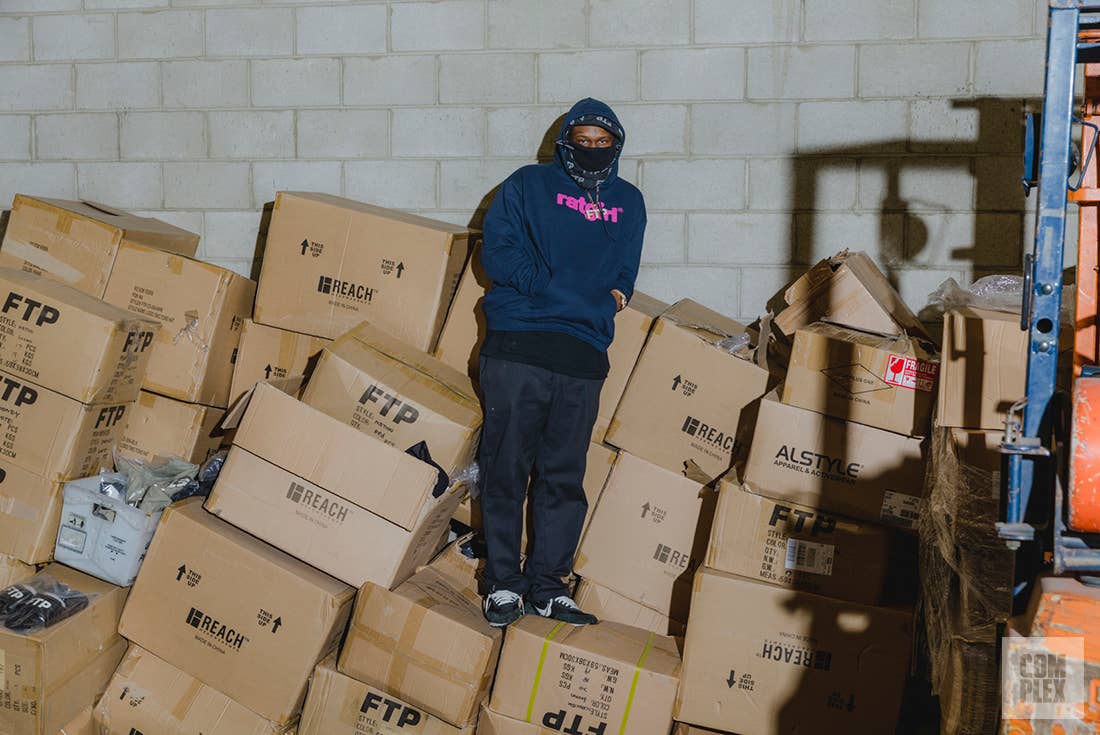 Zac Clark is only 25 years old. But he's been running Fuck the Population, his renegade streetwear brand, for 10 years. Coming up in Culver City and Crenshaw, California, he started FTP in high school, making T-shirts for friends to wear, first spelling "Fuck" backwards to avoid detection. Over that decade, Clark worked hard to build FTP into a formidable operation, collaborating with everyone from Fuct to DC Shoes, and expanding his line to include hoodies, denim, flannels, slides, and even jewelry. And he's grown the brand all on his own, with no outside investors. That independence allows him to control his own messaging and production. "I'm calling my numbers. I'm just controlling it from the back end. So I want to do 100 shirts, I could do 100 shirts," Clark explains.
But now Clark faces a new challenge, one that has nothing to do with owning a company while still in his mid-20s. Today, Clark is fighting felony gun charges that could result in a substantial prison sentence. And hard work alone might not be enough to make them go away.

At first, it's difficult to believe the charges are real. But some digging reveals that they are. There, on Reddit, under /r/fuckthepopulation/, is an arrest record for Zachary Clark, age 25. "Charge Level: F (Felony)," it reads. "Bail Amount: $415,000." They're serious charges, and no one knows that better than Clark himself. On the day of this interview, he says he feels like he's "fighting for my life right now." It's easy to see why.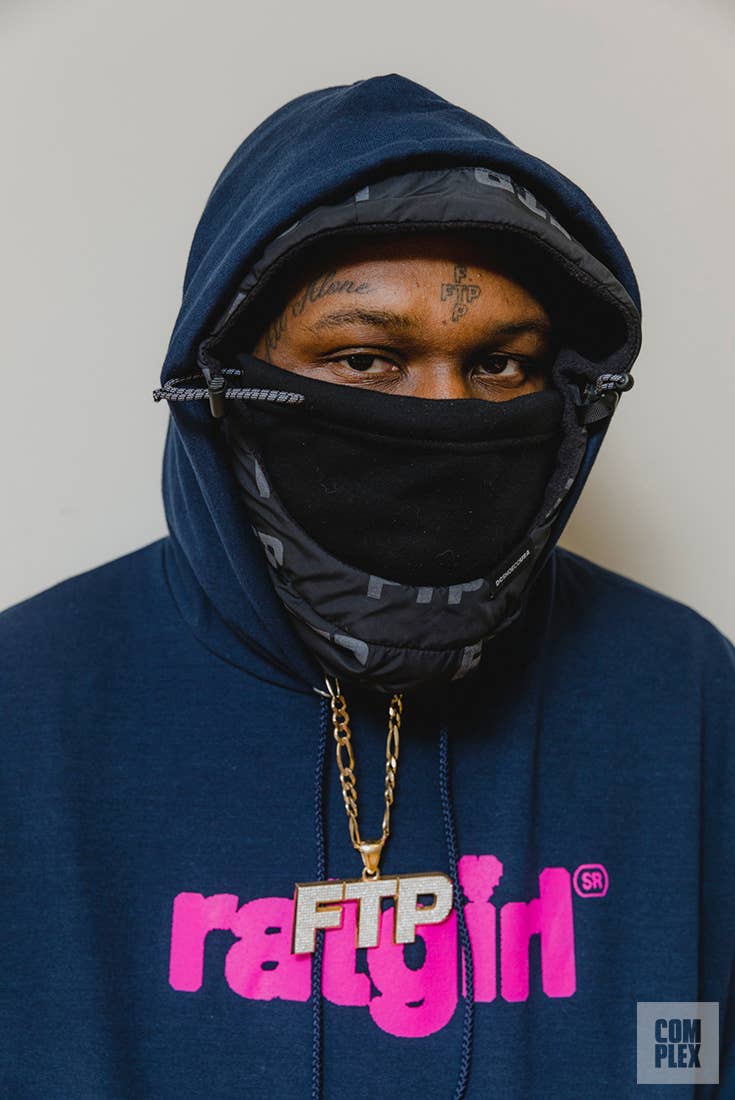 But Clark, soft-spoken, humble, and intelligent, also has an explanation.
He's a gun enthusiast and hobbyist who enjoys cleaning his collection and going to the shooting range. He became careless, though, he says. "I definitely posted too much stuff on my social media and wasn't calm enough with that." And that led cops to raid his house in Los Angeles County's San Fernando Valley and his Vernon, California-area FTP warehouse in search of firearms. Officers threw employees up against walls. And Clark got pinched, headed to jail, before bailing out—streetwear success enabling him to come up with 10 percent of $415K quickly. "It's not something I'm proud of. It wasn't a cool experience," he says. "I definitely apologized to all my employees having to go through that."
Clark won't say much more. "It's pretty much 16 weapons-related charges," he says. "You can imagine somebody with 16 felony charges will be facing a decent amount of time." Still, Clark explains, "that's, like, my main stressor right now," as if to emphasize the scale of the trouble he's facing.
In some ways, Clark's reticence to talk about his charges isn't surprising. He's private, long covering his face on social media and in the press, shielding his identity from customers for years. "I'm not like some big clout guy," he says. "I don't want a face attached to the brand. I just want it to be its own being, its own entity," Clark says, keeping the focus on FTP rather than himself.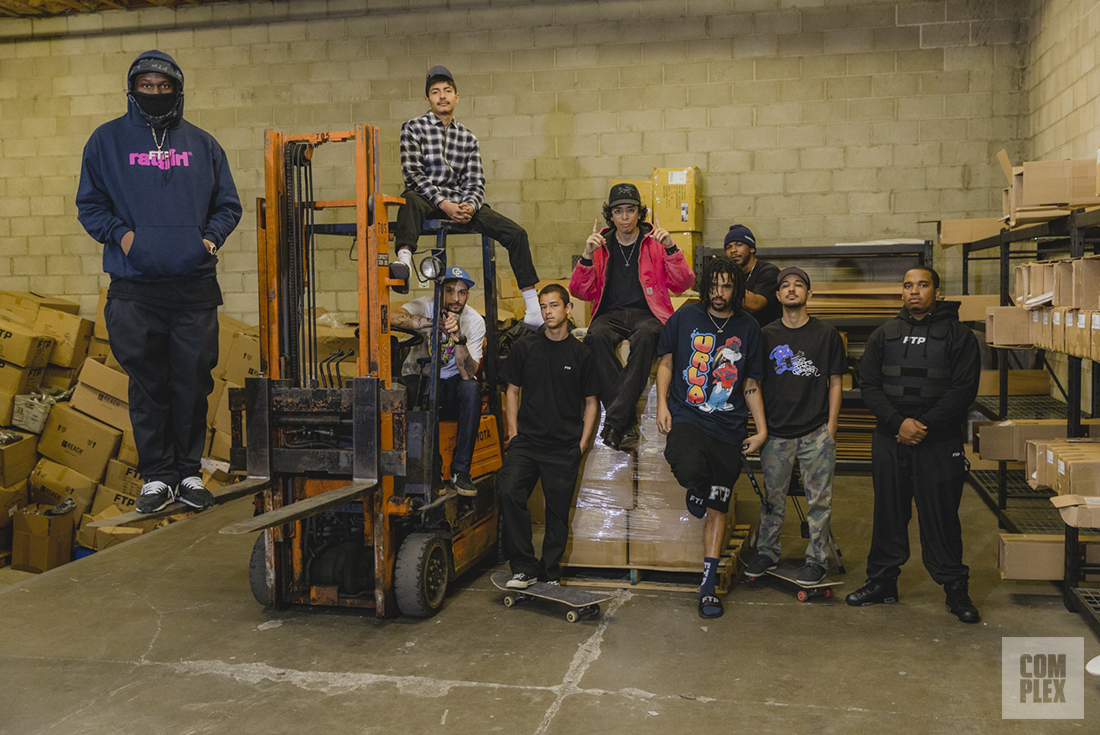 And with FTP's provocative output, keeping the focus on the brand hasn't been a problem. Over the past decade, Fuck the Population has produced pieces that have stirred plenty of controversy. Though Clark says he doesn't want people to remember FTP for its most incendiary items, T-shirts that read "Columbine Physical Education" and box cutters that say "Aim for the neck" are hard to forget. Last month, the latter item even caught the eye of the New York City Police Benevolent Association, ending up on its Twitter after cops confiscated one from political activists during a protest. Before that, a hoodie that read "FUCKTHEPOPULATIONTERRORISTORGANIZATION" earned Clark a menacing government letter ordering him to stop. Though Clark doesn't regret making those items, he looks back on some of his earlier work with a mix of amusement and chagrin.
Now, as a grown man, Clark says money, like clout, doesn't motivate him much, either. Though he says he's grateful to have been able to buy his own house in the Valley, Clark explains, "I'm not really inspired by money. That's not what drives me. That's not what makes me happy at all. It hasn't, to be completely honest."
FTP is what makes Clark happy. And the young people who love his brand make him even happier. "It's more like the fact that these kids are so hyped on receiving the FTP in the mail. That makes me happy more than money. I just want people to know that," Clark says.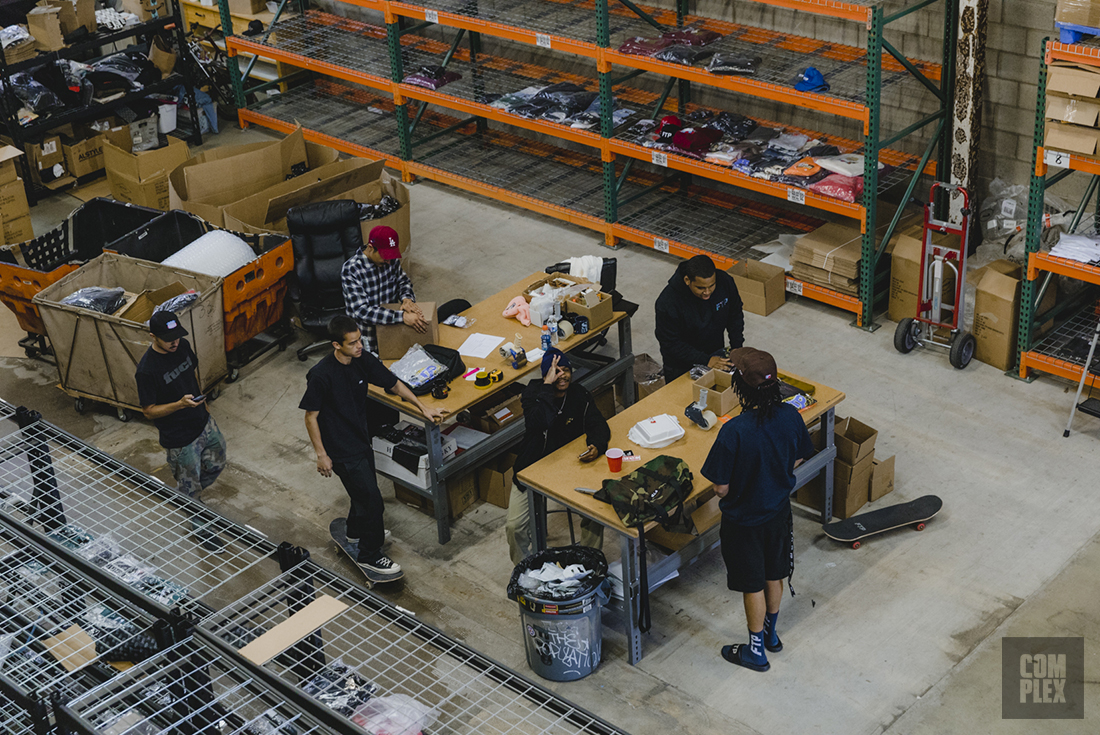 After graduating from high school in 2012, Clark got an internship at HUF, the streetwear brand started by pro skater Keith Hufnagel. He met Hufnagel by going to HUF's warehouse sales. Clark says because he's shy, he had his friend introduce them. Clark emailed Hufnagel, and that turned into an internship, which eventually turned into a job—he started in the warehouse packing store account orders and later moved to the office inputting international store orders into the system, which taught him about shipping and logistics. While working at HUF he was still running FTP out of an office on Skid Row, where he would go every night after work to pack orders. At that time he was regularly releasing FTP product too. Eventually HUF collabed with FTP while Clark was still working there, and shortly after, once orders started to pile up for FTP, he left HUF to work on his brand full time in 2015. Clark eventually saved up enough to afford a warehouse and he currently manufactures all of FTP's clothes in U.S. and China.
Clark's built up a dedicated fanbase by working hard. FTP sells out drops, and its devotees line up in the streets for the company's impromptu sales. It's because people can tell FTP is for them, that Clark is one of them. Authenticity, intimacy, and subversion run through the entire FTP enterprise. And it's all real. Clark and his small team pack and ship everything themselves. And Clark designs and releases things when he wants, sacrificing regularity for legitimacy. "From the beginning, I've been putting out shit just based off how I feel," he explains. FTP customers know that their orders might not come fast, but that they come straight from Clark and his team of friends. So they keep on buying.
It's nothing new, either. You can see it in FTP's history. The brand was controversial and personal from the start. And Clark's friends and fellow streetwear heads loved it. When FTP became too popular at Clark's own high school shortly after he created it, district authorities banned it, an occurrence that he calls "sick." You can see that in FTP's provocative lookbook models, too, a rebel's gallery of Clark's buddies ranging from Travis Barker to Project Pat and the deceased Fredo Santana, an artist he calls "one of my better friends in life." That confrontational authenticity is one of the reasons that FTP is often compared to classic streetwear labels like Fuct and Huf. It's also the reason those brands are so willing to collaborate with Clark, as respective label heads Erik Brunetti and Keith Hufnagel, who he worked for, have both recently done.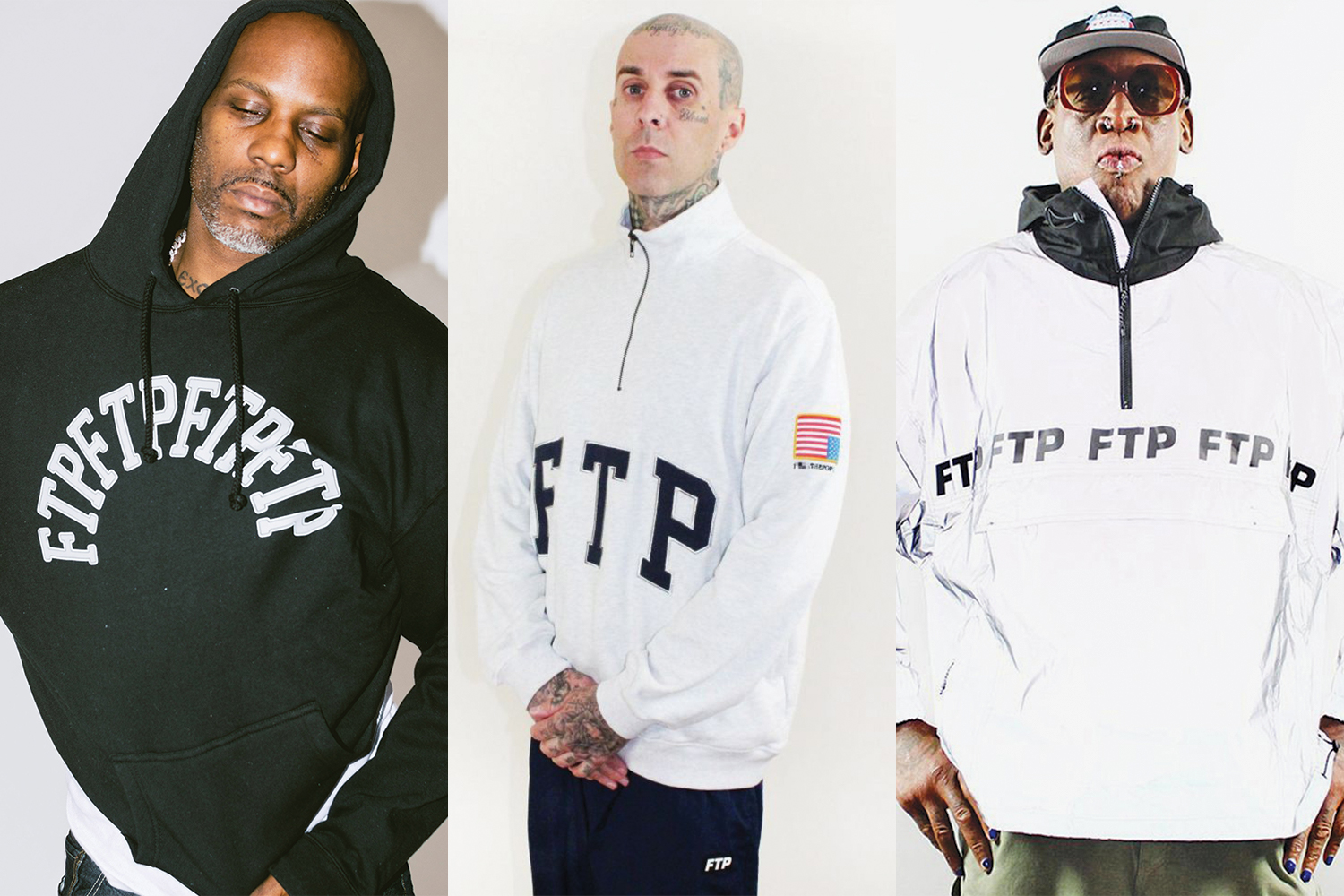 In fact, Fuct's Brunetti might be Clark's closest analogue. Even as streetwear has grown to unimaginable commercial heights, integrity has remained the driver for both men. Like Brunetti's Fuct, Clark's FTP remains tied to streetwear's inflammatory essence. FTP is even likely to benefit from Brunetti's Supreme Court victory, which will allow brands to trademark names that were once deemed "scandalous or immoral." And like Brunetti firing shots at Virgil Abloh, Clark's also felt the need to call out fellow streetwear labels, once dropping clothing that read, "The Hundreds Killed Streetwear." That attracted the attention of Bobby Hundreds himself, but his reaction wasn't what one might expect. Rather than fight back, Hundreds reached out to Clark to see what was up. "He obviously has built a following that trusts what he has to say because he's always adhered to a message. It is worth listening to what this man has to say," Hundreds explains. From there, Clark and Hundreds developed a mutual respect and friendship. "Even though he's younger than me, I revere the man," Hundreds says.
Part of that comes from Hundreds' admiration for Clark's ability to keep FTP authentic while evolving with the brand. "He is so conscious of every move that he's doing. And that resonates," Hundreds says. "I think that translates to the end user, where they're like, man, for 10 years, this guy has stuck to his word."
And true to that combination of progression and awareness, Clark is taking FTP in fresh directions without sacrificing its core values. That mission is twofold.
"Even though he's younger than me, I revere the man." - Bobby Hundreds
First, Clark is producing new FTP pieces that are both sophisticated and defiant. Gone are the brutal T-shirts adorned with photos of Columbine shooters Dylan Klebold and Eric Harris, and in their place are new works like FTP's recent "Freeway" T-shirt. The "Freeway" tee is subtle, showing an "FTP" tag on a highway sign. Nothing crazy. But close inspection reveals that the T-shirt bears an actual photo of real graffiti by artist Borater on a sign on L.A.'s 110 South, one of the busiest interstates in the country. In essence, the "Freeway" shirt depicts FTP's influence on its wearers, something strong enough to compel this artist to climb up on a freeway sign and tag it with the brand's initials.
Second, Clark is adding skateboards to FTP's stable of goods. And because Clark values genuineness, he's also putting a skate team together. "I don't skate. I don't pretend to skate," he says. He's made that clear, releasing T-shirts and boards that read, "FTP is not a skateboard company." He does, however, cop to recently sponsoring Trevor Colden, Chris Drysen, and legendary what-if Antwuan Dixon, who he also calls, "a really close friend."
But Clark's not making boards to hook his buddies up. Skateboarding is a tough market for outsiders to break into, so this move offers another opportunity for him to explore FTP's irreverent, rebellious perspective. To Clark, making FTP skateboards is almost a troll. "I also wanted to, not really tap into the skate issue, but kind of just like as a backwards joke," he says. "I'm almost saying, we're not a skate company, but we can do this, too. We can do this better than you, actually."
And getting Antwuan Dixon back on the board is a big step towards doing that better. Dixon exploded onto the skate scene in 2005's Baker 3 video, displaying a smooth, effortless style that tackled big gaps, heavy rails, and technical schoolyard skating with equal skill. It's a fabled part. But troubles with alcohol and the law followed, and Dixon lost his sponsors, making him one of skateboarding's great unfulfilled antiheroes.

Though Clark explains that Dixon has been a longtime associate of the brand, working with it as a model and appearing in one of its first Instagram posts, now was the time to tap him to help launch an FTP skate team. "He's sober," Clark tells us. "He's exactly what I'm trying to get across with FTP, so it's a no-brainer. He's a legend."
"I'm almost saying, we're not a skate company, but we can do this, too. We can do this better than you, actually." - Zac Clark, Founder of FTP
With a resurgent Dixon and Colden's tech skating on its side, FTP is even working on a skate video, offering Clark another opportunity to subvert expectations and play with perceptions of his brand. "It might be called, like, This is Not a Skate Video," Clark says about his forthcoming project, recalling the sharp, self-deprecating humor that would be familiar to any '90s skateboarder.
But a video isn't the only skate-related move Clark's making at FTP right now. He's also got two shoes dropping with core skate shoe company Lakai sometime around the middle of 2020. Unlike past releases with DC Shoes and Huf footwear, this will be no mere collaboration. Instead, Clark's planned the Lakai drops to help FTP celebrate its 10th year of business. "The concept of one of the shoes is around the whole 10-year anniversary, some black and gold stuff going in there," Clark says. To Clark, gold is the color of success, "a trophy color," and one he intends to spread all over the rest of his limited FTP 10th anniversary gear.
And though Clark calls Lakai "super dope" and notes he's "thankful to work with them," he also says it's been frustrating having bigger corporate brands turn down FTP collaborations due to the company's name. "I would love to do a Converse," Clark says. "All I need is a chance at one of those companies."
Beyond the Lakais, Clark will be releasing FTP 10-year-anniversary merch throughout 2020, when and where he wants. "We're going to spread it throughout the whole year, probably all the way up until December 2020," he says. To that end, Clark's also considering opening up a temporary store for FTP's 10th anniversary. But, true to FTP's radical spirit, Clark doesn't want it to be any old pop-up. Instead, he says this FTP brick-and-mortar location might exist for six months or so and only be open Friday through Saturday. "I don't want somebody to just be able to walk in and buy FTP. You know, like, I don't want them to be able to buy it Monday through Friday," he says. "I want it to be like an experience. You have to go on this day, between these hours."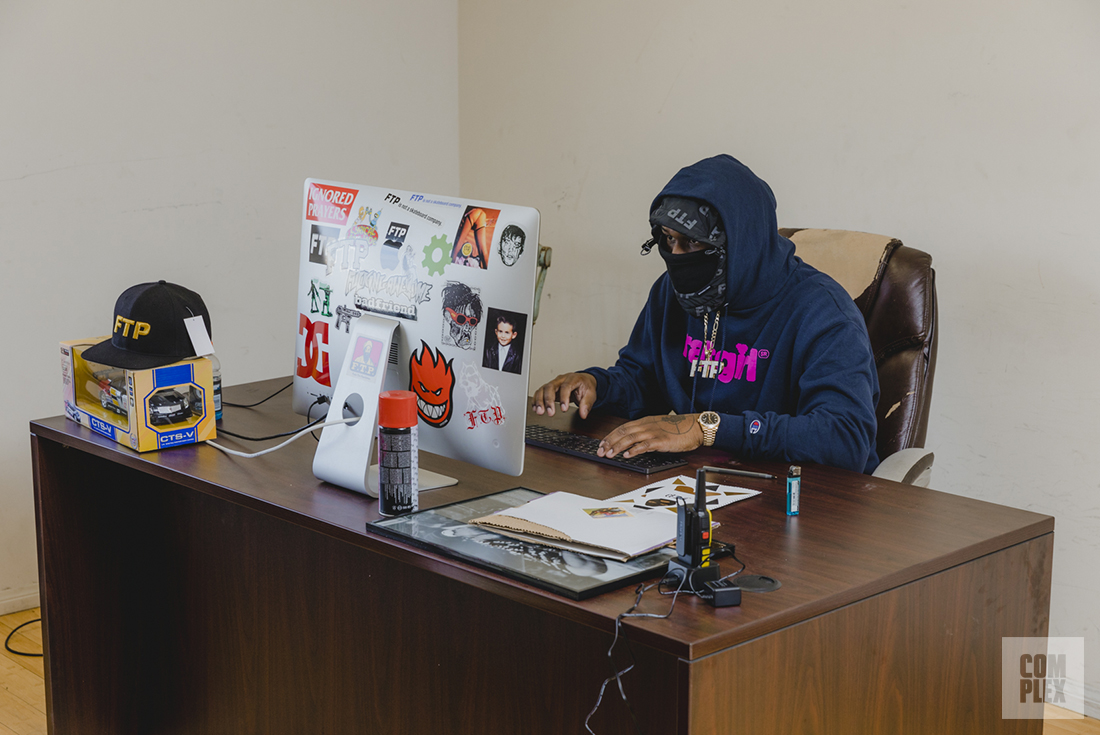 Here, Clark isn't trying to create artificial scarcity. Instead, it's about keeping FTP's clothing special, authentic, and personal, which he feels he owes his young fans. "I want everybody that follows us or bought from us to know that we're not just here to sell clothes. Like we got your back at the end of the day," he tells us.
That stick-together mentality grew out of Clark's upbringing, which was challenging. Clark says his mom "didn't have the most money," and that he was used to "having to share couches with her, or sleep on air mattresses." That rough childhood, as well as what he calls "a bunch of things that I don't really want to talk about that happened in my life, too," led to sadness which Clark says fuels FTP. "Depression, absolutely. That's been a major key in FTP, and the name of it, and why it is what it is today," he says.
But, according to Clark, self-definition is the true heart of FTP, especially when outsiders try to pigeonhole him. When asked if he feels any particular pressure as one of the few African-Americans running a successful streetwear label in 2020, Clark's answer is pure FTP. "I don't look at myself as an African-American head of anything," he explains. "If I did, I'm sure there would be unique pressures, but since I look at myself as human, I can't say I feel any." Instead, Clark says he hopes to "inspire kids of all races to start businesses of their own and to know that they can do anything they want." That's Clark's way. That's FTP's way. And that won't change. Ever.
Clark's quite sure about that. Even with open felony gun cases, having gone to court "eight or nine times" recently, he's adamant. "My brand's not going to die," Clark says. "FTP's forever."